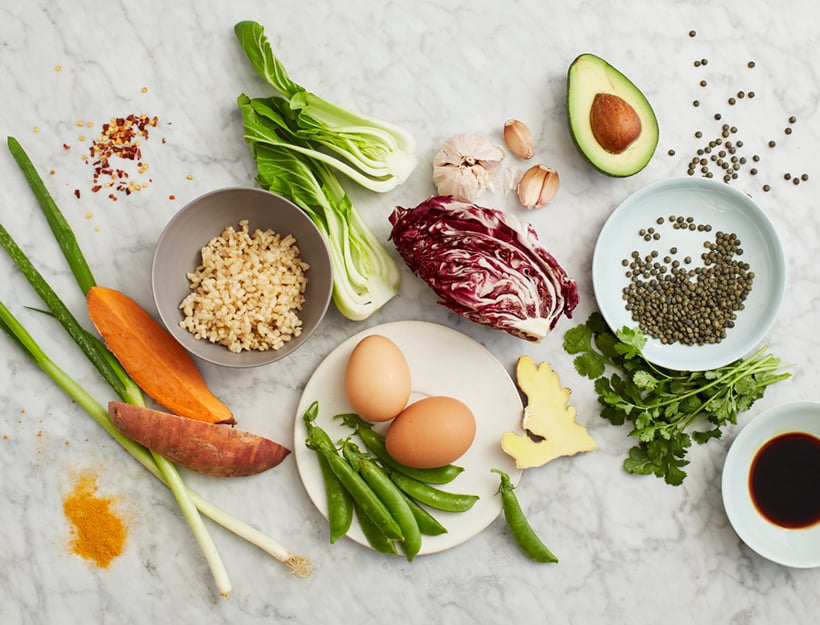 The Annual goop Detox: 2017
December's many indulgences (champagne! cheese! pie!) make January an ideal time to detox, but the fact that it's a busy time of year, cold as f*%k outside, and dark most of the day can make a diet of smoothies and kale salad pretty unappealing and almost untenable. So this year, our five-day detox is soothing and cozy–hot breakfasts, warm and filling dinners, and quick and simple lunches that are anything but a #saddesklunch.
We stuck to basic Clean program elimination-diet rules: No caffeine, alcohol, gluten, added sugar, processed oils and butters (e.g. margarine), vegetable oils (e.g. canola and corn), nightshades (we use a little fresh chili here and there, but skip it if you're sensitive to nightshades like tomatoes and eggplant), corn, shellfish, red meat, soy, and dairy—but we did include eggs to bulk up some dishes and provide a little extra protein.
To help make the whole cleanse feel super-manageable (you can do it, we promise!), we also put together a detailed schedule and shopping list: You'll need to do one big shop and some meal prep the Sunday before you start, and plan for another quick mid-week run to the market to grab Wednesday-Friday's proteins. Factor in about 20 minutes every morning to make breakfast and lunch for the day, and 20 minutes at night for dinner, then enjoy the fruits of your labor—delicious, healthy meals for a whole week and a lighter, happier, refreshed you.
The Recipes
The Plan
SUNDAY
MONDAY
Menu:
Warm lemon water upon waking
TUESDAY
Menu:
Warm lemon water upon waking
Handful of raw cashews and an apple
Prep:
Mix leftover lentils with 1 teaspoon fresh grated ginger and 2 cups bone broth. Blend with an immersion blender and pack one portion for tomorrow's lunch.
WEDNESDAY
Menu:
Prep:
THURSDAY
Menu:
Warm lemon water upon waking
Rice cake with avocado & sea salt
Prep:
FRIDAY
Menu:
Warm lemon water upon waking