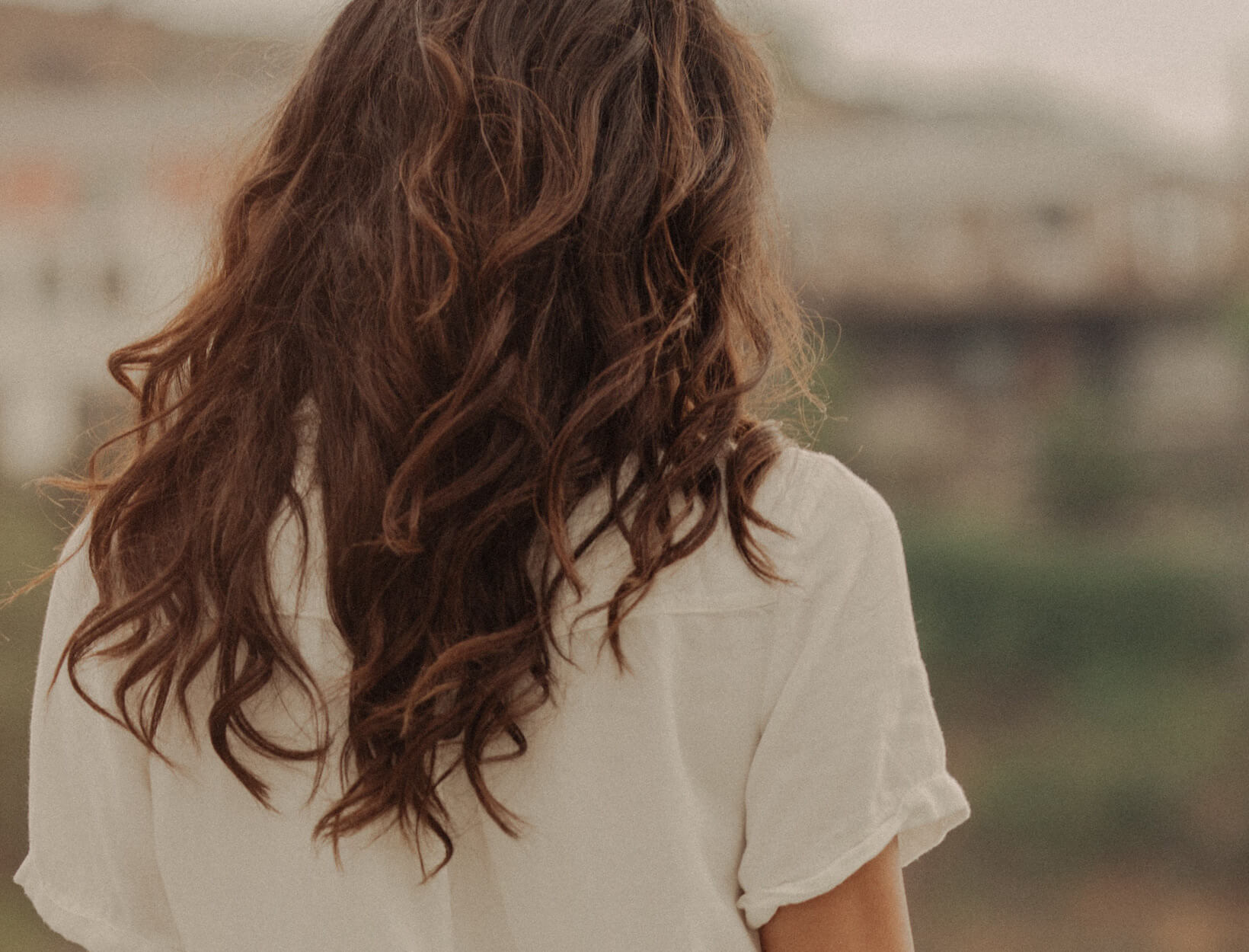 Photo courtesy of Jenavieve Belair/The Licensing Project
For Shinier, Healthier-Looking Results,
Here's How to Treat Hair Damage
In partnership with our friends at Slip
It's easy to spot hair damage: split ends, breakage, dry or brittle texture, extreme frizz, difficult-to-brush tangles, dull color, and more. "You can see and feel damage, especially at your ends," says top hairstylist and Dove ambassador Mark Townsend. Hair damage happens when aggressors—anything from hair-straightening treatments to highlighting and heat damage to sun exposure—compromise the cuticle of your hair, leaving cracks in its exterior and exposing the innermost part of the cuticle. Once the cuticle opens up, your hair is much more prone to damage and breakage. "It becomes weaker and less flexible," says the LA-based Townsend, who we recently caught between sessions getting GP ready for the premiere of our new Netflix series, Sex, Love & goop.
As we get older, our hair can become more susceptible to damage. "Our bodies go through hormonal cycles that affect the way our hair grows," says top stylist Sally Hershberger, whose New York salon is famous for cutting-edge cuts and color (she also founded the Sally Hershberger 24K hair-care line). "Those changes can result in thinner, more sparse, and weaker hair as you age." The good news: With a few changes to your hair routine, protecting your hair and minimizing most of the damage is easy. Below, everything you need to get your smoothest, shiniest, silkiest, healthiest-looking hair—no matter your age.
1
Switch to Silk
"Sleeping on a silk pillowcase can make a major difference in your hair," says Townsend. "Slip makes the most beautiful ones—they're soft and smooth and good for your hair. They help prevent major tangles, which often happen while you sleep." Hair elastics—another common culprit in both breakage and tangles—are made infinitely more hair-friendly when finished with silk. "You can go for a run or do a yoga class with your hair in a ponytail with no dents, snags, or breaks with these silk hair ties," says goop beauty director Jean Godfrey-June. "They're one hundred percent a miracle. Your hair just returns to its before-the-workout state as soon as you take them out. And the black ones are so chic."
2
Brush More Gently
Avoid brushing your hair roughly when it's in a fragile state (meaning when it's wet). Go slowly and don't tug. This incredible brush with bendy, forgiving bristles was created by a British hairdresser specifically to address breakage and snags (he made it for his wife when she was growing her hair back after an illness). It works miracles on tangles and feels amazing on the scalp, too.
3
Treat Your Ends
"I'm obsessed with the new GOOPGLOW hair serum treatment—it's an incredible multitasker," says Townsend. "Put it in twenty minutes before you shower, especially before a blowout (it helps protect from heat), and you'll see a huge difference." Townsend also likes to use a few drops of the hair serum as a touch-up treatment for ends throughout the day. "It gives hair a boost of shine and softens frizz," he says.
4
Skip a Shampoo
Hershberger says that one of the biggest mistakes people make is washing their hair too often. "Over-shampooing strips the hair of its necessary natural oils, leaving hair dehydrated and brittle, which can cause breakage, split ends, and frizz," she says. Try minimizing the number of times you wash your hair, and when you do, avoid shampoos with harsh surfactants that leave your hair feeling "squeaky clean." Instead, shampoos made with nourishing oils—goop's salt-scrub shampoo is made with moringa and rosehip oils, Rahua's color-protecting shampoo with Rahua and morete oils, and Sangre de Fruta's botanical shampoo with camellia seed and geranium oils—help keep your hair shiny, elastic, and vibrant.
5
Condition Like Crazy
"Don't be afraid to load up on conditioner," says Townsend. "You absolutely cannot skip it." Again, look for nourishing oils and butters like jojoba, avocado, coconut, monoi, sacha inchi, and shea butter.
6
Turn Down the Heat
Heat styling definitely causes hair damage. "Most hair tools' settings are way too hot," says Townsend. "People often burn the top or bottom layer of their hair when they're in a rush because they turn up the heat setting to get it done quicker." Townsend keeps his tools at 350 degrees or lower.
7
Air-Dry When Possible
"Constant exposure to high temperatures can alter the hair strands, which are made from a protein called keratin," says Hershberger. "If the keratin is constantly exposed to direct heat, it eventually becomes weak and brittle. Even limiting your heat styling to just a few times a week instead of every day can make a big difference." GP's damage-minimizing trick: Air-dry hair, then flatiron any errant pieces or frizz.
8
Use a Towel Made for Hair
Both Townsend and Hershberger recommend switching to a microfiber towel. "Hair is extremely fragile when it's wet, so wrapping your regular bath towel around your hair to dry is a terrible idea," says Hershberger. "The fabric of these towels can be heavy and that can cause the hair to break."
Townsend agrees: "Cotton towels also tend to have tiny fabric loops that your hair gets snagged in, which leads to further damage."
9
Moisturize and Protect
"I recommend a hydrating heat protectant before doing any heat styling," says Hershberger. "This not only protects the hair from high temperatures, but also adds in some extra moisture."
10
Space Out Coloring Appointments
Whether you're highlighting, double-processing, touching up roots, or covering greys, chemically treating your hair causes damage. "In order to deposit the color in your hair, the coloring formula has to open up the cuticle, which puts hair at more risk for damage," says Townsend. One solution, for darker hair: Temporary color from French colorist Christophe Robin doesn't open up the cuticle at all, so it causes none of the damage of typical hair-color formula, and lasts through about seven shampoos.
Another option, if you're looking to manage greys, is this daily supplement made with high-potency B vitamins (including biotin) to support healthy hair and maintain healthy hair pigmentation over time.
11
Get a Trim
"Regularly trimming your hair keeps it healthy," says Hershberger. "It removes split ends, and I think it encourages hair to grow stronger."