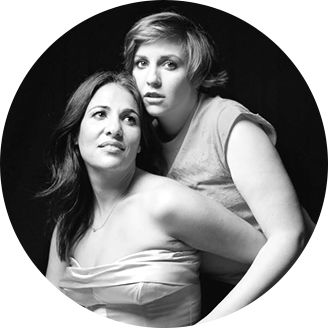 Lena Dunham & Jenni Konner
bios

Lena Dunham is the creator and star of the critically acclaimed HBO series Girls, for which she also serves as executive producer, writer, and director. She has been nominated for eight Emmy Awards and has won two Golden Globes, including Best Actress for her work on Girls. In 2010, she won an Independent Spirit Award for Best First Screenplay for her feature "Tiny Furniture," which she also starred in and directed. In 2013, Dunham made history as the first female to win a DGA award in the Best TV Comedy Director category.

In September 2015, Lena and her producing partner Jenni Konner launched LENNY LETTER, a feminist newsletter which features original editorial content focusing on politics, art and culture, style, health and wellness, sex and relationships (LennyLetter.com). An accomplished author, Dunham's book of personal essays, Not That Kind of Girl, was published by Random House in September 2014 and was a #1 NY Times best seller. She is also a frequent contributor to The New Yorker.

Dunham graduated from Oberlin College in 2008.

Jenni Konner is a writer, director, and executive producer of Girls on HBO. She began her career as a writer on Judd Apatow's celebrated television series, Undeclared. In 2014, she and Lena Dunham co-founded A Casual Romance Productions. She and Lena are also the co-founders of LennyLetter.com, which launched this past fall.