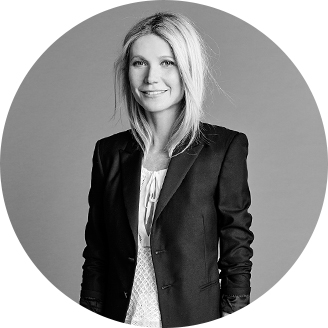 Gwyneth Paltrow
---
Articles by Gwyneth Paltrow
BIO

Oscar®-winning actress Gwyneth Paltrow, whose 1998 turn in SHAKESPEARE IN
LOVE garnered her Best Actress honors at the Golden Globes®, Screen Actors Guild
Awards®, and Academy Awards®, is also a decorated author, singer and
entrepreneur. In 2011, she won an Emmy® for Guest Actress in a Comedy series for
playing substitute teacher Holly Holiday on Glee, and her song, "Coming Home,"
from the soundtrack for COUNTRY STRONG, was nominated for an Oscar® (the
album went gold). In addition, Paltrow has authored four New York Times Best
Selling cookbooks, My Father's Daughter (2011), It's All Good (2013), Its All Easy
(2016) and The Clean Plate (2019).

In 2008, Paltrow founded goop from her kitchen table. Goop has grown into a
lifestyle brand devoted to helping women make their own choices count in the
various facets of their lives—from style, travel, work, food, and beauty to physical,
mental, and spiritual wellness. Goop is curious about what it means to self-optimize,
about how we can gain autonomy over our health, and how we can push
uncomfortable, important questions forward without shame. In line with this mantra
of making choices count, goop also makes and curates incredible products across
beauty, fashion, wellness, and home.

After serving as goop's Chief Creative Officer since its inception, Paltrow assumed
the CEO mantle in 2016, leading the company's primarily female team of more than
240 to exponential growth. Paltrow also helped facilitate the #metoo movement, as
she has always been comfortable pushing important conversations into the
mainstream.

In fall 2018, on its 10 year anniversary, goop expanded internationally to the EU.
Goop's ventures include The goop Lab, a television show on Netflix; a book imprint;
permanent and pop-up retail stores; and live events, such as the renowned In goop
Health summit. In addition, goop has a tightly edited digital shop and its own
product lines, including skincare, fragrances, apparel, bath and body, and
supplements.

Other notable film credits include PROOF (for which she received a Golden Globe®
nomination), Wes Anderson's THE ROYAL TENENBAUMS, Anthony Mighella's THE
TALENTED MR. RIPLEY, David Fincher's SEVEN, the Farrelly brothers' SHALLOW HAL,
Alfonso Cuarón's GREAT EXPECTATIONS, Douglas McGrath's EMMA, SLIDING DOORS
and Marvel's IRON MAN franchise.