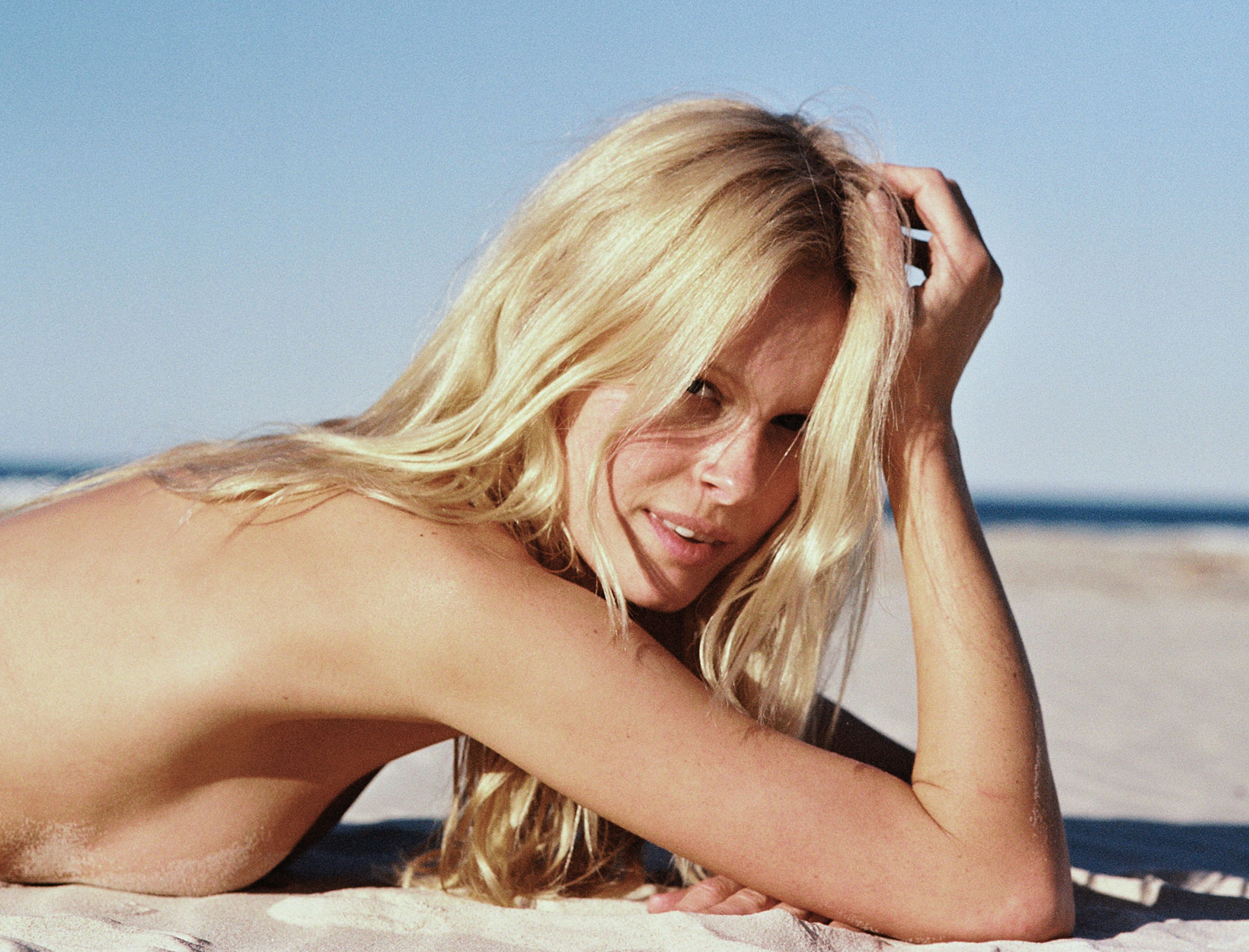 Photograph by Nat Lanyon/The Licensing Project
Boot Camp for
Summer-Damaged Hair
You know you've done summer right when your hair isn't looking so great during the final weeks of steamy heat: Leaping into every possible body of water you encounter, going on life-affirmingly sweaty runs, and simply soaking up the sun strips away color, moisture, and shine and almost inevitably leads to fried ends, encroaching roots, nestlike tangles, and frizz (the excessive kind, not the subtle sexy kind). The good news is that it's pretty easy—and even relaxing and indulgent—to coax your hair back to shiny, healthy gorgeousness at home. From a brilliant root touch-up to a deep-conditioning treatment that's salon-like in its soft, shiny, bouncy results, here's the route back to silky, nourished, and lustrous, no matter what your hair type.
1
What You Use Every Day Makes
the Biggest Difference
Whether you wash your hair daily or weekly, the right shampoo and conditioner are the biggest factors in determining how your hair looks and feels day-to-day and even how it holds up to damage. Swirled with nourishing oils and extracts like camellia, calendula, and energizing ginseng, this shampoo lathers fantastically as it gently cleanses, leaving hair healthy-looking, soft, bouncy, and faintly scented with sandalwood and bergamot. The similarly scented conditioner moisturizes, smooths frizz, and boosts shine with ginkgo biloba and jojoba oils. Pro tip: Comb or brush your hair in the shower when it's soaked in the conditioner to detangle with the least amount of damage—especially if you have curly hair, which is more prone to breakage than straight hair.
3
Give Yourself
a Trim
If you can't get to a salon yet, all you need are these professional-grade scissors, a brush, and some clips, along with the restraint to snip in very small sections. We did it, and our formerly cavewoman-esque lockdown hair is now looking presentable.
4
Deep-Clean
and Detox
A healthy scalp is the key to great hair, period. Work this rosemary-and-peppermint-scented pink-salt shampoo through soaking-wet hair and the foamy lather refreshes and purifies your scalp; cleanses away sweat, oil, and product buildup; and—not incidentally—feels like an incredible massage. You will love your hair afterward, too.
5
Set Up for Extra Shine
This chic, all-in-one set has everything you need to smooth, detangle, hydrate, and boost shine. You get a gorgeous boar-bristle brush, a wide-tooth comb, a smoothing hair serum, a cool-looking and generously-sized quick-drying microfiber hair towel, and a chic three-minute hourglass (to remind you to brush your hair and ensure you don't rush through it). The essentials work brilliantly for all hair types, and the killer box they come in makes the best gift for yourself or someone you love.
6
Deep-Condition with a Mask Plus Heat
Magic on color-treated, heat-styled, chemically straightened, and pool-, ocean-, and sun-addled hair all on its own, this mask works even better when combined with the heat of a blow-dryer to help all the oils and butters penetrate. Smooth the mask through your ends when hair is wet, then blow-dry on a low setting for as long as it takes to really warm up your hair. The longer you heat it, the better it works—we find that anywhere from three to about fifteen minutes is great, depending on your hair and schedule. (We've also put the mask on before a sauna, a hot run in the sun, and a hot yoga class, and the effect is similar.) Wash your hair normally afterward; the soft, smooth results are incredible and can last through multiple shampoos, much as a traditional Ayurvedic oil treatment does. The same just-add-heat approach works with hair oil, too (the coarser and thicker your hair, the more oil you should use). The Ayurvedic hair oil from UMA smells incredible and leaves your hair in noticeably glossy, healthier-looking shape.
7
Fix Your Roots (or
Refresh Color All Over)
This do-it-at-home, lasts-for-five-shampoos color gel for brown, black, and red hair deposits beautiful, natural color without the laundry list of harmful chemicals found in conventional hair color. It's super thick, so it doesn't drip, meaning you can just go about your business for the forty minutes it takes to set. (It doesn't smell, either, so the feeling is more luxe French hair treatment than at-home color). It also couldn't be easier to use.