How Often Should I Wash My Hair?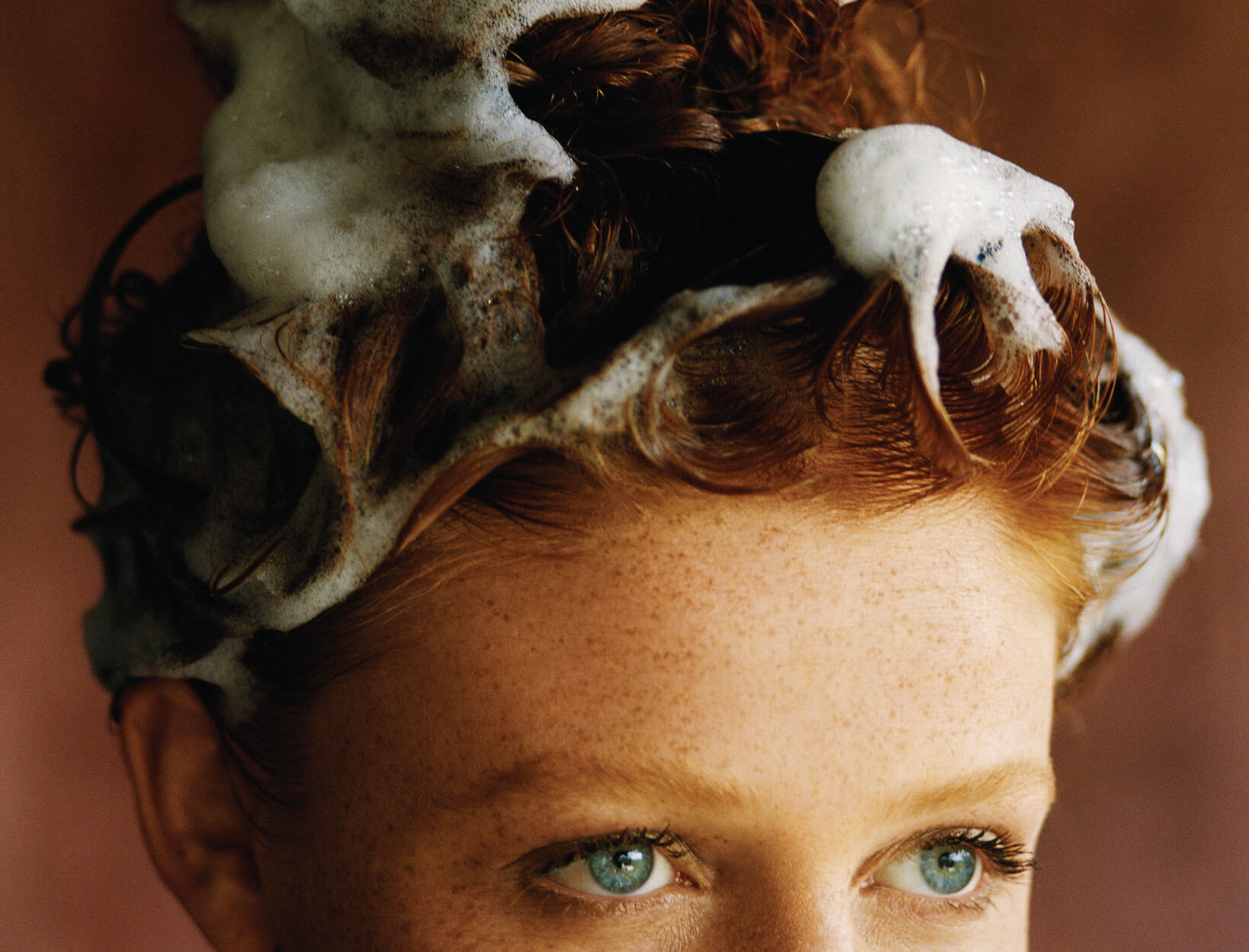 Does it matter how porous my hair is, which hair type I am, or which shampoo I use? Top hairstylists and colorists actually agree on the answers to many of these questions. "Everyone has different body chemistry," says colorist Marie Robinson, founder of New York's Marie Robinson Salon. "And weather, environment, your exercise regimen, and of course your hair type all also contribute to how often you should wash your hair."
Getting the balance right is tricky. "Everyone's hair needs some natural oils for nourishment and growth," says LA stylist Adir Abergel, creative director of Virtue Labs. Our hair would eventually balance itself out if we never shampooed, though it would take at least three months for the hair and scalp to fully adjust, so most people don't go that route. "If you don't wash your hair frequently enough, oil and debris build up, which can lead to dandruff and greasy-feeling hair," says New York stylist Sally Hershberger, founder of New York's Sally Hershberger salon and the Sally Hershberger 24K hair line.
How often you shampoo also depends on your hair's porosity. How do you tell how porous your hair is? The float test: Fill a bowl with water, drop a strand of your hair into it, and let it sit for a few minutes. "If it sinks to the bottom, you have high-porosity hair," says Abergel. "If it floats to the top, it's low-porosity." Porosity determines how your hair absorbs and retains moisture. "High-porosity hair soaks up moisture more quickly," says Hershberger. "Low-porosity hair has a harder time absorbing moisture, and product can build up much easier. So low-porosity hair typically needs to be washed more frequently than high-porosity hair."
INSTANT FIX
goop Beauty

Restore + Shine Hair Serum

$55.00/$44.00 with subscriptionSHOP NOW
Whether your hair is high- or low-porosity, this preshampoo serum leaves your hair shinier and bouncier, with noticeably better texture. "A preshampoo treatment prepares your hair and scalp for washing by forming a protective layer around your hair so you don't strip too much moisture away when you're shampooing," says Hershberger.
When to Wash Your Hair (by Hair Type)
When to Wash Straight or Thin Hair
Wash: Every other day or more.
"Straight, thinner hair is more easily coated by sebum, causing it to look and feel greasy faster than curlier or thicker hair," says Hershberger.
Nourishing

goop Beauty

Amino Acid Shinebath Shampoo

$36.00/$32.00 with subscriptionSHOP NOW

Purifying

goop Beauty

Himalayan Salt Scalp Scrub Shampoo

$55.00/$38.00 with subscriptionSHOP NOW
When to Wash Curly or Wavy Hair
Wash: Every two or three days.
"Since oil doesn't coat the hair as easily, this hair type tends to be drier," says Hershberger. "So wash less, because the natural oils in your hair are key—you need more moisture to keep your hair soft and frizz-free."
Deeply Hydrating

Frizz-Fighting

Grown Alchemist

Anti-Frizz - Shampoo 0.5

goop, $50SHOP NOW
When to Wash Textured Hair
Wash: Every five to seven days.
The same principle for curly or wavy hair applies, but even more so: "Tighter coils or textured, coarser hair typically comes with a drier scalp, so those hair types can often go five to seven days between washes," says Hershberger.
Softening

Ranavat

Regenerative Veda⁴ Bond Complex Shampoo: Mighty Majesty 

$48.00SHOP NOW

Moisturizing

Grown Alchemist

Nourishing Shampoo

goop, $50SHOP NOW
When to Wash Color-Treated or Highlighted Hair
Wash: Every three or four days.
"Color-treated or highlighted hair is typically more damaged because of the processing," says Robinson. "So the less you shampoo, the more your hair's natural oils can help repair it so the color lasts longer and looks fresher."
Color-Protecting

Rahua

Color Full Shampoo

goop, $38SHOP NOW

Brightening

Innersense

Bright Balance Hairbath

$30.00SHOP NOW
More Expert Tips
1. Get Your Hair Really Wet
This is an old trick from trichologist Philip Kingsley, but it's a great one: Make sure you've gotten every last bit of hair and scalp fully wet before you work in shampoo, or it's much harder to get the shampoo fully rinsed out later and can lead to buildup and a lack of shine.
Jolie

The Jolie Filtered Showerhead

goop, $165SHOP NOW
2. Scrub Gently
"Squeeze a fair amount of shampoo (about the size of a quarter) into your hands and dilute it with water before applying to your hair," says Abergel. Start at the nape of the neck and work the shampoo in, making your way to the front. Abergel gently scrubs the scalp in circular motions to avoid tangles. "The scalp is where oils are produced and debris accumulates," he says. "Let the shampoo run down your hair to wash the rest."
3. Condition Thoroughly
Apply conditioner only where you need it (some people need it all over, some just the ends, some midlengths to ends), leaving it on for a few minutes to really absorb. "Make sure you rinse thoroughly and there is no shampoo or conditioner residue left on your hair," says Abergel.
Shine-Inducing

goop Beauty

Amino Acid Shinebath Conditioner

$36.00/$32.00 with subscriptionSHOP NOW

Nourishing

Crown Affair

The Ritual Conditioner

$36.00SHOP NOW

Rich

Sangre de Fruta

Garden of Earthly Delights Botanical Conditioner

goop, $52SHOP NOW
4. Rinse with Cold Water
"Warm to cool water is best—hot water opens up the hair shaft, and that can cause damage, dryness, and frizz," Abergel says. By contrast, cold water (hello, Wim Hof) helps close the cuticle, locking in moisture and discouraging frizz.
5. Temper Oil with Dry Shampoo
"Overwashing hair strips it of natural oils, and over time, your scalp produces even more oil to compensate, leaving hair oilier," says Hershberger. "Use dry shampoo to go longer between washes."
Powder

Crown Affair

The Dry Shampoo

$36.00SHOP NOW

Foam

Innersense

Refresh Dry Shampoo

goop, $24SHOP NOW