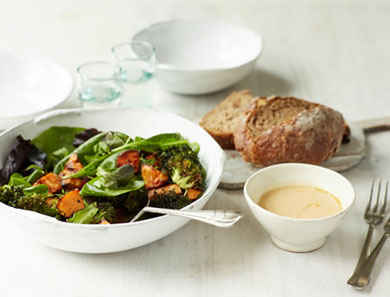 Miso Sweet Potato + Broccoli Bowl
The miso sweet potato and broccoli add some substance to the mixed greens, making for a great lunch bowl. This would be just as tasty over grains.
for the salad
1 large sweet potato, peeled and cut into 1-inch cubes
1 small head of broccoli, torn into bite-size florets
2 cups dark, leafy green mix
2 tablespoons black sesame seeds
sea salt + black pepper
for the miso dressing
2 tablespoons white miso paste
1 tablespoon soy sauce
1 tablespoon rice wine vinegar
1 tablespoon mirin
1 tablespoon water
1 tablespoon toasted sesame oil
1 tablespoon vegetable oil
sea salt + black pepper
1. For the dressing: Blend everything except the oil in a food processor until smooth. While the blender is still running, slowly stream in the oil. Season with salt and pepper to taste.
2. Preheat oven to 375°F. Place sweet potatoes on a baking sheet, season with salt and pepper and drizzle with olive oil (about two tablespoons). Cook for about 20 minutes, remove from oven and shake the baking sheet to move the potatoes around (for even cooking).
3. Add the broccoli to the baking sheet, drizzle with a bit of olive oil (about a tablespoon) salt and pepper, and place back in oven for another 15 minutes until the veggies are cooked through and starting to brown.
4. Place veggies in a large bowl and allow to cool. Pour dressing over the veggies and mix to coat. Add the salad greens and mix.
Originally featured in Lunch Bowls