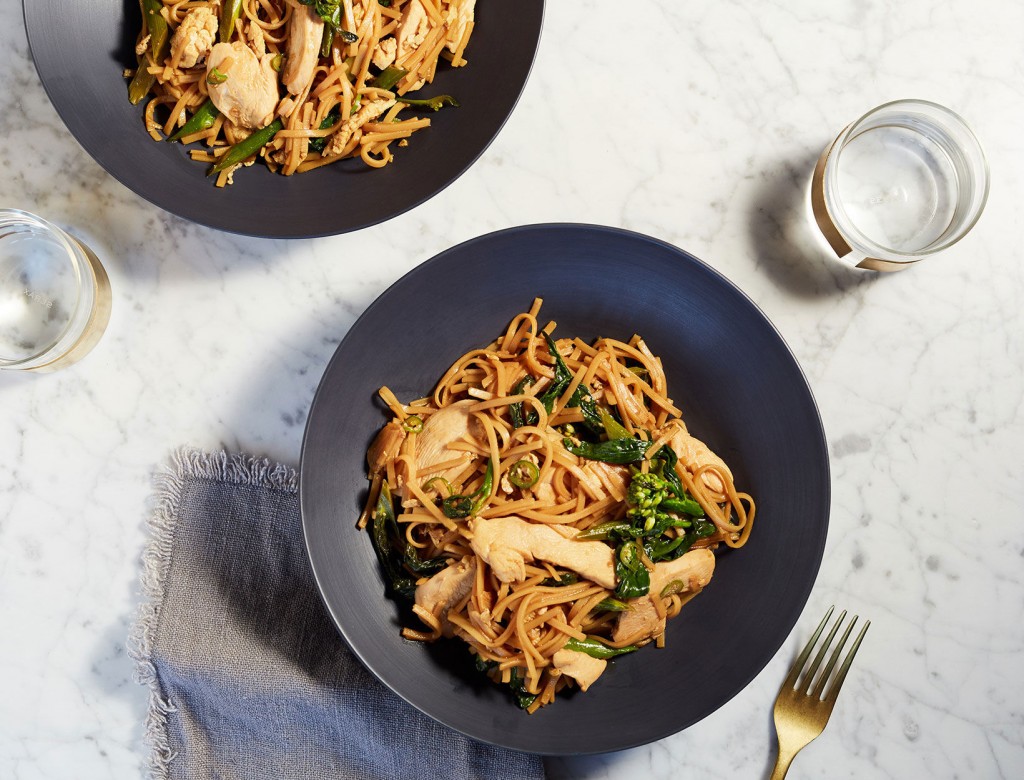 GP's Pad See Ew
In this goop-y version of a takeout classic, we clean things up by using brown rice noodles instead of white, coconut oil for frying, and honey to sweeten.
⅓ cup tamari
2 teaspoons fish sauce
1 ½ teaspoon honey
1 teaspoon coconut vinegar
1 tablespoon coconut aminos
½ teaspoon salt
juice of ½ lime
4 ounces brown rice noodles
1 teaspoon sesame oil
4 tablespoons coconut oil, divided
4 garlic cloves, thinly sliced
1 chicken breast (about ½ pound), thinly sliced
1 small bunch chinese broccoli, broccoli rabe or broccolini—stalks and greens/florets separated
1 egg, beaten
lime wedges, to serve
¼ green thai chili or ½ serrano, thinly sliced, to serve
1. Combine the first 7 ingredients in a small bowl and set aside.
2. Soak the noodles according to package directions for stir-frying, then drain and rinse under cold water. Set aside in a bowl and toss with the sesame oil to keep the noodles from clumping up.
3. Heat a wok over a high flame. Add 3 tablespoons of coconut oil to the pan, then add the garlic and stir quickly until it begins to turn golden and fragrant. Add the slices of chicken and continue stirring so the garlic and chicken are nicely combined and neither is getting too brown.
4. After about 4 minutes, add the broccoli stalks and cook for another 2 minutes. Now add the broccoli greens/florets and the soaked noodles and toss to combine, adding a splash of water if needed to loosen up the noodles.
5. Pour in the sauce, tossing and stirring constantly until all the noodles, chicken, and vegetables are well coated.
6. Reduce the heat to medium-high and push the mixture to one side of the wok. Add another tablespoon of coconut oil and the beaten egg to the empty side, stirring with a wooden spoon until the egg is just set and the broccoli is cooked through.
7. Serve with sliced chili and lime wedges.
Originally featured in The NOODLE: Two Classic Thai Dishes Face Off