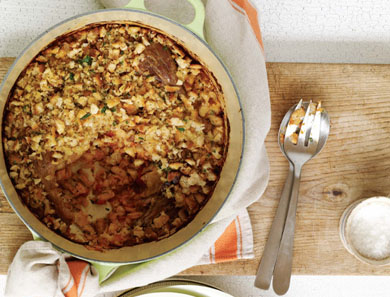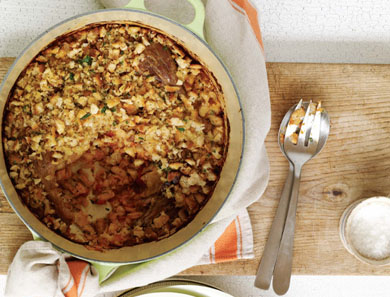 Duck "Cassoulet"
From My Father's Daughter: "I first had duck confit with my dad on a trip to Paris at a place called Josephine Chez Dumonet. I never realized how delicious, tender, and yet crispy duck could be. When I discovered cassoulet (in which duck confit is the star), I was transported. When I stopped eating pork and red meat, I couldn't indulge in it anymore, so I set out to make my own. This pork-free version is rich and deeply flavored—a great one-pot weekend supper. I wish I could make it for my dad, he would go out of his mind."
2 14-ounce cans cannellini beans, rinsed and drained
1 big dark green leaf from the outside of a leek
7 cloves garlic, peeled, 3 crushed and 4 finely sliced
coarse salt
bouquet garni of 3 sprigs fresh parsley, 1 sprig chervil, 2 cloves, 1 bay leaf, and 6 peppercorns
4 slices duck bacon, fat removed from all but 1, chopped into lardons
1 medium yellow onion, peeled and finely chopped
1 14-ounce can whole peeled tomatoes with their juice
freshly ground black pepper
4 legs duck confit, excess fat scraped off (strain the fat and save it for cooking delicious potatoes!)
2 tablespoons extra virgin olive oil
½ day-old baguette, cut into coarse crumbs (or pulsed 10 times in a food processor)
1 tablespoon chopped fresh parsley
2 sprigs fresh thyme
1. Combine the beans, leek leaf, 1 crushed clove garlic, a large pinch of salt, and the bouquet garni in a large saucepan. Cover with cold water, bring to a boil, and lower the heat. Let it simmer over low heat while you proceed.
2. In a large heavy pot, cook the duck bacon over medium-high heat for 3 minutes, or until beginning to render and brown. Turn the heat to low and add the onion and the 4 sliced cloves garlic. Cook for 15 minutes, keeping the heat low. Add the tomatoes and their juice, crushing them with a wooden spoon, a pinch of salt, and a few healthy grinds of black pepper. Simmer on low for half an hour.
3. Meanwhile, put the duck legs in a large frying pan and set it over medium heat. Let the duck legs brown deeply on both sides, about 5 minutes a side, and remove to a plate, reserving the fat in the pan. Add the olive oil to the pan along with the 2 remaining crushed cloves garlic, keeping the heat at medium. Add the bread crumbs and cook, stirring, until fragrant, about 2 minutes. Remove from heat, discard the garlic, and stir in the parsley. At this point your tomato mixture should be cooked down. Drain the beans, reserving their cooking liquid and discarding the leek, garlic, and bouquet garni. Stir the beans into the tomato mixture, nestle in the thyme and the duck legs. Season with salt and pepper.
4. At this point, you can wait up to a day or two to cook the cassoulet—refrigerate the bean-and-duck mixture, bean liquid, and bread crumbs separately and bring to room temperature before proceeding. Or preheat the oven to 350°F. To finish, scatter the bread crumbs over the top of the cassoulet and evenly ladle over 1½ cups of the bean cooking liquid. Bake in the 350°F oven until the bread crumbs are nicely browned, about ½ hour.
The recipe is excerpted from My Father's Daughter by Gwyneth Paltrow. Copyright © 2011 by Gwyneth Paltrow. Reprinted by permission of Grand Central Publishing. All rights reserved.
Originally featured in One-Pan Meals