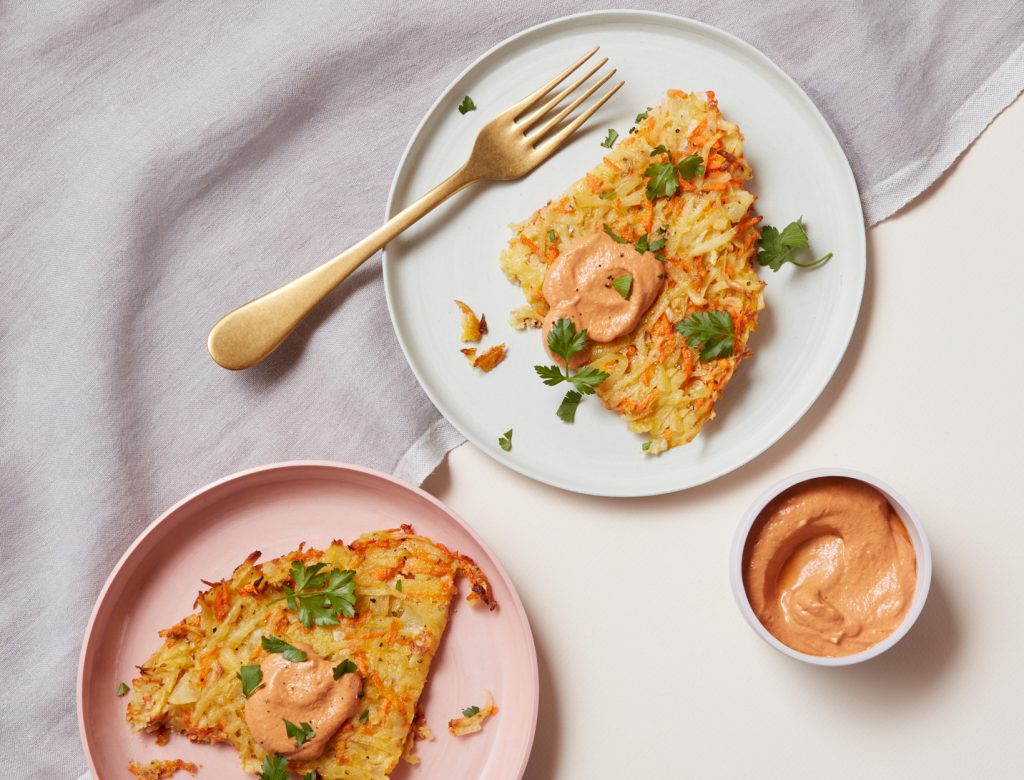 Cast Iron Veggie Cake with Sun-Dried Tomato Cashew Cream
This is a great way to get your veggies in for the day. We think it'd be delicious with almost any combination of veggies, but a potato, kohlrabi, and carrot version is pretty delicious.
1. Preheat oven to 400°F. Peel potato and carrot and trim kohlrabi leaves. Using a food processor with a shredding attachment, or a box grater with the largest holes, grate the vegetables and place in a fine mesh sieve or cheese cloth. Squeeze liquid from shredded veggies to remove as mush as possible. Discard liquid. Dice onion and add to large bowl with shredded vegetables. Add egg and mix to combine. Add flour and spices, stir.
2. Use a 10-inch seasoned cast iron skillet on the stove over medium. Add 2 tablespoons olive oil to pan. Once the oil is hot, add veggie mix to skillet and press into single layer evenly. Cook for 5 minutes, drizzle remaining 1 tablespoon olive oil over top, and bake in oven for 20 minutes. Veggie cake should be lightly browned with darker brown edges. Turn on broiler and broil veggie cake for 7-10 minutes until golden brown and sizzling. Note: time depends on how close your rack is to the broiler, and broiler strength. Remove from oven, sprinkle with salt. Cut in 4-6 slices and serve immediately with sun-dried tomato cashew cream and fresh basil.
3. To make the cashew cream, place cashews in a bowl. Cover with water and soak for about 4 hours in the fridge. Drain and rinse thoroughly. Place rinsed cashews in the bowl of a food processor or blender with the water, garlic, lemon juice, and salt. Puree until very smooth. Add sun-dried tomatoes and thin out with additional water to desired consistency. Blend until smooth. Store in fridge for up to 3-4 days.
Originally featured in Healthy-But-Doable Weeknight Dinners