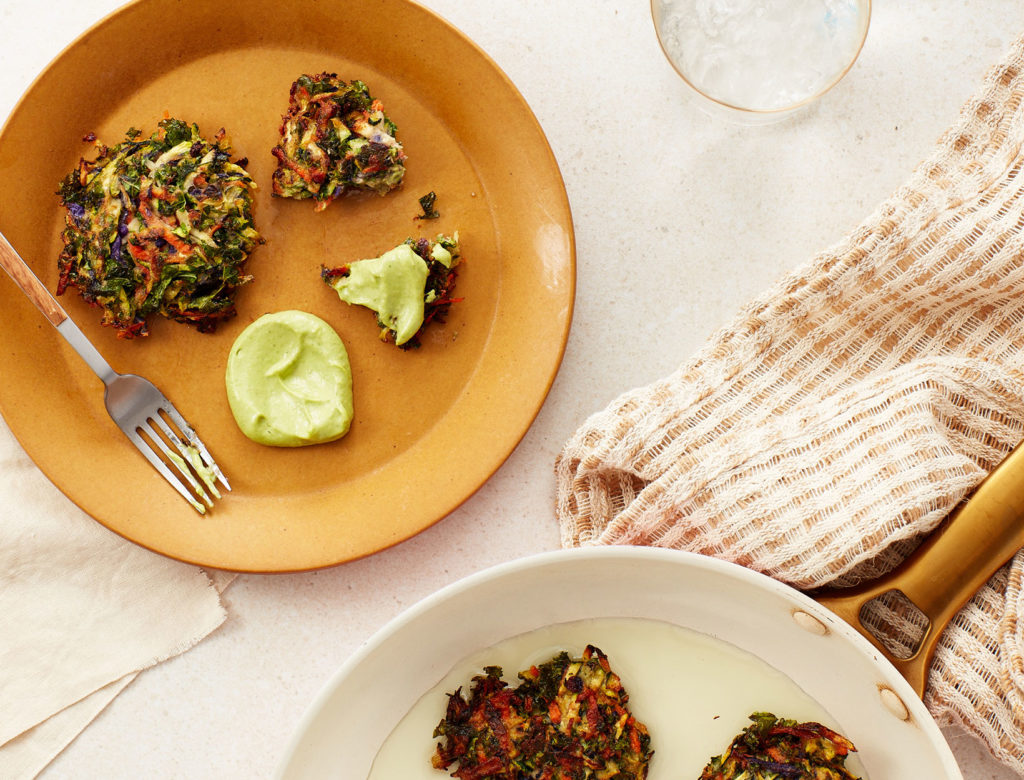 Veggie Fritters with Creamy Avocado Cilantro Sauce
The last meal of detox week: You're tuckered out, so you want it to be simple, and you've got random odds and ends left over that you need to use. A fritter, then. We took inspiration from our favorite fritters all over the world, including Jewish latkes, Japanese okonomiyaki, and Indian pakora. All of these include shredded veggies that are bound together and then fried until crispy on the outside and tender on the inside. We served ours with a creamy avocado cilantro sauce, because a dip always makes it way more fun.
3 cups mixed shredded veggies (use whatever you have left over from your week of detox cooking—a mix of cabbage, kale, carrot, and zucchini is colorful and delicious)
½ white onion, thinly sliced
⅓ to ½ cup chickpea flour (depending on how wet your veggie mixture is, you might need a bit more or less)
about 2 tablespoons water
salt
avocado oil
for the sauce:
½ avocado
¼ cup soy-free vegenaise or aquafaba mayo
1 clove garlic
¼ cup cilantro
juice of 1 lime
water
pinch of cumin
salt
1. To make the fritters, combine the shredded veggie mix with the onions, chickpea flour, salt, and water. The mix won't look like a batter. It should be just wet enough to hold together when you form a patty and press it together between your palms. Pop them in the fridge for 15 minutes to firm up before frying.
2. Meanwhile, make the sauce. Combine all the ingredients in a blender or use a handheld immersion blender. Add a bit of water to get your desired consistency and salt to taste.
3. Heat a nonstick pan over medium-high heat. Add enough avocado oil to coat the bottom of the pan. Carefully add the fritters to the pan. Let them fry for about 4 minutes on each side. The exterior should be nicely brown and crispy, and the inside should just be tender. Once they're cooked, place them on a towel to absorb any excess oil and sprinkle with a little extra salt. Serve with the avocado sauce.
Originally featured in The Annual New Year Detox