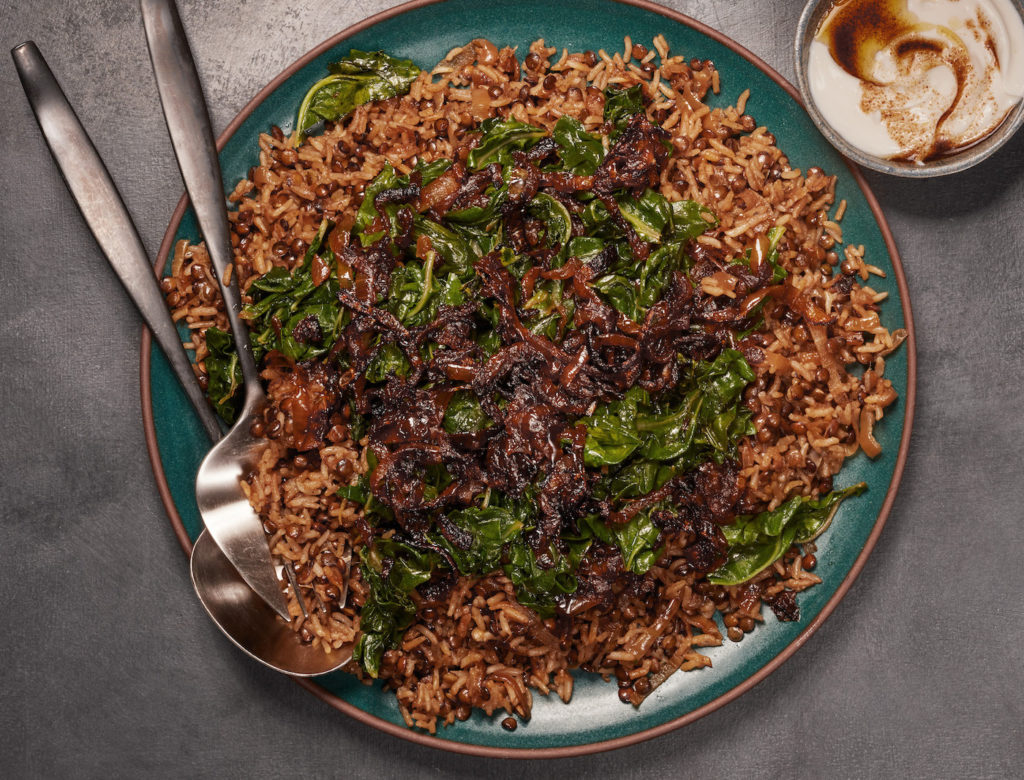 Spiced Rice and Lentils with Greens and Garlicky Yogurt
Lebanese mujadara was our inspiration for this dish—it combines earthy lentils, fluffy rice, and deeply caramelized onions, and it's as good if not better served at room temperature. It might be the perfect food, and it seems like a natural fit for a vegetarian holiday main. Our version has some greens and added spices for that holiday warmth. Serving it alongside yogurt is traditional and adds a much-needed tang to refresh your palate.
¼ cup olive oil
3 pounds yellow onions, thinly sliced
kosher salt
1 cup green lentils
1 cup long-grain rice
1 stick cinnamon
¼ teaspoon ground cardamom
½ teaspoon ground cumin
¼ teaspoon ground black pepper
1 bunch chard, stems removed and roughly chopped
For the garlicky yogurt:
1 cup full-fat plain yogurt
1 clove garlic, grated
¼ teaspoon ground cumin
1. Heat the olive oil in a wide skillet over medium heat. Add the onions and a generous pinch of salt. Cook, stirring often, for about 35 to 40 minutes, until the onions are dark brown and caramelized.
2. While the onions cook, rinse and soak the lentils in hot water.
3. Transfer about half the onions to a large pot with a fitted lid. Add the rice and cook over medium heat for about 5 minutes, until the rice begins to turn translucent. Then add the spices, another generous pinch of salt, and the soaked, drained lentils. Cook for a few minutes until fragrant. Turn the heat up to medium-high and add 1½ cups of water. Once the water boils, cover and reduce the heat to low. Cook for about 15 to 20 minutes, until all the water is absorbed. Then turn off the heat, fluff the rice-lentil mixture with a fork, remove the cinnamon stick, and cover again to let sit.
4. While the rice-lentil mixture is sitting, turn the heat back up to high on your onion pan. Let the onions get a little crispy, then remove from pan and set aside. In the same pan, add in the chard with a bit more oil and let it cook for a couple of minutes just to wilt.
5. To make the yogurt, simply mix together the yogurt, garlic, and cumin.
6. To serve, top the rice-lentil mixture with the crispy onions and wilted chard. Serve the yogurt on the side.
Originally featured in Vegetarian Dishes That Can Be the Main Event