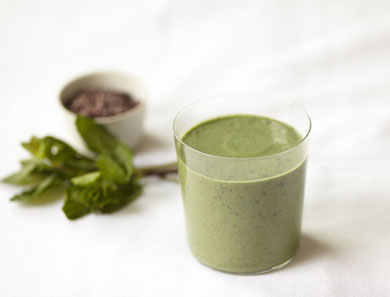 Mint Chocolate Chip Smoothie
A delicious play on the classic flavors of mint and chocolate, this shake makes a satisfying, playful and guilt-free breakfast.
3 tbsp non-dairy protein powder made with pea or hemp (preferably) or with flax or rice protein (or a blend)
1 Greens packet or about 1 tbsp of a greens powder mix made with organic fruits and vegetables and alkalizing grass juices
4 – 6 oz water
4 – 6 oz unsweetened vanilla almond milk
small piece of avocado – about 1/5 of a large avocado or 1/4 of a small one
1/4 cup loosely packed fresh mint leaves or 1/8 tsp organic peppermint extract
sweeten to taste with either raw honey, xylitol or stevia
1 tbsp raw cacao nibs
2 – 4 ice cubes
1. Add all ingredients except the cacao nibs to a blender.
2. Pulse until smooth and creamy.
3. Then, add the cacao nibs and blend for another 5 – 10 seconds to break up the nibs into little bits.
4. Pour into a glass.
5. Enjoy.
Originally featured in A Better Breakfast