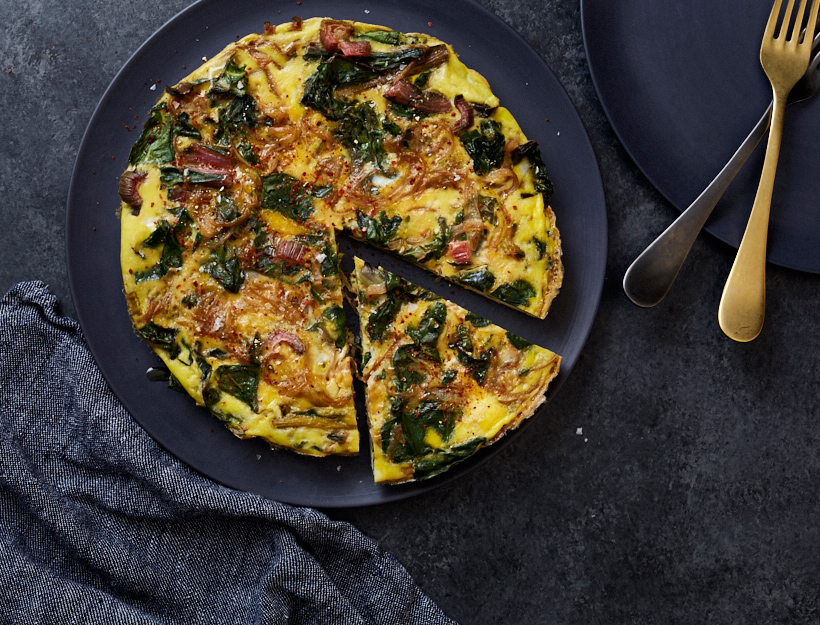 Frittata with Caramelized Onion and Greens
The only thing better than a savory breakfast is breakfast for dinner. Or lunch. Or anytime, really. That's why we love this frittata. It's easy and delicious and you can eat it whenever the mood strikes.
6 eggs, beaten
1 small yellow onion, julienned
2 tablespoons ghee
1 bunch hearty greens (like chard, kale, beet greens, or dandelion greens) torn
1 teaspoon lemon juice
flaky sea salt and Aleppo pepper
1. Preheat the oven to 375°F.
2. In an 8-inch ovenproof frying pan, melt the ghee over medium heat. Add the onion and a pinch of salt and let cook for about and hour over medium-low heat, stirring occasionally so that the onions evenly reduce and caramelize.
3. Once fully caramelized, add the greens and sauté until they've softened. Then add the lemon juice.
4. Add the beaten egg mixture to the pan and let it cook on the stovetop for about 5 minutes, then transfer it to the oven for another 8 minutes.
5. To serve, slice and sprinkle with flaky sea salt, Aleppo pepper, and a drizzle of olive oil.