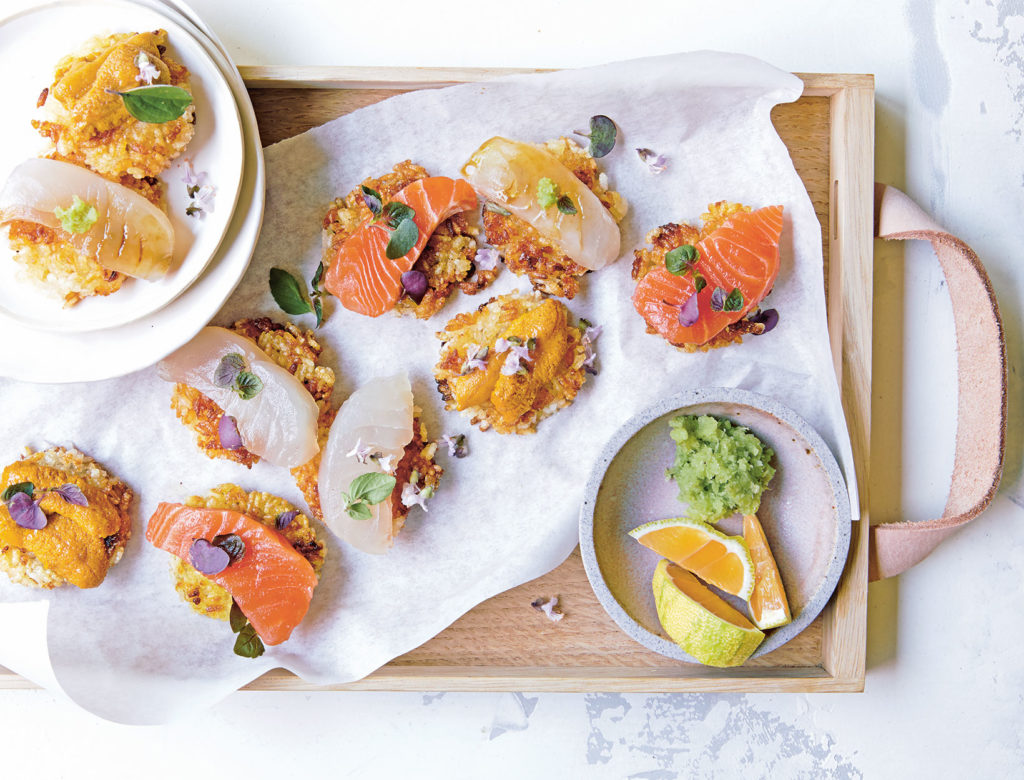 "Sushi in California is so common now that regular supermarkets have a dedicated team to make the little boxes for takeaway. This version is a bit more special with the added texture of the crispy rice to contrast the fresh fish." —Vivian Lui
1. Rinse and drain the rice 10 times, or until the water runs clear. Drain well and transfer to a rice cooker or small saucepan and add 1 cup water. Cook according to the rice cooker's manual. If using a pan, bring to the boil over medium-high heat, cover, reduce the heat to low, and cook for 10 minutes, or until tender and the water is absorbed. Remove from the heat and leave, covered, for 5 minutes. Transfer to a large shallow bowl.
2. Meanwhile, place the vinegar, sugar, and salt in a small saucepan and heat over medium-low heat, stirring for 1 to 2 minutes until just dissolved. Sprinkle over the rice and fluff with a rice paddle or a wooden spoon. Cool to room temperature.
3. Slice the fish into 20 pieces, about ¼-inch thick and about 1½x1½-inch pieces or similar. Chill until ready to assemble. Mix the soy and wasabi or lemon juice to taste. Set aside.
4. Lightly oil a small piece of plastic wrap. With wet hands, divide the rice into 20 portions (about 2 tablespoons each) rewetting hands as needed to prevent sticking. One at a time, wrap the rice in plastic, form in a tight ball and press down lightly to form a ½-inch thick disc, about 2 inches wide.
5. Heat a large cast-iron frying pan over medium-high heat. Add 3 tablespoons oil. Place half the rice discs in the pan and cook for 4 to 5 minutes on each side until golden and just crispy, adding more oil and adjusting the heat for the second side as necessary. Transfer to a plate lined with kitchen paper and repeat.
6. Place the fish on top of the rice and brush with the soy mixture or serve on the side. Top with herbs.
Recipe extracted from Eat California by Vivian Lui published by Smith Street Books. Photography © Con Poulos. Food stylist © Vivian Lui.