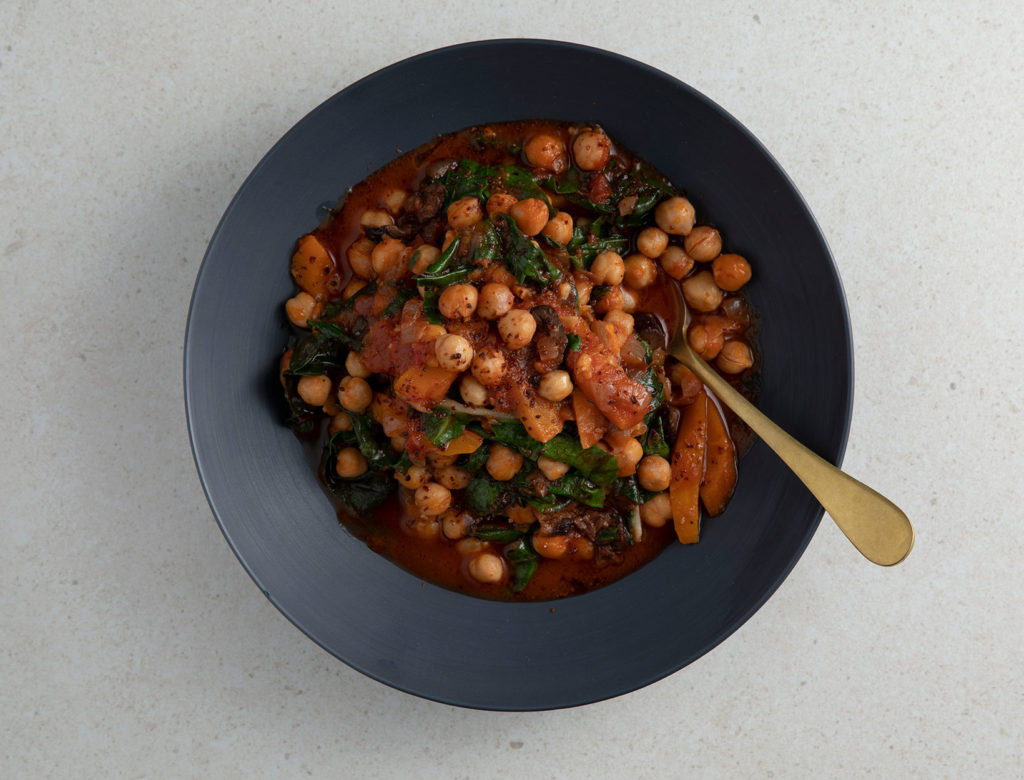 Chickpea Cacciatore
We took all the savory goodness of traditional chicken cacciatore but used chickpeas instead. This one is great for a multicooker because it uses the pressure-cooking, sauté, and slow-cooking functions.
for the chickpeas:
1½ cups dried chickpeas
4 cups water
¼ cup olive oil
2 teaspoons kosher salt
1 onion, halved
1 bay leaf
2 tablespoons olive oil
2 small red onions, diced
1 bunch carrots, diced
3 cloves garlic, minced
kosher salt
½ teaspoon red pepper flakes
2 tablespoons tomato paste
2 tablespoons pitted and roughly chopped black oil-cured olives (optional)
½ cup dry red wine
16 ounces crushed tomatoes
1½ cups reserved chickpea cooking liquid
1 bunch Swiss chard, roughly torn
optional garnishes:
Aleppo pepper
extra virgin olive oil
1. To cook the chickpeas, combine all the ingredients in the multicooker and set to pressure-cook on high for 30 minutes. (It will take a few minutes to reach pressure, and another 15 to 20 minutes to naturally release the steam once it's cooked.)
2. Once the steam has naturally released, carefully remove the lid and discard the onion and bay leaf. Separate the chickpeas from the cooking liquid and reserve 1½ cups for the cacciatore (save the rest to use as you'd use regular broth).
3. Replace the pot in the multicooker base. Set it to sauté on high. Add the olive oil to heat up for a minute or so. Then add the onions, carrots, garlic, red pepper flakes, and a big pinch of salt. Sauté until the onions are translucent and the carrots are just getting tender, stirring occasionally adding a little extra olive oil if needed. Add the tomato paste and olives (if using) and cook for a few minutes. Then add the red wine, crushed tomatoes, and chickpea cooking liquid and let it simmer for 8 to 10 minutes, just to cook some of the alcohol out.
4. Place the lid on top and set to slow-cook for 1 hour on high or 3 hours on low (depending on your schedule). Once the stew is done slow-cooking, make sure your multicooker is set to warm (most of them do this automatically). Taste to adjust seasoning and fold in the Swiss chard. After a couple minutes, the chard should be just wilted and tender, and you're ready to serve.
5. Ladle into bowls and top with a generous glug of extra virgin olive oil (use the good stuff here) and a pinch of Aleppo pepper flakes.
Originally featured in 2 Comforting Plant-Based Instant Pot Recipes