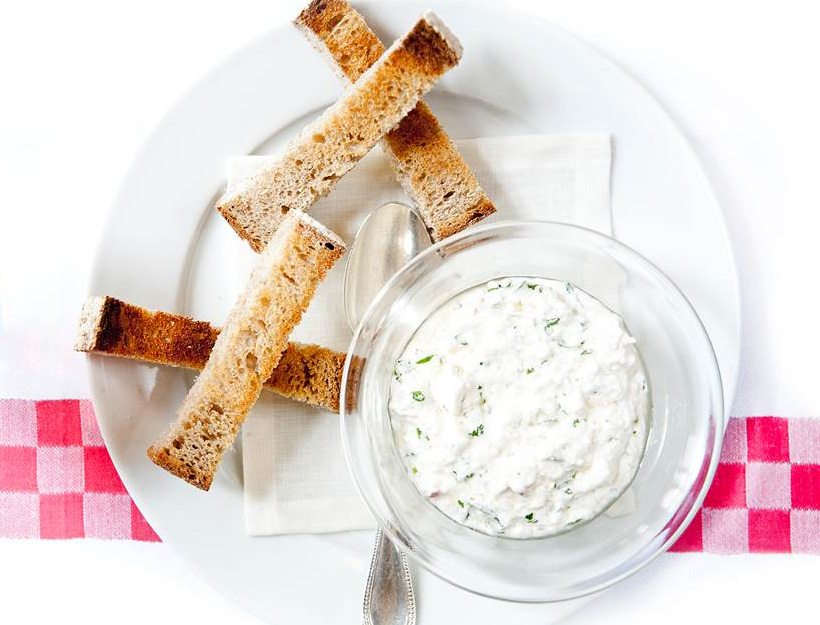 Cervelle de Canuts
A classic appetizer from Lyon, this herby spread is perfect with drinks before dinner.
250g faisselle cream cheese, drained
1 shallot
1 clove of garlic
1/4 bunch Italian parsley
1/4 bunch chives
1/4 bunch tarragon
15g heavy cream
2 teaspoons walnut oil
1 teaspoon roasted canola oil
freshly ground pepper
fleur de sel salt
for the dippers:
1 small loaf of country bread
2 teaspoons olive oil
1. Drain the faisselle cream cheese and set aside.
2. Peel and finely chop the shallot. Peel the garlic and remove the stem end, chop finely.
3. Wash and dry the parsley, chives, and tarragon and then chop them roughly.
4. Mix the shallot, garlic, and herbs with the cheese and cream.
5. Season with fleur-de-sel salt and freshly ground pepper.
6. Add the walnut and roasted canola oil, mixing well to combine. Store in the fridge.
7. Cut the bread into sticks and brush them lightly with olive oil. Toast them under the oven's grill setting.
8. Put the cervelle de canut in ramekins and serve with toasted bread dippers.
Photo credit: Pierre Monetta
Originally featured in The goop Paris City Guide Dinner