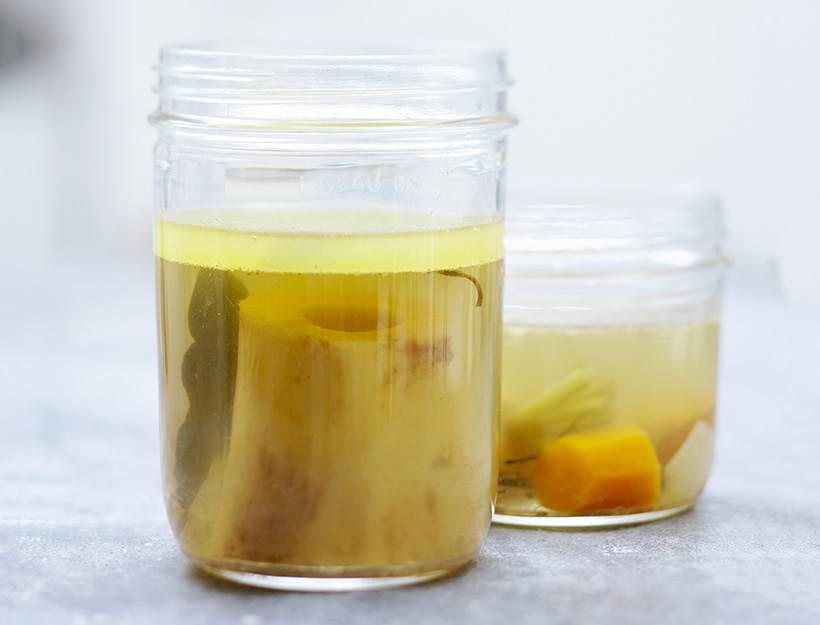 "The following recipe is from my upcoming cookbook Home Cooked: Essential Recipes for a New Way to Cook which will be available spring 2016 from Ten Speed Press. I shortened the cooking in this one as it's not really feasible for a home cook to simmer stock for two days."
1. Preheat the oven to 450°F. Put the bones in a roasting pan and roast until well browned, about 30 minutes.
2. Transfer the bones to a stockpot and add water to cover by 1 inch, then add the onions, celery, carrots, and salt. Bring to a low boil, skimming any scum that rises to the surface, then lower the heat so the liquid is gently simmering. Simmer for 4 to 5 hours, adding water as needed to keep the bones mostly covered.
3. Strain through a fine-mesh sieve into a large bowl and let cool completely, skim off any fat that has risen to the surface. Transfer to jars, cover, and refrigerate. If storing for more than four days, transfer the cooled broth to plastic freezer storage bags and lay flat in the freezer. Frozen broth will keep for up to 6 months.
Learn more about bone broth benefits.
Originally featured in Why Bone Broth is So Good for Us