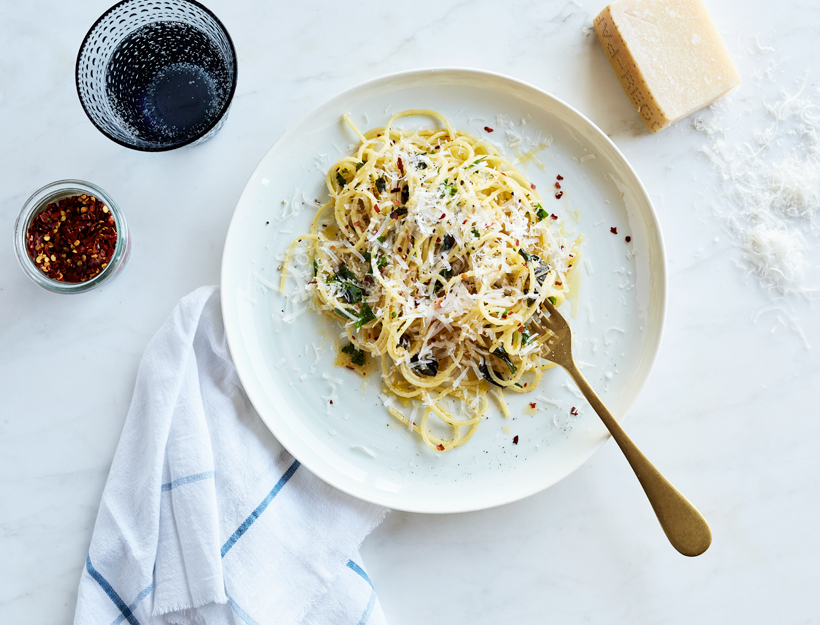 This isn't a make-ahead sauce, but it's so simple it might as well be. If you don't have fresh parsley and basil, add whatever fresh herbs you have on hand, or skip them. We love this plain, but it's killer with some spinach, kale, or finely chopped cauliflower added in—just sauté in the pan before adding the cooked pasta.
1. Heat the olive oil, garlic, and red pepper flakes in a large sauté pan over medium-low heat. As soon as the garlic begins to sizzle and smell fragrant, turn off the heat and let the oil infuse.
2. Meanwhile, bring a large pot of salted water to a boil. Cook the pasta according to the package directions and reserve 1 cup of the cooking water before draining.
3. Turn the heat under the sauté pan to low and toss in the drained pasta. Cook for 1 to 2 minutes, adding the reserved cooking water 1 tablespoon at a time until the sauce has a nice consistency.
4. Turn off the heat, add the herbs and ½ cup Parmesan, and toss to combine. Season to taste with salt and pepper and serve with extra Parmesan on the side.
Originally featured in Four Easy Pasta Sauces—Make Now, Freeze for Later