The Medical Medium on the Virtues of Celery Juice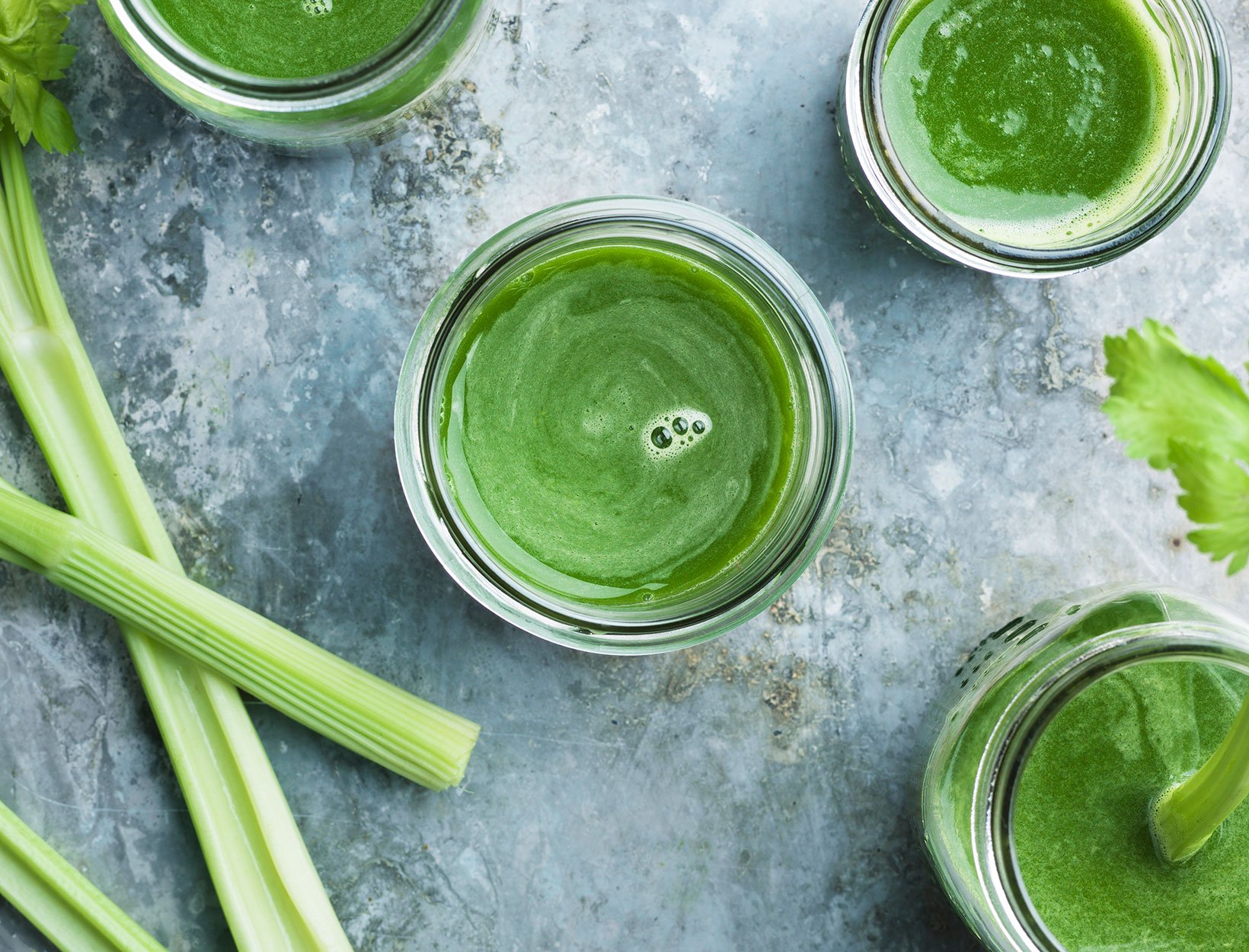 Even if you've somehow managed to never drink something green in your life, you've probably heard about celery juice. Because everyone suddenly seems to be drinking it. And they're not just drinking it; they're swearing by it. But it's nothing new for medical medium Anthony William, who started juicing (and talking about) straight celery years ago. William tells us why he deems it a miracle potion with benefits and how, exactly, he drinks it.
If you're new here (welcome by the way!): William is a force with a devoted following, working well outside the bounds of conventional science and medicine. He's become known for, as he explains it, being guided by "Spirit" to help people claim their health. He's also known for his New York Times–bestselling books, and he has a new one publishing on October 30 called Liver Rescue.
---
Celery Juice: Miracle Juice
If people knew all the potent healing properties of celery juice that I've observed, it would be widely hailed as a miraculous superfood. In my opinion, celery has an incredible ability to create sweeping improvements for all kinds of health issues.
Don't let the simplicity of humble celery mask its strength—it's often the simplest of measures in life that gracefully work wonders in the most complex situations. I believe that celery juice is a miracle juice and that it's one of the greatest healing tonics of all time. I've seen thousands of people who suffer from chronic and mystery illnesses restore their health by drinking sixteen ounces of celery juice daily on an empty stomach. That's why, long ago, I started the movement of drinking pure, straight celery juice. Since my books came out sharing the benefits of celery juice even more widely, it's become a global movement. I want to be sure people know how to use this potent drink correctly and successfully because its healing potential is that tremendous.
Celery juice is most powerful when you drink it solo. While it's great to consume other green juices or vegetables juices and add in items like spinach, kale, parsley, cilantro, and apples, drink those mixed juices at a different time than your straight celery juice. These blends function differently than what I'm recommending as your greatest tool for recovering your health: pure celery juice taken on an empty stomach.
Eating vs. Juicing Celery: The Difference
Eating celery stalks, while very healthy and important, is not the same as drinking pure celery juice. When celery is juiced, the pulp (fiber) is removed, and I believe its healing benefits become much more powerful, especially for someone with chronic illness. You'll also be able to consume far more celery as juice than you would by eating it.
I believe that celery juice also increases and strengthens your bile. Strong bile is important for breaking down fats; it's also needed to eliminate waste from your body. In Liver Rescue, I share hundreds of what I call Liver Troublemakers, which are the specific chemicals, pollutants, pathogens, foods, and more that contribute to a sluggish liver, causing a wide range of health problems that result in chronic illness.
Celery Juice Tips
Every morning, drink roughly sixteen ounces of celery juice on an empty stomach. Make sure it's fresh, plain celery juice with no other ingredients. It takes roughly one large bunch of celery to make sixteen ounces of juice. Celery juice is a medicinal drink, not a caloric one, so you'll still need breakfast afterward to power you through the morning. Simply wait at least fifteen minutes after drinking your celery juice before consuming anything else.

For even greater benefits or if you suffer from a chronic illness or symptom, consider drinking twenty-four to thirty-two ounces of straight celery juice per day. You can drink it all at once in the morning on an empty stomach or split it into two servings as directed below.

If you're unable to consume your celery juice first thing in the morning before food, then the second-best option is to drink it fifteen to thirty minutes before or after eating something anytime during the day. If you're having thirty-two ounces a day, you may wish to have it in two sixteen-ounce servings. You can drink the first in the morning on an empty stomach before eating and the second in the late afternoon or early evening, at least fifteen to thirty minutes before eating your next meal.

If you're sensitive and sixteen ounces is too much, start with a smaller amount, such as two to eight ounces, and increase how much you consume over time. If you're too sensitive for two ounces, you can try sixteen ounces of straight cucumber juice instead for now. Cucumber juice is very gentle, and you can try celery juice again once you've been drinking cucumber juice for a while.

Use organic celery whenever possible. If you're using conventional celery, be sure to wash it especially well before juicing.

It is best to make celery juice fresh and then drink it immediately. If you're unable to make your celery juice right before you want to drink it, it's important to drink it within twenty-four hours of making it. The best way to store the juice is in a glass mason jar with a lid and keep it in the fridge. If you wish, you can also freeze celery juice and drink it as it defrosts. However, I believe the powerful medicinal properties of celery juice will decrease when it's frozen, so it's best to drink it fresh whenever possible.

If your mornings are busy, you can save time by rinsing the celery and chopping it (if needed) the night before so it's ready for you to juice in the morning.

If you find the taste of straight celery juice too strong, you can juice one cucumber and/or one apple with the celery. This is a great option as you get adjusted to the flavor. As you get used to it, keep increasing the ratio of celery; I believe the greatest benefits come when celery juice is consumed on its own. This also means leaving out any lemon, lime, ice, or other added ingredients, all of which change the pure celery juice's healing benefits. For the best results, think: straight celery. Also, if you find the juice bitter, it may be because of the celery leaves. Some people prefer to leave them on while others prefer to remove them. Both options are great; it's an individual choice.

Some people may experience a change in their bowel movements when starting to consume celery juice. This is a normal reaction that some individuals may experience. The loose stools will pass as your body heals, and you may notice your bowel movements become more regular and healthier than ever.
Celery Juice Recipe

The Medical Medium believes: "Plain, fresh celery juice is one of the most powerful healing juices available to us. This clean, green drink is the very best way to start your day. Make this juice a part of your daily routine and soon you won't want to go a day without it!"




---
For over twenty-five years, Anthony William has devoted his life to helping people overcome and prevent illness—and discover the lives they were meant to lead. His compassionate approach has time and again given relief and results to those who seek him out. He is the host of the weekly radio show Medical Medium and the number one New York Times bestselling author of Liver Rescue, Thyroid Healing, Life-Changing Foods, and Secrets Behind Chronic and Mystery Illness and How to Finally Heal.
---
The views expressed in this article intend to highlight alternative studies. They are the views of the expert and do not necessarily represent the views of goop. This article is for informational purposes only, even if and to the extent that it features the advice of physicians and medical practitioners. This article is not, nor is it intended to be, a substitute for professional medical advice, diagnosis, or treatment and should never be relied upon for specific medical advice.
---
Related: Detox Recipes, Smoothie Recipes