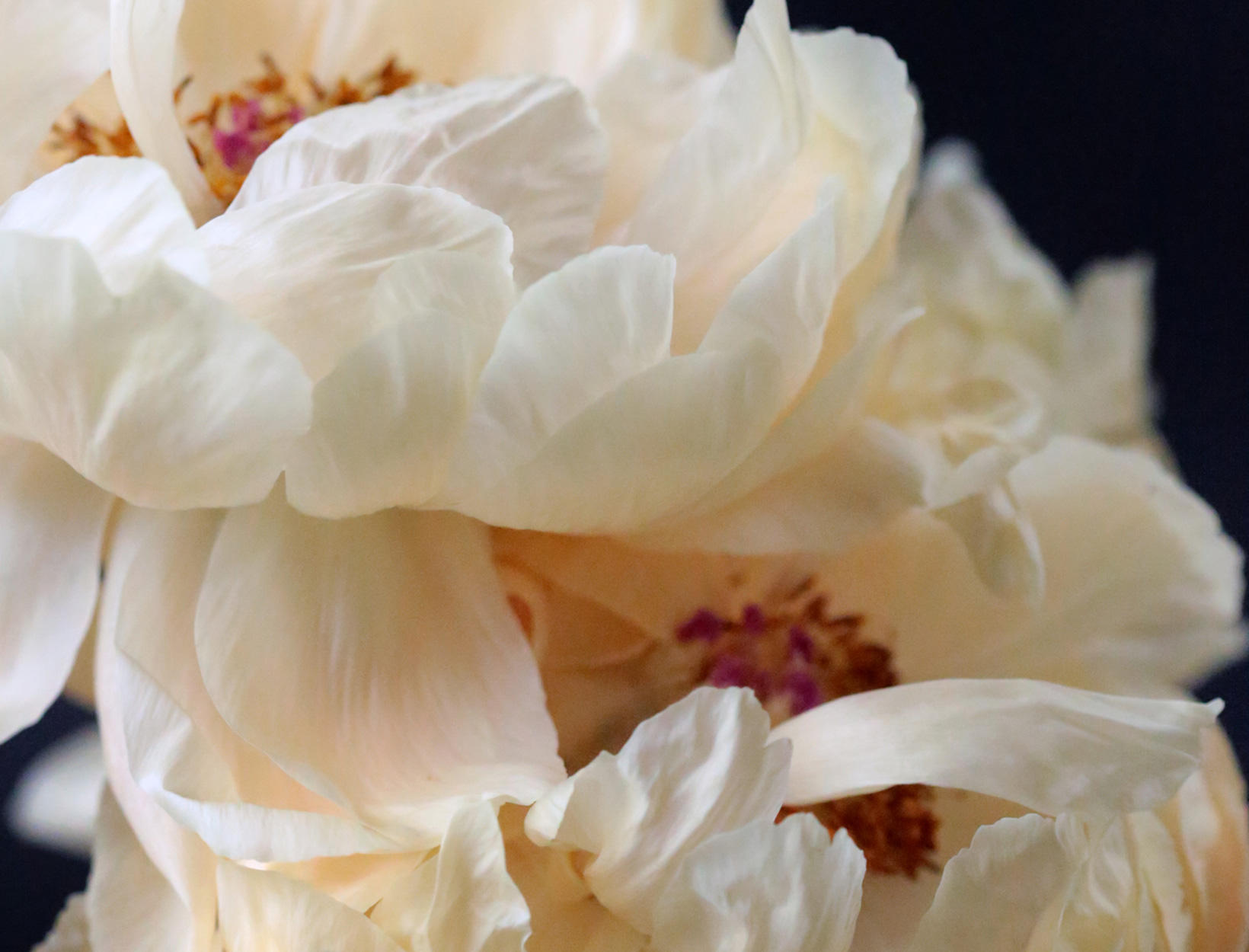 The Grandmothers on Why the Universe
Is Out of Whack
The goop feedback email inbox (you can reach us at [email protected]) is a treasure trove that has inspired more than one story. (For example, see this informative reader note on the jade egg practice.) It was a reader who pointed us toward the curious work of Sharon McErlane, which is perhaps most simply described as aimed at increasing yin, or feminine, energy in the world. McErlane—a Laguna-Beach-based former reiki practitioner and marriage/family counselor—says the world is out of whack because yang, or masculine, energy has been the dominant force for too long, and we need to unleash the power of feminine energy to bring everything into balance. At its core, this is a philosophy that a lot of us could get behind.
It's likely not a surprise that the story behind McErlane's mission is trippy—"I know this sounds strange" she says, as a sort of admission, in telling us about her surreal meeting with "The Grandmothers," who she describes as a divine force here to help us "come out on the other side" of the mess us humans have created in the world. What is likely surprising is the growing word-of-mouth community that has developed around McErlane and the concept. As McErlane explains, there are two hundred and fifty groups around the world who meet regularly to share in this yin work; some only have a few members each, but she says annual workshops (held in a smattering of places around globe, i.e.: Pennsylvania, California, Lithuania, Australia, the Netherlands) have started drawing up to three hundred people.
We asked McErlane to explain the central yin-yang issue, what's relevant about The Grandmothers for all of us, and what she thinks the future of the world's energy will look like. Spoiler: She's optimistic that the energy balance is shifting toward the feminine.
A Q&A with Sharon McErlane
Q
Will you tell us about the first time you felt the presence of the Grandmothers?
A
Twenty years ago, I was looking for a greater purpose. I was working as a marriage and family counselor, and was also a Reiki therapist, and though I liked the work I was doing, I felt like I wasn't using everything I had. On a trip to India, I prayed intensely for direction.
Back home, while walking the dog at the beach one morning, all of the sudden, I was surrounded by a group of women of all races who beckoned me toward them. I was scared—shocked, really—but these women seemed to understand my fear. They were patient and kind as they explained that they were the Council of Grandmothers, and that they had come to empower me to spread the energy of yin. I know this sounds strange…but I felt confident in these women.
Initially, I didn't tell anyone about this experience but I decided to give these Grandmothers my attention. Since then my life has not been the same; their teachings have been transformative. I've continued to feel their presence, and have recorded their messages in books to share with others.
Q
Can you explain the yin-yang issue that the work of the Grandmothers is meant to address?
A
Yin and yang represent the basic building blocks of energy on Earth, the feminine and the masculine. Earth has suffered too long from an excess of yang and insufficient yin (the energy of feeding, nurturing, and structuring). The Grandmothers say we are out of balance: All the destruction and evil you see in world is caused by imbalance; everything is on the verge of collapse. The Grandmothers have come to restore balance.
"Earth has suffered too long from an excess of yang and insufficient yin (the energy of feeding, nurturing, and structuring)."
They explain: The present imbalance of energy on Earth has placed all life in danger. It is time to return to balance, and for this, women must lead. To infuse the energy of yin back into our world, the Grandmothers work through individual women who they say are reservoirs of yin for everything that lives.
Q
How do you think the world got into such a mess?
A
The Grandmothers discourage us from dwelling on the "why and wherefore" of this "mess" we're in. They do say, however, that feminine power has not been embodied on earth for a long time; and at this point in history the energies of yin and yang are shifting.
Q
Is the work of the Grandmothers about doing something in particular?
A
The Grandmothers love everyone—fathers, mothers, children—and they seek the highest good for all. The Grandmothers tell us: The greatest use you can make of our message is to live it. And…there is nothing you need to actually "do," as your very being will do it all.
"The problems on Earth were created by humans and therefore have to be rectified by us, but the Divine can help us if we keep our
hearts lifted and open."
At our monthly meetings, we study one of the Grandmother books and pass their empowerment on to new people. It's a spiritual experience. As an outgrowth of the teachings, many people become involved in service work of various kinds, individually and with others from the group. Overall, we've found great healing in this loving, yin community.
The problems on Earth were created by humans and therefore have to be rectified by us, but the Divine can help us if we keep our hearts lifted and open. However, if we contract and go into anger, the Divine can't work through us. The Grandmothers are always reminding us to stay open so they can effortlessly pour love through us. All we have to do is think of the Grandmothers (or any form of Divine), and be mindful of the presence of the Divine. Songs, meditation, prayers—these are all activities that keep us focused.
Q
How did a wider community develop around the Grandmothers?
A
I shared the Grandmothers' messages with others, and women began to come to monthly meetings at my home to hear more. These women told others, and gradually all sorts of people were showing up. It's all word of mouth: Someone comes to a meeting or shares an email or a video and it goes from there. People reach out, asking to become involved and we help them start a group wherever they are.
Right now, there are over two hundred groups meeting around the world. Most of them are located in the US, Europe, and Australia, with a smattering in other places. Some groups are small—only two or three people—but most meetings are larger, and they're generally held monthly. We have wider annual gatherings in different parts of the world that typically draw between seventy and three hundred people. Gatherings are two- or three-day events that bring people from many countries together; there is a lot of singing, ceremony, and a sense of deep family connection. This year we will meet in the UK, Lithuania, Australia, the Netherlands, and Pennsylvania and California in the US.
Q
So the Grandmothers are representative of the Divine in other forms? Do you think it matters what spirit/energy/higher power people are calling on for help?
A
The Grandmothers are a form of the Divine. The Grandmothers say that although the forms of the Divine are many, all are One. All paths lead to God, but they have come at this time because the world needs mothering now.
The Grandmothers don't care who or what form of the Divine you draw from—but during these difficult times they urge us not to try to tough it out by ourselves, but to call on the Divine, in whatever form we choose.
Q
How are the Grandmothers and their messages perceived—does everyone feel directly connected to them?
A
The Grandmothers are a readily accessible form of the Divine. There is no hierarchy or structure built around them and this allows everyone to develop her or his own relationship with them. People may perceive them in different ways: spoken words within the mind, an intuitive knowing, or a feeling of compassion and love.
Q
What's the Net of Light?
A
The Grandmothers describe the Net of Light as the fabric of being of the universe that connects all life and is limited by neither time nor space. It is also called by many other names, including the cosmic web, the cosmic grid, and Indra's net, and is part of the teachings of indigenous people all over the Earth. (For example, it is mentioned in the Hindu Vedas that were codified thousands of years ago.) The Grandmothers encourage us to use this connection with the Net of Light to support one another, to support the Earth, and to strengthen the energy of yin for all of us.
Q
What are your predictions for the future—do you feel optimistic?
A
The Grandmothers say that we will go through a tough time, but energy is now shifting. As yin energy becomes stronger, the old, darker states of energy start coming to the surface. This is happening now and we need to hold steady while this shifting takes place.
"And the good news is—more and more people are 'waking up.'"
But we will come out on the other side. As we open our hearts to the Divine and wake up to the beauty and power of who we truly are, great goodness will flow all over the Earth. And the good news is—more and more people are "waking up."