Reading the Akashic Records for Your Soul
Written by: the Editors of goop
|
Published on: February 19, 2020
|
Updated on: September 12, 2022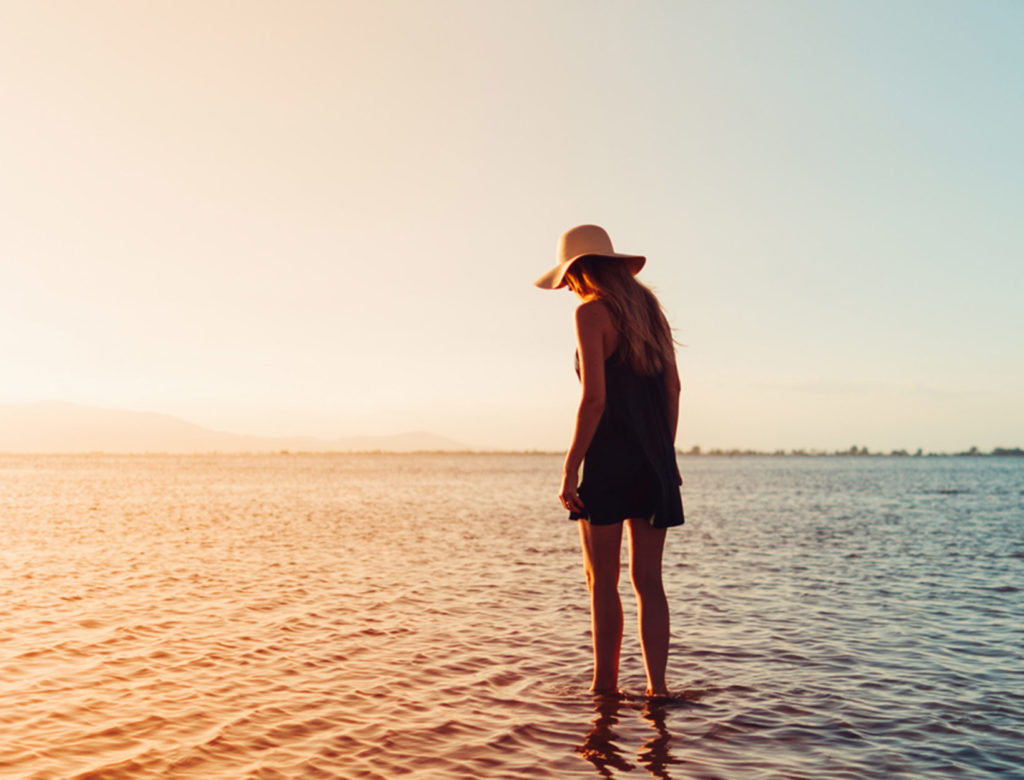 Ashley Wood is an international Akashic records reader, a speaker, and the host of the podcasts Manifest This and The Line.
When Ashley Wood started her first podcast, Manifest This, she wanted to talk about food and wellness. That lasted about one episode. Pregnant for the first time, Wood was feeling a strange pull to develop the psychic gifts that she'd first begun exploring as a child. A friend mentioned How to Read the Akashic Records by Linda Howe, a 1997 publication known to spiritual navigators as the handbook to the nonphysical, vibrational library called the Akashic records. Those who frequent it say this space contains every thought, emotion, and experience that has ever happened to every soul that has ever existed. Or: It's a Google search for your soul, says Wood. Opening the records sparked electricity and an odd feeling of remembrance—Wood says it was like coming home.
Later, Wood channeled that energy into readings for other people. She provides information from the time your soul was created—if you believe in going there, Wood pulls out vivid images of past lives—to the future possibilities yet to manifest. What do you do with this, besides past life voyeurism? Wood's clients use what resonates to guide them in all sorts of ways: when building a business, starting a new project, moving apartments. She believes the Akashic records can become the most powerful tool in your spiritual kit.
A Q&A on the Akashic Records with Ashley Wood
Q
What kind of information is available to you when you open the Akashic records?
A
We can find information from the time your soul was created, about your past lives, present situations, and future possibilities as well. It's always revealed to you what you need to learn in that moment, at that time, to support you on your journey.
The Akashic records are a unique modality. The information is 100 percent focused on that person whose records are open, so if you want to learn about someone else, you have to first ask for consent to go into their records. Anything you learn about someone else will be through the perception of your record or your interpretation of that person. You don't learn about anyone else's soul's path.
You can also use the records for business. You can use it for a creative process. You can open up the record of a physical space by entering the address as opposed to the name of the person into the prayer. If you're going to go in just for yourself, you can ask about career, finances, love, inspiration. People have used them to write books and screenplays. What you can learn in that space is infinite.
---
Q
How do you learn to read the Akashic records?
A
Anyone can learn to read the Akashic records because it is a history of our souls. You do not have to be psychic. The degree and amount of information you receive will vary based on your own personal and unique gifts, but everybody has this access. Some people are very detail-oriented, so maybe they receive more-complex information. Some people see through color, or they might experience messages through music or dance. But everyone has the ability to tap into their records and learn this.
The records are typically accessed through a prayer called the Pathway Prayer. The prayer is a vibrational frequency composed of specific sounds that allow you to access the Akashic records. My program How to Read the Akashic Records shows you how to do it my way. It gives a lot more freedom on rules and how to go about entering the records. When you are able to unlock this encyclopedia of support, you have that for the rest of your life. It is like having a guide in your back pocket. That being said, it might be too intense for people to have that amount of information. That access might intimidate them.
---
Q
What is your method of accessing the records?
A
There is an energetic frequency that runs through our bodies. I call it the line, and it comes from the highest realm in the universe where the Akashic records exist. Through this line, you're receiving messages 24/7. When you pick up on these messages, it feels like an intuitive hit or an inner knowing. The line is almost like an inner filing system for yourself. That's the difference between working with the records. You're not reading the Akashic records for other people, but the messages you receive may be about someone else.
When I started working with the records, I was struggling to put this all together. I was told by my guides in the records that my purpose in this life is to modernize the Akashic records, to make them accessible and easy. So I teach a free line activation, and anyone can do it at any time. It's a breathwork and movement practice.
My workshop series Clear the Line helps you open the line for a deeper level of psychic awareness. It walks you through hypnotic meditations and journaling to peel back the limiting beliefs you have about yourself so you can know yourself with a soul-level awareness. When you are at your soul's core, you are your most powerful—that's your guiding light, showing you where to go and how to lead your own life.
Personally, I believe that everyone is accessing the records at all times. Even if we are completely unaware, we are always getting these messages through our soul. Even at our lowest points we can pray and get access to this energy.
---
Q
How can we learn about our past lives through the line?
A
I've done 500 readings at this point, and when I bring up past lives, people say, "I've had that memory since I was a child" or "I have that dream all the time." So we put together this workshop to piece together your past life memories and gain an understanding that for deep healing, you've come into this life with past life existences and past life memories and past life things to heal. Everything is connected, and you can find this within the line.
---