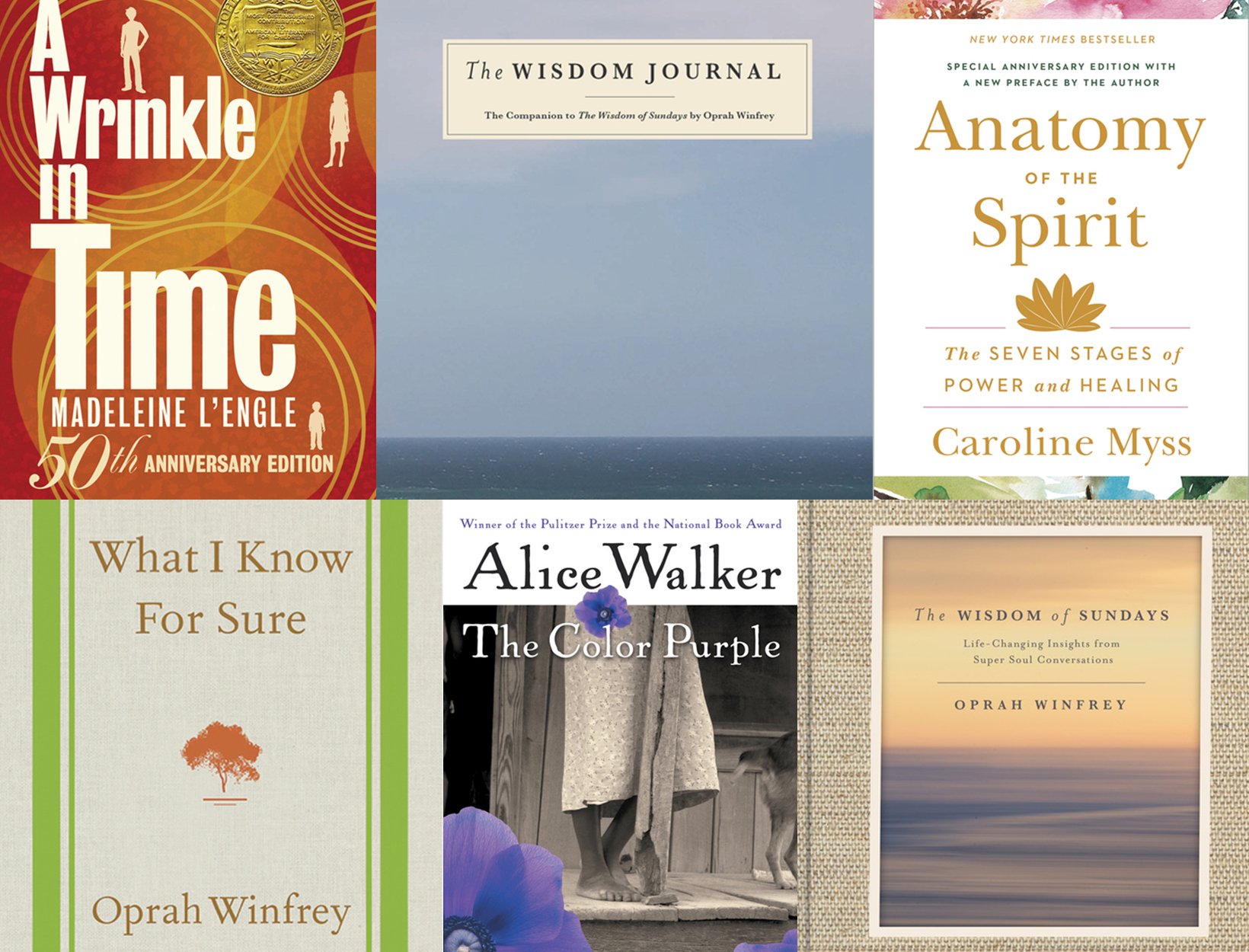 Oprah's Essential Reading for Being a Human on This Earth
Mid-podcast, GP's interview with Oprah turned into a spontaneous book club session. And as common knowledge dictates, when Oprah recommends a book, you read it. The pages of these books are peppered with aha moments (an Oprah-ism) that have made a lasting impact on how she lives her life and can potentially do the same for you.
A New Earth by Eckhart Tolle

In his bestselling spiritual manifesto, Tolle likens our ego-obsessed consciousness to a self-destructive state of insanity. If this sounds like a lot to take in, that's because it is. But Tolle has a way of making his point—that humility, reverence, and kindness toward the universe can radicalize personal identity and the decision-making process—in a way that's digestible and not at all preachy. Oprah's major takeaway: Without the illusion of ego, obstacles become stepping stones to higher ground rather than setbacks.

I Know Why the Caged Bird Sings by Maya Angelou

When Oprah picked up a copy of Maya Angelou's memoir at age fifteen, she was stunned to find her own life story articulated within its pages. Eventually, Angelou became a mentor to Oprah, offering her counsel and perspective at various points in her life. Even today, Oprah calls on Angelou's spirit by name whenever she needs a little extra light.

The Seat of the Soul by Gary Zukav

In the early '90s, Oprah told her producers not to present a topic for The Oprah Winfrey Show without first stating the clear, positive payoff it would have for her viewers. The foundation of this practice comes from Zukav's teachings, particularly his assertion that our underlying intentions—whether they are good, bad, or somewhere in between—have the power to color every action and reaction to follow.

Anatomy of the Spirit by Caroline Myss

Millions of Americans got their first taste of spirituality when Caroline Myss appeared as a guest on The Oprah Winfrey Show in 1992. At the time, Oprah nearly lost her audience—the concept of an inner spirit sounded suspiciously woo-woo to American viewers. We've come a long way since then, but Anatomy of the Spirit still acts as a user-friendly intro to understanding our soul's potential function and purpose.

The Color Purple by Alice Walker

In 1983—before the book club—Oprah was so obsessed with Alice Walker's controversial novel The Color Purple that she would distribute copies from her backpack to anyone who showed interest. It's the story of an African-American woman, Celia, growing up in the deep South, abused and forgotten. Still, as Celia's self-worth grows, she responds to the pain of her life with bravery and compassion. The book also led to Oprah's cinematic debut, in Steven Spielberg's film adaptation.

A Wrinkle in Time by Madeleine L'Engle

Oprah is known for being choosy with the projects she takes on; if the book, film, or, you know, podcast in question doesn't shine a positive light onto the universe, count her out. So when offered the role of Mrs. Which, a celestial mother figure from the fifth dimension, in Ava DuVernay's film adaptation of A Wrinkle in Time, it was an easy sell. The story follows Meg, a young girl whose scientist father disappears into the aforementioned fifth dimension. To rescue him, she journeys through the entire universe, evil and all, with the help of three mystical, astral-traveling guides.
In Her Own Words

The Wisdom of Sundays

Oprah needs guidance, too. Her gurus run the gamut from the visionaries mentioned above, like Gary Zukav, to award-winning authors, like Bryan Stevenson. For an hour on SuperSoul Sundays (OWN's weekly TV show), she picks their brains. Her book The Wisdom of Sundays condenses the very best of these interviews into ten chapters—each chapter representing a step on her own spiritual path.

The Wisdom Journal

Self-care for Oprah means writing in her journal. She started building the habit at the age of fifteen and still relies on these quiet moments of reflection more than therapy. In The Wisdom Journal, Oprah passes the pen to the reader. This workbook lays the framework for you to record personal insights alongside inspiring quotes pulled from The Wisdom of Sundays.

What I Know for Sure

The sum of Oprah's knowledge could fill a library. In her monthly column for O magazine, she boils it down to a few essentials. Like "Worrying is wasted time. Use the same energy for doing something about whatever worries you." Or "What you put out comes back all the time, no matter what. (This is my creed.)" Short and profound, this is where Oprah records her most enlightening memories, hilarious anecdotes, and, of course, brilliant takeaways.