Notes from a Shaman: Moving Negative Energy and Why the World Is in Upheaval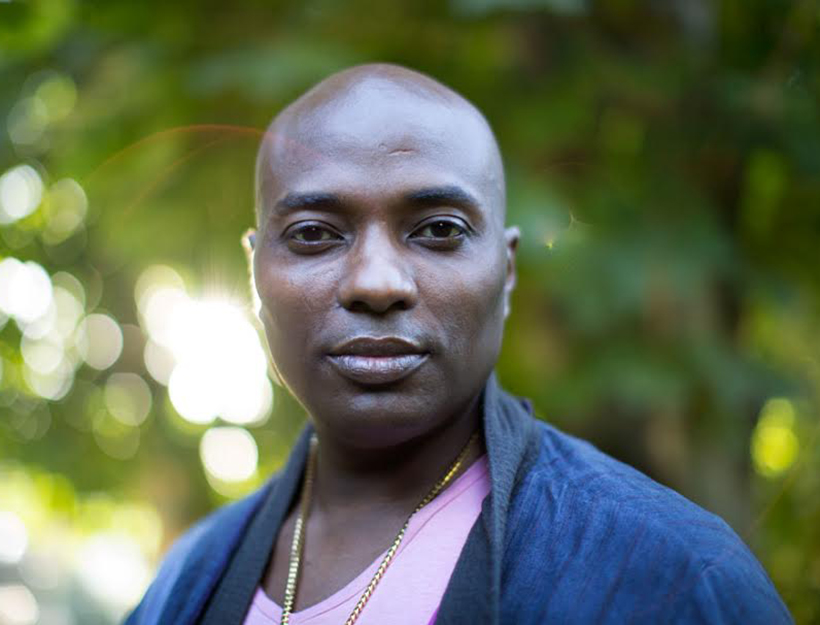 By definition, a shaman is "a priest or priestess who uses magic for the purpose of curing the sick, divining the hidden, and controlling events"—powerful, indeed, particularly when you encounter a shaman who believes that part of his mandate is to teach us all how to fish for ourselves. Shaman Durek, who was born in Northern California to an African-Haitian father and an East Indian/Norwegian mother, began his shamanic studies at the age of 12—as the spiritual heir to his great-grandmother Mamal. But as he explains below, being a shaman isn't just about bloodlines: It's a calling, which requires extreme and prolonged rites of passage—in Shaman Durek's case, he had to actually die, and then physically put himself back together.
Shaman Durek is itinerant—traversing the globe to where he is called next—though he sees clients via Skype, from wherever he is in the world. That said, his hands-on healing is, to put a light point on it, intense and unparalleled—he pulls energy out in what can only be described as an extreme detox, vomiting often involved. It's a bit like a physical exorcism where you're conscious and aware of what he is tapping into, and guiding out.
Beyond helping soul to soul, Shaman Durek is incredibly vocal about the widespread energetic upheaval we all feel—evidenced by geopolitics, the rise of terrorism and violence, and an uptick in environmental disasters—and what we can collectively do to spiritually clean house, which is essential for preserving the planet and our people. Below, he explains a bit more.
A Q&A with Shaman Durek
Q
What exactly does it mean to be a shaman, and how does someone become one?
A
Being a shaman is being on a journey to discover love in its greatest forms of human nature and life. It's a devotion to a lifestyle that enhances the development of inner and outer personal reality. It also facilitates the passage of knowledge down through generations and its adaptation to a modern-day society that seeks a sociological connection within, without power struggles, and without the clarification of our creator.
Not everyone is chosen to be a shaman. Some people believe that being a shaman is just about learning to take plant medicine or spending some time with a shaman—but that's not what constitutes becoming a shaman. To be a shaman, one must be able to hear the call of the ancients, the ancestors, the ones that walked before us. One must surrender prejudices or expectations of others, accept them, and hold truth for who they are. One must also be like the mud: pliable and able to transform into nothingness without question, without complaint. The spirits choose the shaman because he is able to be a bridge, a messenger, a voice for spirit.
Being called to be a shaman can be a very scary thing for some; for others, it can be a great adventure. You know when you were a kid and there were things that scared you at night? The monster in your closet, the boogie man, something under your bed or the shadows on your wall, the voice that called your name unexpectedly, the chills that went up the back of your neck, the things that made you jump in a scary movie? Some of the first things that the elders make you confront to see if you are really a shaman are those things. The level of training required to overcome your fear of the unknown takes quite a bit of time to accomplish. You also have to learn to trust spirit—spirit will put you in very particular situations, that for an average person would create a panic attack or meltdown—like making you get lost in the mountains, or stranding you on an island. Ultimately, you have to trust spirit to give you the information you'll need, and to guide you without you questioning or judging if you're making it up. One time spirit told me not to go to this café. Two minutes later, after making a decision not to go despite the fact that I visited this café in Israel pretty much every day, the café blew up. I take it that spirit really wanted me to learn this lesson.
After many years of devoting and dedicating your life to the path of becoming a shaman, just when you think it's all over, you have a rites of passage. I've met a handful of people who have claimed to be a shaman, but you will always know a real shaman when you look in their eyes and they tell you about their rites of passage. Since I'm a spirit shaman, my rites of passage was not an easy one—to say the least. I literally had to surrender to the spirits and sacrifice my life, die, go to the other side, meet with the elders, talk to friends, and get all the information that I needed as to why we are on this rock—this beautiful, amazing rock called Earth. Then, I had to learn how to put my body back together after being pronounced dead, brain damaged, paralyzed, with a failing liver and no kidney. The rites of passage journey can last up to 10 or 20 years, and sometimes even longer than that. My rites of passage devotion was 15 years long. While you still spend the rest of your life learning from your elders, after your rites of passage is complete devotion to your life and people becomes your primary focus.
Q
How do you work with clients? Why do people reach out and what's generally at stake?
A
I work with clients in various ways—obviously, it's highly personal and depends on how much we have to do in order for them to make conscious change both internally and externally. Some sessions involve me communicating with their body and energy to find out what type of person they are, and what is written in their cells and their bones. I watch the way they breathe. Observing certain nuances in the physical patterns of their being gives me an understanding of who they are. I also communicate with their guides to find out where they are in their evolution, as well as what issues are causing roadblocks for them. After an assessment is made, I determine the intensity of what needs to be done in the session, and the highest suitable outcome for each individual person I work with.
People reach out to me because they are tired of staying stuck on the same issues in life, and they want direct answers to questions and problems that are associated with their life's journey. They want tools that they can utilize in today's modern times. Most importantly, they want someone who is not going to judge them, regardless of the circumstances. And they also want someone who is there to help them achieve the highest potential of their being in this lifetime. I am known by many as the "no nonsense" shaman. I'm not into fairy tales and fluffy bunnies. I'm into practical and easy solutions that are not convoluted, which is the basis of shamanism: I keep it simple and rooted in common sense. My sessions range from something as tame as just speaking and going through emotional transfusions to life-changing moments where clients literally puke up poisons, shake, and feel electric shocks in the body, detoxing on very deep levels. It depends on what the elders feel is most beneficial.
Q
What is everyone hoping to achieve in a session?
A
I place no hopes because to hope is a false human condition governed by the idea of chance. In order to change, it takes proactive mental and physical choice. As for the clients, they often feel it may be one thing, however, it can be something entirely different. For instance, I sat down with the CEO of a huge tech company in his office, after he had seen a decrease in business. I asked the guides why this was happening, and they said that he did not spend enough time with his wife and kids, and should take time off to be with his family. Even the picture hanging behind him on the wall depicted a man walking ahead of a woman and kids. The sign was right in front of his face. He made the change and his business improved: Practical and seemingly common sense, however mystical.
Q
What generally happens in a session?
A
In most cases, people have an awakening in themselves and learn how to operate in their lives in a much more authentic way. Others experience a profound life change, where they go through some detox that leads them to make different decisions that change the circumstances of their lives for the better. The journey and the outcome depend on the person and their willingness to stop making excuses and really dive into where I'm going to take them.
Q
What sort of energy are you helping people expel? Where does it come from and what is its source?
A
There are different types of energy sources: some are physical, some are emotional, and some are spiritual. I'm going to simplify this without getting too intense. Physical energy is generated by the response of the environment—what you take in by nourishment, and what you expose yourself to as far as chemicals, compounds, and electrical currents. These energies are either giving to your body or depleting your body. In scientific terms, these are known as free radicals, EMFs, and toxic chemical compounds that are breaking down your body's system, and contaminating it with low-grade food, bad air quality, and environmental pollution.
Mental energy is based on electrical currents, which are stimulated by knowledge and data that affect your neurological system, your neurons, and your nervous system. If the mental stimulation you are receiving is not of the same quality as the high-frequency current that releases certain congruent chemicals in your body, it will create an adverse effect on your emotional quality as a human being, therefore infecting your endocrine system, your hormonal system, your immune system, and all other organs and tissues that are in your body.
And then there are the spiritual energies, which the world doesn't have a lot of knowledge about. Shamans have returned to help facilitate this lost information. Your world is made up of spiritual energies: The ones that are in lower form are based on fear, guilt, judgement, doubt, shame, hate, and anger…I'm sure you get the picture; the ones in the higher energy forms are based on love, compassion, bliss, elation, playfulness, joy, ecstasy, pleasure, and every higher vibration that connects you to unconditional love and acceptance. There are spirits that support those energies—as human beings, we see it as duality, while in the spirit world we see it as a choice. It's very simple, but you're either creating or you're destroying in every aspect of your life, from how you are with your children, to how you are in your relationship, to conversations you're a part of, to what you're taking in visually, to what you're eating, to how you connect with yourself and the inner conversations you have with yourself. Shamanism is about simplicity, and spirituality is, too. If something is not simple and takes a lot of time to figure out, well, I think you get the picture. When you are not honest about what you really want, and when you compromise or make adjustments to who you are in our truth, spirit doesn't support the lies that you tell yourself, you do. As a shaman, it is my responsibility to identify the energy sources that are affecting your life, to make a comprehensive understanding of them, and to decide how we are going to expel these poisons from your system, change your belief system, and put you back in space in your life so that you are operating at your highest level.
Q
You have mentioned that we're in the midst of a major shift and moment of upheaval in history—how does that manifest, and what does it mean?
A
We are at a time in evolution where we have to examine and take responsibility for our actions, both individually and collectively. This was known by some as the 2012 shift from the Mayan calendar. The occurrences that are happening on planet Earth right now are creating a magnetic pull where the lower vibrational energies are being brought up to be transformed into higher vibrational energies for the sustaining of our planet and the evolution of the people of Earth. This is a mass occurrence and is not to be taken lightly. I call this the great upheaval, because what is seen and experienced at this time is a mass awakening to the realization that what we have swept so much dirt in our homes under the rug, metaphorically speaking, that it's time to clean up the mess that we have put off for years. In other words, it's time to clean house. As people of the world, we have a conscious responsibility in our daily lives and in our social constructs to rebuild and remake a society that holds each other up in the highest light. There can be no more tolerance for people sitting down at a table and talking badly about themselves—we have to hold people accountable for who they really are, and we cannot let them tell lies about themselves by putting themselves down verbally. Once that happens we will truly begin to move into a place where we not only honor ourselves, we honor our world, the animals, nature, and the gift of life.
Q
How can you tell if you need to work with a shaman? Is it possible to expel negative energy on your own?
A
You know that you need to work with a shaman when you start to consider the idea of working with a shaman. When you get tired of living within the constraints of the psychological merry-go-round we have been exposed to: Our social system operates as if this is the only way human beings can grow and release ourselves from problems. When you're ready to take the power back into your own hands, it's time to come and see me.
For the second part, the real question is what negative energy are you expelling? Most people react to negativity with negativity, which only prolongs the healing process and creates psychological and emotional damage. In order to truly expel energy, you must look at energy differently and outside of duality. Most people run from negativity: They judge it, lock it up, barricade it, kill it, ostracize it. We have been taught an incorrect way to expel negative energy, which then creates more negative energy, more pain, more destruction, and more suffering on our planet. I teach my clients tools for expelling negative energy at a core level both for themselves, their friends, and their families. My father once said to me that it's better to teach a man how to farm for his own vegetables and fruits than it is to farm for him. I say that a conscious human being is better than an unconscious human being. One way we can expel negativity in our lives is to simply shift negativity by the way that we look at it. When you react to negativity, you send a signal imprint to both yourself and the universe that this experience of negative energy has value to you. Obviously, it does, why wouldn't you react? If we spend more time reacting to the joyful, beautiful, and pleasurable things in life, it shows the value of those things and we create more of them.