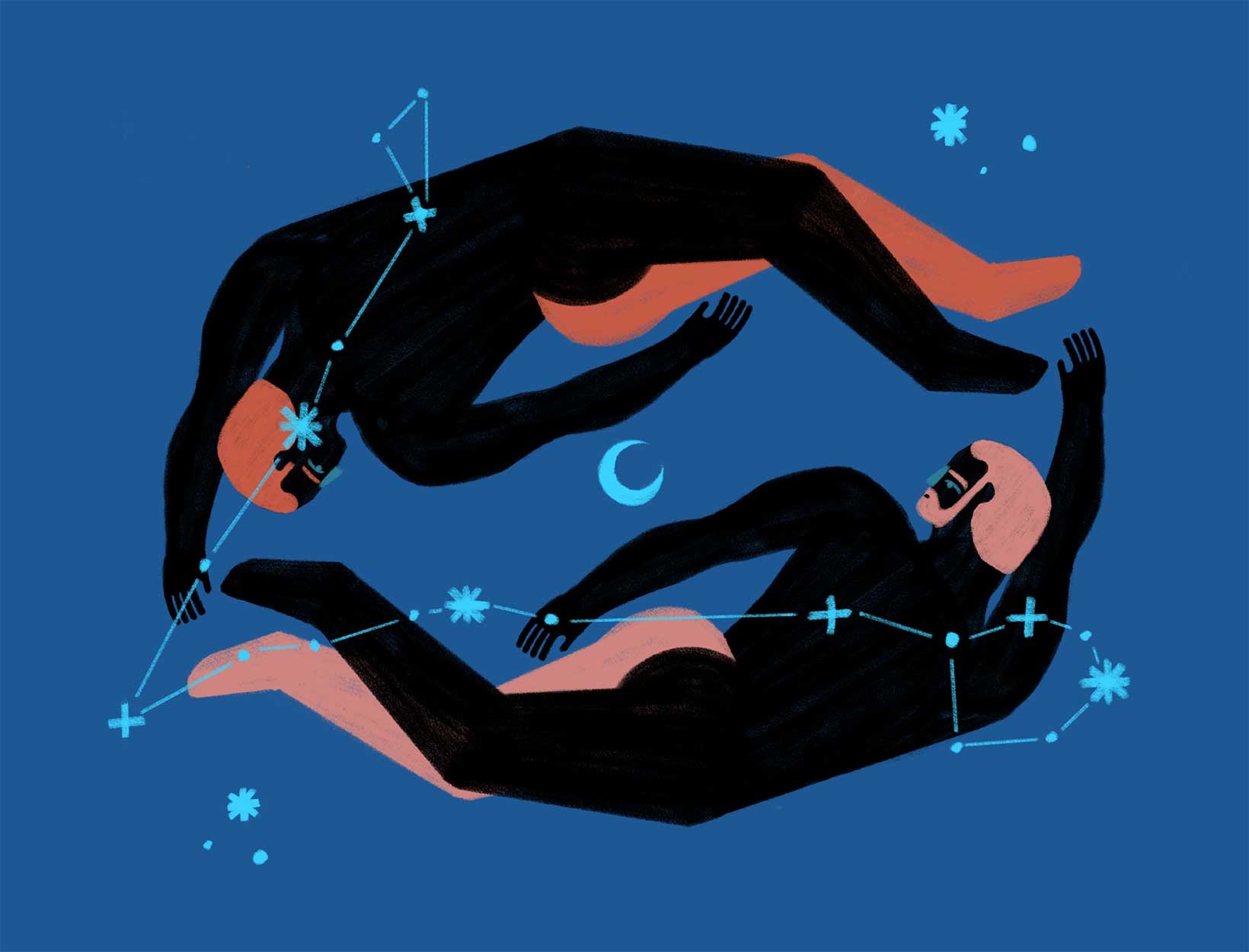 Illustration by Enrique Larios
The Upside of Mercury Retrograde
On October 31, Mercury went back into retrograde—striking fear into hearts, spilling coffees on shirts, and sabotaging carefully planned road trips everywhere.
But according to astrologer Nymph of Neptune, Mercury's retrograde is more an opportunity for growth than the culprit behind life's ills. When you read beyond the headlines, she says, there's something healing in this three-week period. It just takes a counterintuitive approach—letting your guard down—to capture that.
---
Three Weeks of Mercury Retrograde in Scorpio
Mercury retrograde is upon us again, and this time she's here to help us venture into uncharted territory. Get ready to let your boundaries melt and find new depths of intimacy with those you love: Mercury retrograde began on October 31 and will end November 20.
But what does Mercury retrograde actually mean? It's a lot less daunting than you may think. When Mercury appears to spin backward, it looks as if she slows down and retraces her steps, giving us a cosmic second chance to uncover anything we didn't the first time around. Mercury is the planetary ruler of communications: This is an opportunity to reap the benefits of conversations that were previously left unspoken.
How can we make the most of this year's third and final Mercury backward dance? During this retrograde, Mercury is in Scorpio—arguably the most complex, multilayered, and profound sign. Scorpio's destiny is to seek out transformation and rebirth through intimacy; taboo subjects do not scare off this mysterious archetype. Over the coming weeks, push your interactions with others past regular small talk and dive into juicy topics. If you have emotional baggage with a loved one, now is the time to let your guard down and unpack it together.
The beauty of this period of time lies in the opportunity it gives us to heal our wounds through words, if we use them wisely. Don't underestimate the power of your thoughts: Mercury in Scorpio is great for visualisation and using your mental energy to break through blockages.
Watch out for any unnecessary suspicion of others throughout November: Mercury in Scorpio's heightened intuition can feel laser-sharp when properly activated, but many of us can become overly suspicious when there is too much Scorpio energy in the atmosphere.
This retrograde lies in beautiful alignment with Venus, ensuring that if we can lower our boundaries without fear and go bravely into the depth of our connections, healing and intimacy wait for us on the other side.
---
London-based astrologer Nymph of Neptune offers tarot readings, planetary birth chart analysis, and astrology-based life coaching in person or on Skype.