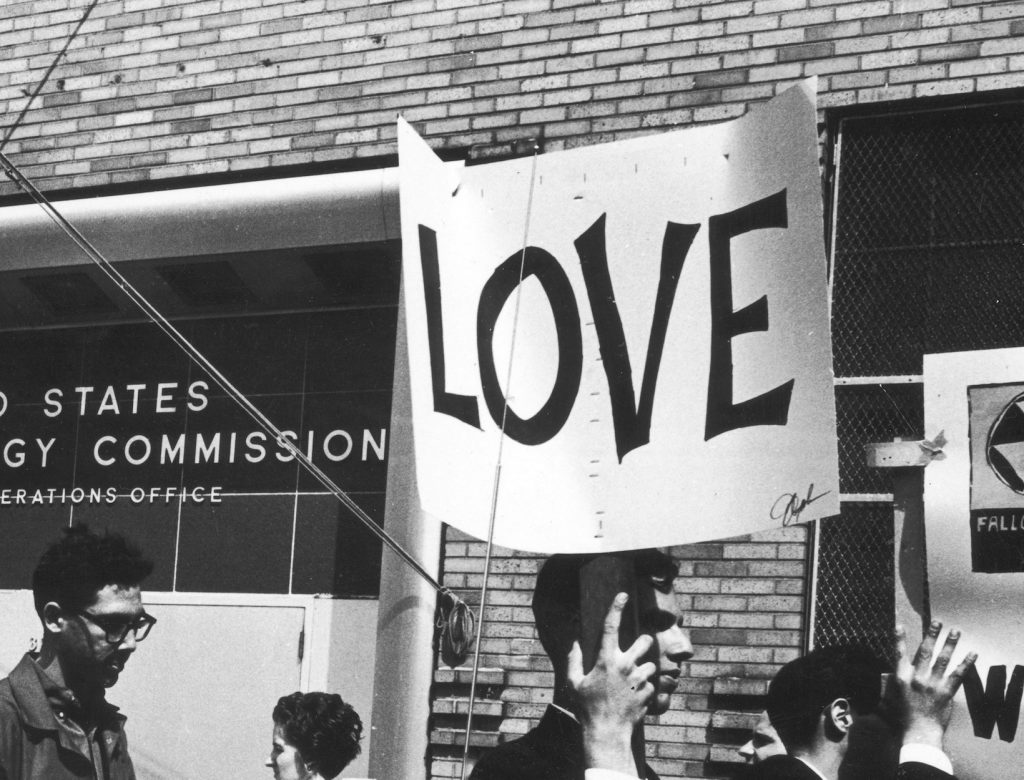 How Love Can Solve Political Turbulence
How Love Can Solve
Political Turbulence
"This is not a time for personal weakness, but for strength," writes spiritual author Marianne Williamson. "The only real strength is love; love makes us vulnerable, but in a way that makes us strong." Williamson isn't talking about love love. She's talking about love as a political force.
For decades, Williamson has been a leader in the spiritual community. She's also written more than a dozen (bestselling) books on spiritual guidance. And as an activist, her mission has always been one filled with compassion, prayer, and love. But today's political climate and our failure to come together as a society are threatening our country, our people, and the progress we've made, argues Williamson in her new book, A Politics of Love: A Handbook for a New American Revolution. Her book is a rallying cry, a study of our humanity, and a warning of what will happen to us and to our country if we don't find our way back to love.
With A Politics of Love, Williamson, who's making a 2020 presidential bid, asks the country to be courageous in the face of hate, to lead by example, and to start doing the work to heal ourselves and our country. Explains Williamson: "There's a way that our grace must be matched by grit. Our tenderness must be matched by a fierceness today. I think it's happening, but we all need to step it up."
For more from Williamson, listen to her on the "Who Are You in Crisis?" episode of The goop Podcast, where she and our chief content officer, Elise Loehnen, discuss compassionate resistance and real maturity.
A Q&A with Marianne Williamson
Q
What inspired you to write
A Politics of Love
?
A
I had written a book called Healing the Soul of America back in 1997. I revised it last year because so much had happened in the country and that book was resonant again; it's just that the statistics were out of date—so many of them were even worse.
I also felt that because so much had changed in the country, it was time not just for a revision of the old book but for a new one. When I first wrote Healing the Soul of America, people in the spiritual community weren't really interested in hearing about politics. And people who were political activists didn't seem too interested in hearing from a spiritual author. But a lot has changed. The idea of an integrated model of healing our lives, that there are external issues that have to be addressed and internal issues that have to be addressed, people understand this now. It's a mainstream impulse. We see how it applies to healing our bodies. We have to make internal changes as well as external changes, politically and socially, if we're going to heal the country.
---
Q
What issues are you seeing in our country?
A
The problem is twofold. First, the problem is that such a horrific thing is happening. And an equally significant problem is that the American people don't seem to care, that so many of us have looked the other way. For so many Americans, chronic disengagement from politics has gone on for so long that citizenship is like a muscle we need to rebuild. Internal muscles wither from underuse, just as external muscles wither from underuse. And there are attitudinal muscles.
There are many things we're not noticing. For instance, millions of American children born right here are living in chronic trauma every day. There are schools without libraries. Schools where they don't have the adequate funding and supplies to teach a child to read. If a child can't read by the age of eight, the chances of high school graduation drastically diminish, then the chances of incarceration are drastically increased. Psychologists tell us that the PTSD of a returning veteran from Afghanistan or Iraq is no more severe than the daily PTSD that is present in these children.
Where are we? Where are America's women? I have, for thirty-five years, been working very intimately with issues of personal transformation, and to transform our lives, a deeper inquiry needs to extend outward, beyond just ourselves. It can't just be: What makes my life good? What makes my life transformed? It has to be: What makes the collective good? What makes the collective transform?
---
Q
Is this what you mean when you write, "We need a revolution of consciousness?"
A
That is what is happening now—the idea that we must rise up within ourselves. What is happening today with the Trump administration can be likened to an opportunistic infection. These things could not have happened had there not been a weakened societal immune system. Every citizen is a cell in our societal immune system. That's what I feel is going on now, an awakening to a new contextualization in citizenship where we don't disengage from it but instead we embrace it as an important dimension of a meaningful, well-lived life.
In Helen Schucman's A Course in Miracles it says that your greatest power should not be to change the world; your power lies in your ability to think differently about the world. What you look at differently changes, and we can look at politics differently. As we look at politics differently, with a new set of eyes, then we can reenvision the country and really be on the way to repair as a nation, and we can experience, as individuals, the depth and the meaning of being a part of that.
There's a famous saying, "All that is necessary in order for evil to triumph is for enough good men to do nothing." There's a lot that has developed in the field of personal growth where people talk about living big, meaningful, important lives, but if your life doesn't serve anyone but yourself or your own tiny tribe, I think we might want to reconsider those words, meaning, and depth.
---
Q
How does personal transformation encourage political transformation?
A
Everything we do carries the imprint of our internal being. You could be going out there with the best of intentions and really trying to do something great in the world that serves other people, but if you're carrying around your own unhealed neuroses, they're going to impact the external work that you do. If you have problems in relationships with other people or you come across in a certain way that people don't like, that's going to impact your external work.
On the other hand, you can't say, "I have to become a perfect person before I go out there." Because it's also true that being out there, you have the experiences that are what you need in order to work on those internal issues. It's like marble ice cream. One day you will realize that, as it says in A Course in Miracles, "there is nothing outside you." Every issue really is personal.
In A Politics of Love and what I've felt in my life and in my campaign is that politics is personal. There's a level of maturation that occurs when you allow yourself to look beyond yourself into a wider field of collective concern. It keeps us infantilized when we don't address larger political social and economic issues. I see this even in the world of higher consciousness and personal growth. There are too many women stuck at certain level of little girl. Too many men stuck at a level of little boy. Anybody who's looking the other way and just hoping somebody else is handling it, saying, "I'm not really very political," is not dwelling at the level of seriousness that we need to be at as women and men today.
---
Q
You mention chronic disengagement. What advice do you have for people who feel politically burned out right now?
A
Checked out and zoned out are very different than burned out. There are not that many people in our personal growth and serious higher consciousness community who are burned out. They're checked out. They're zoned out.
There is no public issue that will not ultimately get to your private door. When they are gutting the Clean Water Act, gutting the Clean Air Act, and overturning the ban on pesticides that harm a developing child's brain, more and more the policies of a sociopathic, corporatist agenda affect all of our lives in ways that cannot be walled off, that we cannot wall ourselves off from.
There are people whose lives are deeply affected already by the policies of this administration regarding such things as what's happening at the border. The fact that a certain something hasn't affected you personally yet doesn't mean it's not happening. What then becomes operative is: Are you going to look away and consider it just not your concern? There is a karmic consequence to that. Not only are there karmic consequences to what we do; there are karmic consequences to what we don't do.
---
Q
How do we resist the darkness and be compassionate toward people who don't have the same political views or for those who spew hatred?
A
Martin Luther King made a comment about how God told him he had to love his enemies, but he didn't say he had to like them. This isn't a personal love. But this is a democracy. Every citizen has more than a right. We have a responsibility to draw the lines that we feel need to be drawn. It's no different from drawing boundaries in personal relationships. The higher consciousness community is so into boundaries. It's not negative to draw a boundary. When someone is hurting your child or any child with certain policies, it is the righteous thing to say, "Stop right there."
There are many, many more people in this country who love than people who hate. The problem is that those who hate are very convicted. Conviction is a force multiplier. Racists and bigots and homophobes and anti-Semites and Islamophobics, those people are a minority in this country, and I believe a small minority, but they have gained political power. The issue is that those of us who love, let's love with greater conviction.
Too many of us have thought of love only in terms of our own personal lives. It's not that I don't think we're good, loving people, because I think we are. I think the Americans are good, loving, decent people. Over the last few decades, many people have been inquiring what it means to live a good life. A better life. Be a loving person. Be an ethical person. Be a person of character. The issue is that that conversation has become, for too many of us, circumscribed only within the personal domain or within a small group. We must think about what makes a good society.
So what do you do about those people who do not look at life that way? That's their business. In a free society, nobody owes it to you to vote the way you would vote. The issue is they have become effective and organized and strategized. Now we must become effective and organized and strategized. That's why I talk about a politics of love. We must operationalize love now the way some people have operationalized fear. We must put love in action collectively, just as we must put love in action personally.
In our personal lives we know this. Love is a participatory emotion in a personal relationship as well as in a social or political relationship. It's not enough for me to just sit here and love you. I need to behave toward you in ways that are a conduit for that love, that serve you, and that show compassion to you.
---
Q
What are the steps that we need to take as a society to become one that is led by love?
A
We have elections in this country—that's what a free democracy is about. We will be deciding in the year 2020 whether or not to continue with the current policies. All of us have to choose now whether to align with the politics of fear or the politics of love. I think that is the civic responsibility, and that civic responsibility is a sacred one this year, to listen very deeply to the candidates. If and when you find one who aligns with your heart and your deepest values, support them. Do everything you can. This is a very serious moment. Don't let your ideas of what is possible stop you. Don't let any kind of intellectual or personal laziness stop you. Get involved. We have a country to save.
---