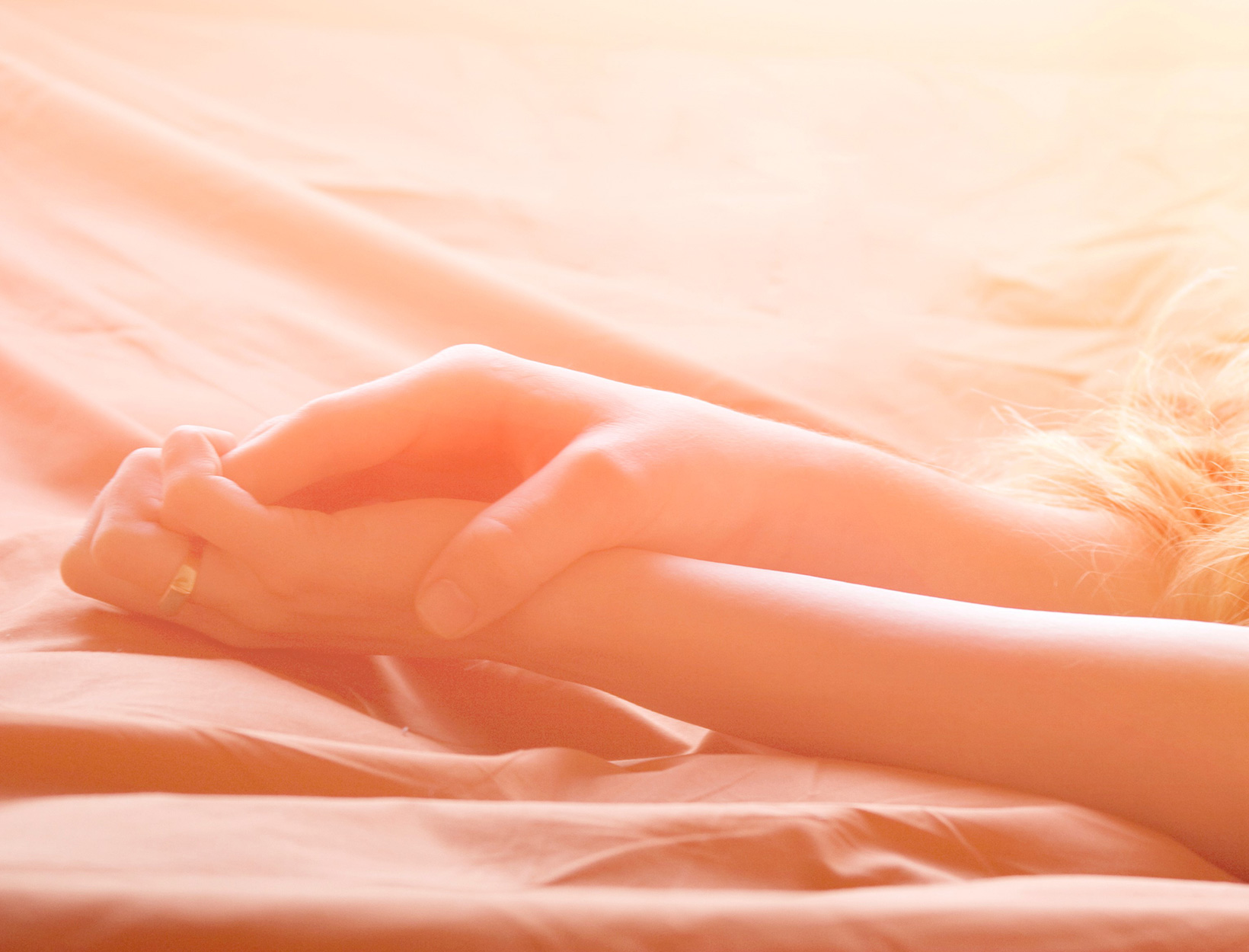 What's Wrong with the Sex You're Having
Can we have better sex? London-based sex therapists Louise Mazanti, Ph.D. and Mike Lousada (they're a married couple) say yes. Their new book, Real Sex, is about tapping into your sexual energy and having more fulfilling, intimate experiences with a partner, long-term or not. At a top level, they describe seven keys toward that end, from understanding your desire, to getting to know yourself sexually, to connecting to your body, actually giving yourself permission to feel pleasure, being present, going for pleasure over performance, and the golden partner rule: Speaking straight. Here, Manzanti and Lousada, who teach around the world, share what they believe is going wrong with sex today, and how we could be doing it (so much) better.
A Q&A with Louise Mazanti, Ph.D. & Mike Lousada
Q
How do you define "real sex"?
A
Real Sex is living, breathing, fulfilling sex that is an authentic expression of who you are from moment to moment, not an attempt to copy mental images of who you think you ought to be. It is the ability to have deep, meaningful intimacy, both physical and emotional, no matter if you're with a long-term partner or sharing a unique experience with someone you've just met.
Q
What's wrong with the sex people are having?
A
In our society, we don't have a healthy, natural image bank of what sex is, or is supposed to look like. We have the imprints from pornography and the media culture, which are distorted and performance-oriented. Further, the messages that have been passed on to us by our culture, religion, and family mostly teach us that sex is somehow wrong or shameful, especially for women. This leaves us out of touch with our own natural impulses and desires, and sex becomes an act where we're constantly monitoring our performance. The result is a lack of connection with our body, our pleasure, and our partner.
Q
How do you characterize sexual energy?
A
Sexual energy is the same as life force energy, or Eros energy. It's life itself flowing through our bodies from moment to moment, just because we're alive. When intensified, the focus becomes our genitals, but sex is just one way we can express that energy. Eros energy can fuel everything and anything we do. It makes us vibrant. We become more confident because we can feel our body and our boundaries, and we're able to be more creative and intuitive because we trust what we feel. It shows up in our interactions with others and in our ability to get things done with energy and ease. It can be enjoyed in its own right as aliveness, joy, or pleasure and can be tuned up or down in each moment.
What determines how we experience our sexual energy is how open we are, how connected we are to our bodies, and how much we give ourselves permission to be the sexual beings that we are.
When we are tapped into our sexual energy—we feel supported, nurtured, and sustained in ourselves, and not dependent on external sources to validate our worth. This means that we show up in the world confident, empowered, and in integrity. Our connections with other people are not colored by fear, neediness, or manipulation, but by love, curiosity, and compassion. Reconnecting with our real sexual energy and owning it without shame is life-changing at a personal level, and it is a shift in values that is much needed in the world.
Q
When it comes to feminine vs. masculine energy—do you think it's about balance or tension?
A
Masculine and feminine energies are both energies we can access irrespective of gender, and also in interplay with others. Internally, a balance between our masculine and feminine energy gives us more choice and freedom. In sex, we are not bound to be a specific way, but can play, adapt, and respond creatively to a partner. The masculine and the feminine love to play—the more we can build up these polarities between us, regardless of gender, the more sexual charge and arousal we build. The more we can access both our inner masculine and feminine, the more varied and exciting our sex will be.
Most women connect the strongest with their feminine; they can cultivate their inner masculine by communicating more clearly and being more direct about their fantasies and desires, instead of passively expecting their partner to fulfill them. For those strongly masculine-identified, the task is to come out of their heads and feel themselves and their lover, investing more time in sensual feeling and connecting that includes the whole body.
Q
Can you explain what mini-characters are, and how to use them?
A
Mini-characters are different parts of us, different roles we can play according to a situation. Some of them are unconscious, for example: the inner child that gets triggered if our partner does something we perceive as hurtful. Others are well known to us—for some this could be the role of mother. When we're in one mini-character it can be difficult to switch to another—e.g. from parent to sensual lover—which is often why couples with children struggle with sexual connection. With a bit of time to transition from domestic to sexual, mini-characters can be wonderful to play with in the bedroom, moving between different expressions like "tender lover," "wild animal," "seductress," "dominatrix," etc.
Q
What role do you think fantasy plays in a healthy sex life?
A
Fantasy can be a very wonderful stimulant to raise our sexual energy and get us in touch with our true desires. It's also empowering, because it allows us to own and enjoy our sexuality, no matter if we're in a relationship or not. With a partner, sharing our fantasies can be beautiful, not only so that our partner knows our turn-ons, bust so we can bring all of ourselves to the relationship.
If you are struggling with shame about a specific fantasy or have a judgement about your partner's, always remember that behind the imagined scenario is a core quality that the experience represents, like the ability to surrender, to feel empowered, to feel safe, to feel loved and wanted, to be sexually free, etc. These core qualities are trying to expand us, ultimately, into more love for ourselves.
"If one of you is in your head, you're both alone—because the other is not there!"
Fantasy is only unhealthy if you need to revert to fantasy while having sex with your partner, because you lose connection with them and with the actual experience. Then it points to a fear of intimacy. If one of you is in your head, you're both alone—because the other is not there! If you notice your partner often feels "far away" in sex, or emotionally unavailable, the best way to address this is to let them know that sometimes you can't feel them, and that makes you sad because that takes you out of connection. Without attacking, speak from the desire you have to be in juicy connection with your partner. Talk about how the best sex happens when two bodies are in synchronicity.
Q
How do childhood experiences of sexuality influence our sexuality as adults?
A
Our sexuality is hugely affected by our unconscious beliefs. It can be that as adults we know perfectly well that self-pleasuring is a beautiful and natural thing, but somehow we still carry shame around it. The messages we received as children about our sexuality are very often stored in our psyche.
An example is the little girl who was shamed for taking her top off while playing with boys (who did the same but weren't shamed for it); or being told off for the innocent exploration of genitals while playing doctor. As a grown-up, this woman might still feel shame about her body or her sexual energy.
In teenage years, maybe you were secretly making out with your girlfriend or boyfriend in your room, and had to keep very quiet. Well, as grown ups, we may find it hard to feel free and use our voice in sex. Almost all of our sexual inhibitions have a root cause in childhood experiences.
Q
Performance vs. pleasure is a recurring theme—how can we be more goal-less when it comes to sex?
A
First, it's important to understand that sex is not just about genitals, penetration, or orgasm. We can explore, enjoy, and exchange sexual energy in so many different ways, before we even start touching each other. The less focus is directed toward a specific outcome, the more arousal we can build, and the more pleasure we will experience.
Second, we need to know that sex is not linear! It is a flow between sensual and sexual energies, between intimate connecting and energy running through our body. If we slow down, stop thinking about our performance and listen to what our body actually wants, moment to moment, we will discover that sex can be like an ocean: deep stillness or high waves, not needing to go anywhere but always arriving.
"Forget about ANY script you learned about what leads to sex, and what sex is meant to look like!"
Many of our female clients who are struggling with libido or unfulfilling orgasms report that if their partner is making a move on them they tend to avoid it because they know from experience that if they respond it is most likely going to lead to sex, which they might not be in the mood for. Our advice is: Forget about ANY script you learned about what leads to sex, and what sex is meant to look like! Make an agreement with your partner that you'll both ONLY do what you feel like in the moment, and you'll communicate every time your desires change. Discover together all the things that can give your body pleasure, whether that is sharing a ripe strawberry, sharing a bath, listening to a piece of music, or anything that pleases your senses. Approach sex in the same way you would discovering enything pleasurable. Be creative, surprise each other—and throw away the script that says sex is about reaching orgasm. Orgasm is a result of good sex, not the goal of it!
Q
You use the container metaphor in the book, too—how does that apply to sex, and how can we expand our containers?
A
There is something ironic about the fact that we spend a lot of time thinking, fantasizing, reading about, and planning sex, but when it comes to the actual act, we want to get rid of the energy as fast as possible. We make it a journey towards orgasm, which is a discharge of the sexual energy, and that limits our pleasure. Instead, we need to expand our container for sexual energy—how much pleasure, intimacy, and vulnerability we can allow ourselves to feel. As mentioned, Real Sex is an authentic expression of who we are, from moment to moment, which will sometimes pull us out of our comfort zone.
"There is something ironic about the fact that we spend a lot of time thinking, fantasizing, reading about, and planning sex, but when it comes to the actual act, we want to get rid of the energy as fast as possible."
If you feel a challenge coming up, name it with your partner. Always be authentic. The more of yourself you bring to the connection, the more you give your partner permission to do the same. Communication is essential, really. Silence is the greatest killer of good sex and intimacy in relationships. If you find it difficult to communicate about sex, a way to start is by sharing the things you enjoy or appreciate by way of words, sounds, or the way you move your body. Encourage your partner to bring more of what you enjoy. Once you get used to doing that, it will be easier to begin naming and talking about the things that stand in the way of more pleasure.
Mike Lousada is a psychotherapist and clinical sexologist who developed the Psychosexual Somatics® approach. Lousada teaches around the world, including at the Esalen Institute in California with Louise Mazanti, Ph.D. Mazanti has a private practice in London as a psychotherapist, specializing in sex and intimacy. She has trained as a psychosynthesis counsellor and specialized in Psychosexual Somatics®. Together, Lousada and Mazanti are the authors of Real Sex: Why Everything You Learned About Sex Is Wrong.
The views expressed in this article intend to highlight alternative studies and induce conversation. They are the views of the author and do not necessarily represent the views of goop, and are for informational purposes only, even if and to the extent that this article features the advice of physicians and medical practitioners. This article is not, nor is it intended to be, a substitute for professional medical advice, diagnosis, or treatment, and should never be relied upon for specific medical advice.