Everything Wrong with the Porn You're Watching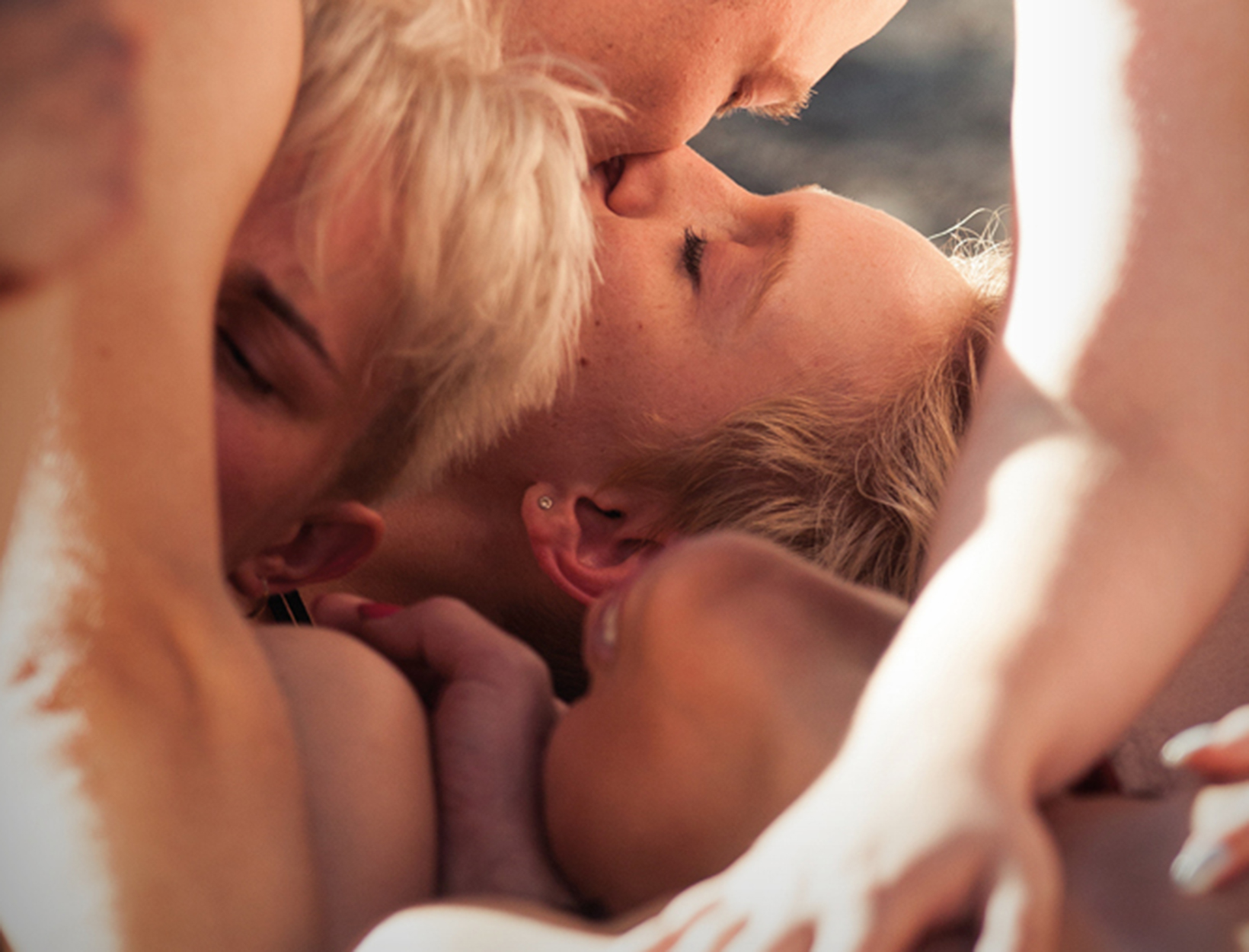 It's easy enough to assume that porn is for men. That women are less visual. That men alone are gratified by porn. That men are more sexed up. That women are more nuanced in their fantasies. Or maybe, to borrow an idea from the inimitable Esther Perel, it's not that women are less interested in porn; it's that women are less interested in the porn that's out there.
Barcelona-based erotic filmmaker Erika Lust makes a strong case for the latter. Five years ago, she started a crowdsourced project called XConfessions, in which people could submit their sex fantasies and real-life stories anonymously. Using those narratives as source material, Lust chooses two every month to spin into erotic short films that you can stream online. Twelve volumes later, XConfessions has grown so big that Lust can't keep up with demand on her own. She opened the series up to guest directors, all of whom create erotic films with the same ethos.
Her films—which show women as humans, not objects—have the potential not just to turn on women but to expand the consciousness of men and women alike. As psychotherapists Douglas Braun-Harvey and Michael Vigorito explained to us: So often, men watch porn as a way to understand who they are sexually and to educate themselves. Which is like watching a war movie and thinking you understand responsible firearm safety.
We sat down with Lust to learn more about how—and why—she does it. (For more, read our first interview with her in The Sex Issue, available here.)
A Q&A with Erika Lust
Q
How is your work different from mainstream porn?
A
Our audience craves sexual, erotic storytelling. They want to watch films that feel like they're about real people, not about blow-up dolls and penetrating sex machines. They want stories. They want to see how people meet and relate to each other. They want to see stories with diversity—people of different ethnicities, different sexualities, different body types.
Our audience is tired of standardized, mainstream porn. They want something that shows sex as positive. So much of what's out there is essentially punish-fucking: The men are the main characters; the women are tools designed to satisfy them. And women don't feel like sex toys.
The only way to change that perspective is through the female gaze. We need to get behind the camera, take that power, and start telling our stories. It's not only good for us; it's good for men. Many men, especially younger men, are confused by porn.
Q
How do you think we should talk to teenagers about porn—the porn they're probably consuming?
A
We need to tell them that most mainstream porn is exaggerated. It's not the same as sex. Frame it as you might frame all the violent films we watch, where you see a lot of aggression and we know it's a movie and we should not go out and do the same. It's the same when it comes to mainstream porn.
We need to tell them: Porn can be aggressive, but that's not how you have sex. When you do have sex, you respect the people you are having it with. You don't need to love them. But you need to respect them. To be vocal, and to ask for consent, to read the other person. Does she want it? Does he want it? Communicate.
Q
What's interesting about the #MeToo movement is coming to terms with the reality that more people are confused about consent than they should be. Do you think that's partially a product of mainstream porn (and movies and TV)?
A
Totally. It's a failing of our society.
I make my characters talk to one another—basic things, like "Do you want to use a condom?" It's an important thing to bring up in the storytelling if we're talking about an encounter between people meeting for the first time. I have my male characters say, many times, "How do you like it? Do you like this? Do you want more intensity? Do you want it faster? Do you want it slower?" Easy things, really.
We need to become better at understanding our own value and worth and starting to think a little more about what it is we want and not so much about "How do I satisfy this other person?"
Q
You've said before that porn is a cultural discourse. So: If porn is a discourse, what does our porn say about our culture right now?
A
It shows a very sexist culture; it shows misogyny; it shows racism; it shows aggression. The heterosexual porn industry shows quite a bit of homophobia, too.
Porn perpetuates values in our society, and we learn from porn and reproduce the behavior we see in porn. What I hope is that as we start to make more alternative erotica, we can influence the mainstream, pressure them a little. We can make them more aware, and maybe they won't produce artistic erotica, but they will reach an ethical standard in terms of how to produce it. Maybe they will get rid of their sexist language. Maybe they will reach gender awareness in how they represent men and women.
Q
How do you convince people that porn needs to change (and that you should probably be paying for it)?
A
I try to talk about it. And I think it's kind of working. Because I do receive those emails, sometimes, from men, saying, "Erika, I read an interview with you, and now you've destroyed porn for me!" No, I helped you! I understand when they say that, what they mean is they've become aware of the values being propagated in the porn they watch—they see the dehumanizing of people. Suddenly, they don't like it. They become aware that most of the porn that we see online does not communicate respect for all people.
"The men are the main characters; the women are tools designed to satisfy them. And women don't feel like sex toys."
When you want to watch porn, check the sites you're going to: Do they have an "About" page? Can you learn something about the company, so you feel a little more secure as a consumer? Porn costs a lot of money to make, which people take for granted. Ask the question: Why is it free? When you start thinking about that, you realize if it's ethically made, it can't be for free.
Many people have this prejudice about porn performers, about who they are. But most of them are wonderful—very smart, clever, funny, healthy people who care about others. They are not crazy, promiscuous, bad people who are sex addicts.
There are so many people who are lonely, who feel confused and afraid, who have so much shame when it comes to sex. Watching porn, if it's good porn and it's ethically done, can be liberating. It can help you understand your own sexuality and other people's sexuality. It can show us how to communicate sexually. It can open up your mind to new things, it can inspire us, and it can help us with our shame.
Q
What goes into your decision-making process when you're choosing which fantasies to write and film?
A
I go with the confessions that turn me on. Sometimes it's a subject, a character, a situation, a location. Sometimes it's because someone has written something really beautiful, ironic, or funny.
I want XConfessions to be really a crowdsourced project, a film laboratory where we can try different styles, so I try to make every film unique. Some are very funny. Others are more poetic. They work within different film genres.
Q
Do you get a lot of the same types of requests?
A
Definitely. We get a lot of group sex fantasies. People imagine themselves at sex parties; they want to be part of something bigger. Once a day, at least, we get a submission from a couple seeking a threesome. There are a lot of infidelity ones—not so unexpected. But we also get a lot of creative angles and stories, many somehow related to literature, art, music, dance, television, or technology. It's people living in this modern world using the things we have to connect.
Q
Is there a difference in fantasies submitted by men and women?
A
I don't know, because it's anonymous. The only thing I really know is the name they have chosen. I know our audience is about 60 percent men and 40 percent women. But the people submitting their fantasies and their confessions? I don't feel like there are so many differences between men and women.
There is so much emphasis placed on the difference between genders in mainstream porn, though. I see a toxic, aggressive masculinity shown all the time. But I see the same toxic, aggressive masculinity on television and in films. It's all around us. I mean, every time there's a woman on the cover of a magazine, she's smiling, seducing. She's happy and sexy and flirty. When there's a man on the cover, he usually looks like he's going to murder you.
"There are so many people who are lonely, who feel confused and afraid, who have so much shame when it comes to sex. Watching porn, if it's good porn and it's ethically done, can be liberating."
The only way of finding another kind of masculinity is in the gay world. It seems like that's the only place where men are permitted to be fun and sexy and happy and liberated. And I think that that's why there are quite a lot of heterosexual women looking at gay porn. It might be because in that context, women can just admire the male body and being free of those power structures. It's fantastic!
Q
Has the #MeToo movement changed your work at all? Or how you approach it?
A
I wouldn't say it has changed my work, but what we see in the #MeToo movement is women's great need to share stories, and the immense power in that. There are so many women who didn't want to share their stories with anybody else because they felt it was something that happened just to them. Now, suddenly, we are understanding that it happened to you too, and you too, and her too, and her too, and her too. Suddenly, it's part of a bigger structural problem in society, not our personal problem.
That changes the way we communicate and the way we are ready to take more power in this world. There are a lot of women awakening right now, starting to understand that if we don't push for each other and we don't share stories and we don't help other women, it will be very difficult for us to get in there and get some power. We need women in every industry; that's the only way we can have change. We need the female gaze, because we are so used to watching products made by men that we take it as the norm.
I invite female filmmakers to join the revolution of erotic cinema. I have an audience, I have a platform, I can distribute films, and I can fund films. I'm asking female filmmakers who dare and want to deal with the subject of pornography, of explicit sex, I am asking them to send their submissions. We'll help them make their films. I can do my kind of films, but they are only a small part; they are only my vision. I want there to be more of us. I think it's the only way to shift the larger perspective.
Erika Lust is a Swedish filmmaker and writer based in Barcelona. She studied political science, feminism, and sexuality before disrupting the mainstream porn industry with her indie short film The Good Girl—a humorous statement of principles using the "pizza delivery boy" trope. Lust has directed four multi-award-winning features: Five Hot Stories for Her, Barcelona Sex Project, Life Love Lust, and Cabaret Desire. In 2013, Lust began the XConfessions series, in which she chooses anonymously submitted fantasies and turns them into erotic explicit short films. Her new (free) XConfessions web series is available here.