We Made the Ultimate G-Spot Vibrator
Written by: the Editors of goop
|
Published on: October 10, 2021
|
Updated on: October 10, 2021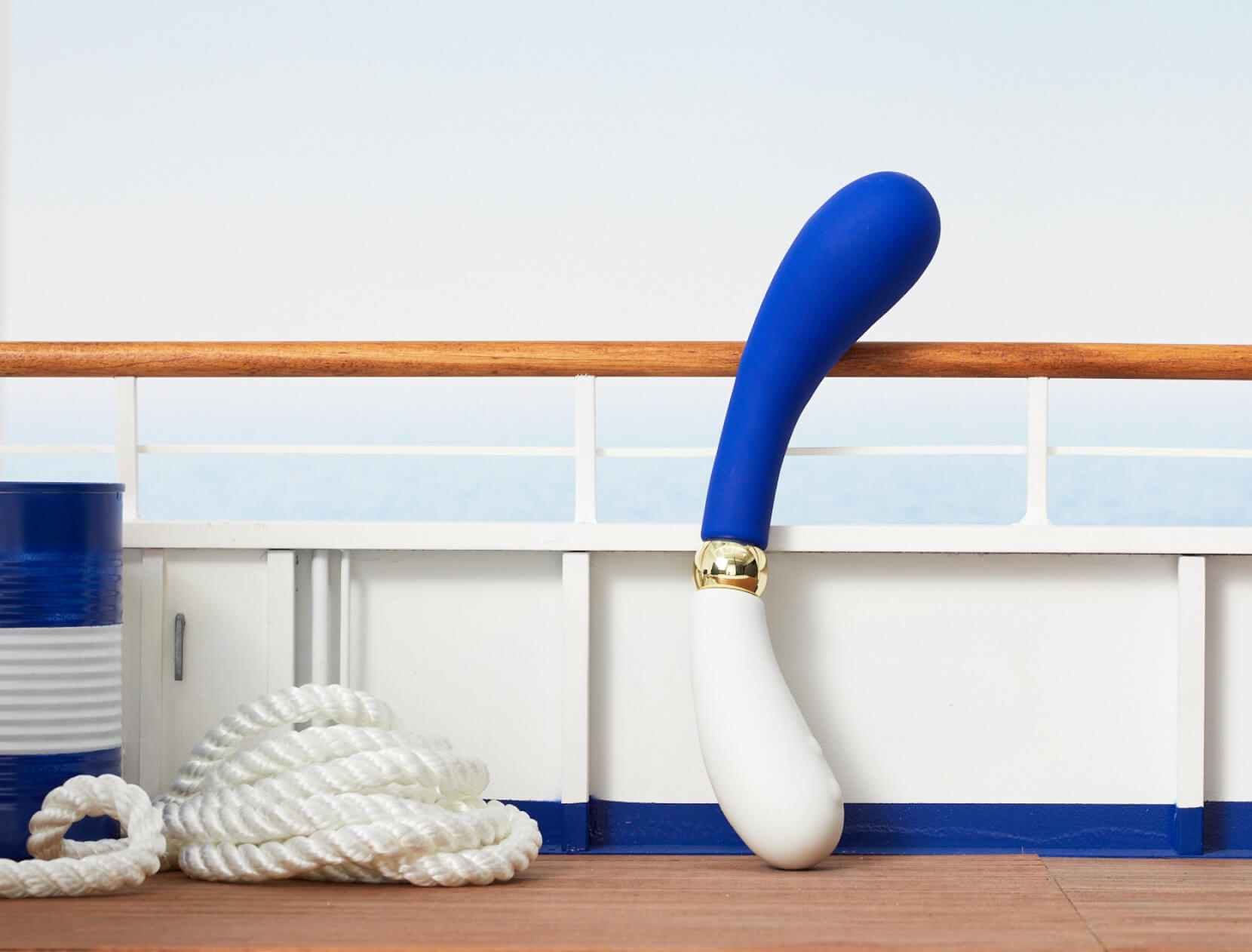 You won't find the G-spot on a diagram of the vulva. That's because it's not a distinct part of your anatomy—it's an erogenous zone that's part of your larger clitoral network. Located close to the root of your clitoris, your G-spot is stimulated internally, typically by applying persistent stroking pressure after you're already aroused.
We wanted a toy that was smart enough to understand our anatomy. So we created one. Here's how our Ultraplush Self-Heating G-Spot Vibrator earned its name:
1
With the press of a button, the vibrator warms to just above body temperature. What that means for pleasure: As the temperature of the clitoris, vulva, and vagina increases, more blood flows, causing them to expand, swell, and become increasingly aroused. The heat also promotes muscle relaxation. And it makes the vibrator feel more like the touch of a partner than a toy.
2
To stimulate the G-spot, you need to lift upward—internally—toward your belly and explore the area. That's why this toy is flexible enough to curve with your body. (There's no need to stress about zeroing in on a precise spot: The whole region is an erogenous zone.)
3
The tip of the vibrator is made with dual-density silicone, which means that it's ultraplush, so you can comfortably apply pressure against your vaginal wall as deeply as you need.
4
For the aforementioned exploring and stimulation: Ten vibration patterns and intensities deliver a variety of sensations, from a gentle tingling to an intense rumbling, with many pleasurable combinations in between.
That's the why behind what makes it so good. But if we're being honest, it's all very intuitive. Press the button to turn it on. It starts heating. Your body begins to relax. And you take it from there—everything about the toy is designed to maximize pleasure as you follow your body's cues and find your way to climax.
See the Ultraplush Self-Heating G-Spot Vibrator in Action
For visual learners, a PG video: Hit the play button below to see how the vibrator fits into your hand, how it moves and bends, and how it functions.
Build Arousal

Press the button to turn the vibrator on and the massager will heat to just above your body's temperature. That warmth enhances blood circulation, which, incidentally, is essential for pleasure. To build arousal, you can also use the insertable end to stimulate your external clitoris and vulva. (G-spot vibrators aren't necessarily designed for external stimulation—our Double-Sided Wand Vibrator is what we reach for when that's what we're craving—but that doesn't mean they don't still feel really good externally.)

Flex

The toy has just enough flexibility to move with you and help you find angles that feel exactly right. It also has four-and-a-half insertable inches (that's the blue part of the vibrator). Everyone is different, but you'll likely find the most pleasure between one to three inches in.
Apply Pressure
Again, we call it "ultraplush" for a reason: Dual-density silicone lends a unique squishable sensation that allows you to apply firm pressure without discomfort.
Fool Around
There are seven vibrational patterns and three intensities to play with. They go from a gentle tingling to an intense rumbling.
There are few more features that are less sexy but still very important to us. It's safe for bath and shower play. The battery is rechargeable, and there's an LED battery-life display so you can see how much charge you have left. We used silky, body-safe silicone. And we included a travel lock—and pouch—because we never want to fly anywhere without it.