How Your Cycle Influences Sexual Desire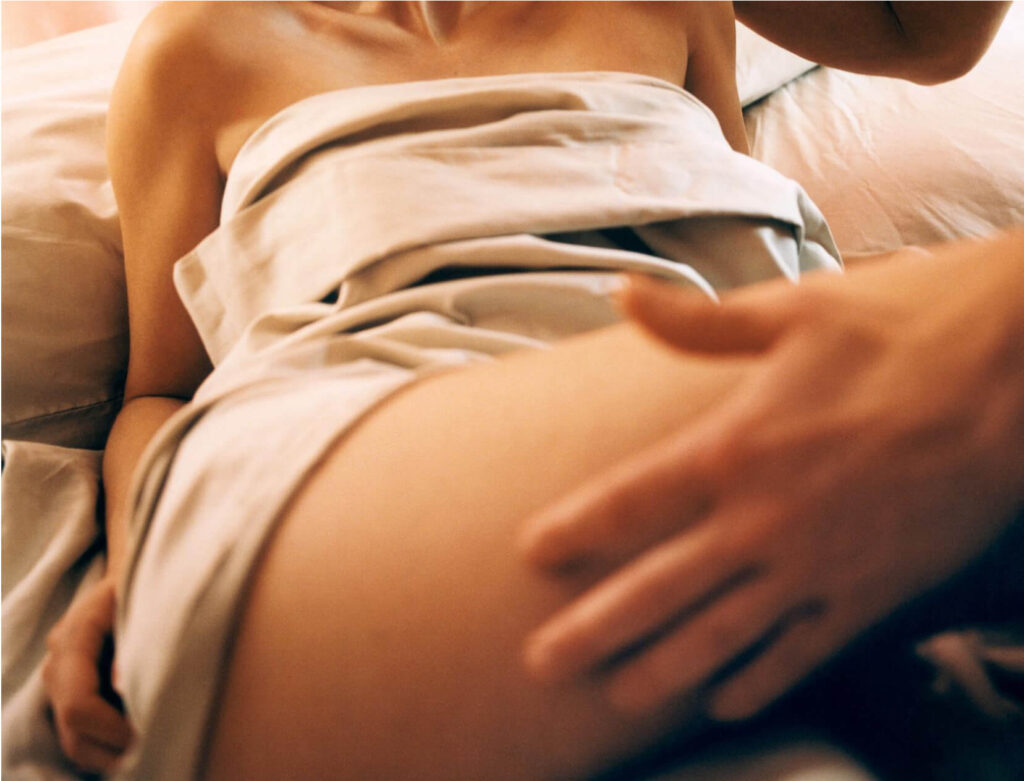 Jolene Brighten, ND, is a naturopathic endocrinologist and clinical sexologist.
It's normal for sexual desire to fluctuate. Sometimes sex is all you can think about, and other times you're just not into it—it's all part of the natural ebb and flow of life. Month to month, changing hormones throughout the menstrual cycle play a big part in that: Where you are in your cycle can affect what turns you on, how easily you orgasm, and even the positions you prefer.
It's different for everyone, so the best way to gather insights is to start a tracking protocol. I have one in my upcoming book, Is It Normal?, but any consistent observation can give you so much awareness of your body and what's normal for you. And it can help you have incredible sex, so it's worth your time.
Here are some general patterns that could show up for you as you're tracking your desire throughout the four phases of your menstrual cycle, starting with your period.
1
The Period
I'm often asked, "Why does my sex drive rev up right before or during my period?" The drop in progesterone around this time plays a major role: It allows estrogen and testosterone to stimulate the vulval and vaginal tissues, which increases arousal. And the mental relief of knowing that your chances of getting pregnant are very low can heighten your interest in sex, too (if you're not wanting to get pregnant).
Your cervix is the lowest during your period, so if you're having sex with penetration, you'll want to be very gentle so as not to collide with your cervix (ouch!). I recommend using lube during this time: Your blood doesn't act as a lubricant, and because your sex hormones are at their lowest, you're likely to have less self-lubrication. But if sex is not something you're into while on your period, especially if you have severe cramping, that's perfectly normal.
Editors' Picks: Lubricants

These water-based lubes give a pleasant slip and are safe to use with sex toys and condoms (be sure to use latex or polyisoprene condoms rather than polyurethane condoms, which are not compatible with these lubes).
2
The Late Follicular Phase
During the late follicular phase—after the end of your period—your estrogen levels will increase, so you'll self-lubricate more easily (but extra lube never hurts). Your vulva and vaginal tissues become more engorged, which can heighten your pleasure during sex. But with the rise of estrogen comes a rise in serotonin, which can make it a little difficult to orgasm for some people. That doesn't mean you're not going to have an orgasm at all, but you may need more foreplay and clitoral stimulation. Using your favorite sex toy can elevate your pleasure.
Editors' Picks: Sex Toys
3
Ovulation
Prior to ovulation, your body releases a surge of estrogen, which causes luteinizing hormone to be secreted. This usually begins about three days before you release an egg and starts what's called the sexual window—your most fertile time. With elevated sex hormones during this five- to six-day phase, sex is likely to be on your mind. And self-lubrication and sexual arousal are typically at their peak, so it's the easiest time to have an orgasm. But if you don't want to get pregnant, the mental worry could inhibit your desire during this time.
Your cervix is higher up, so it's less likely to experience a collision with penetration, which makes for a great time to try new positions and sex toys. And it's common for your nipples to get more sensitive around this time, too. For some it's a pleasurable sensitivity, and for others they're just too delicate to touch, so adjust your play accordingly.
4
The Luteal Phase
Any time is a great time to use lube, but during the luteal phase—the time after ovulation and before your period—you'll especially want to use it. With increasing progesterone levels, self-lubrication can be more difficult to achieve. You could experience abrupt shifts in your desire for your partner: One day you're really into them, and the next day you're absolutely not. And reaching orgasm around this time could be more difficult, too (thanks again to the higher levels of progesterone), so pleasing yourselves, together, can be a satisfying alternative.
---
This article is for informational purposes only, even if and regardless of whether it features the advice of physicians and medical practitioners. This article is not, nor is it intended to be, a substitute for professional medical advice, diagnosis, or treatment and should never be relied upon for specific medical advice. The views expressed in this article are the views of the expert and do not necessarily represent the views of goop.
---
We hope you enjoy the book recommended here. Our goal is to suggest only things we love and think you might, as well. We also like transparency, so, full disclosure: We may collect a share of sales or other compensation if you purchase through the external links on this page.