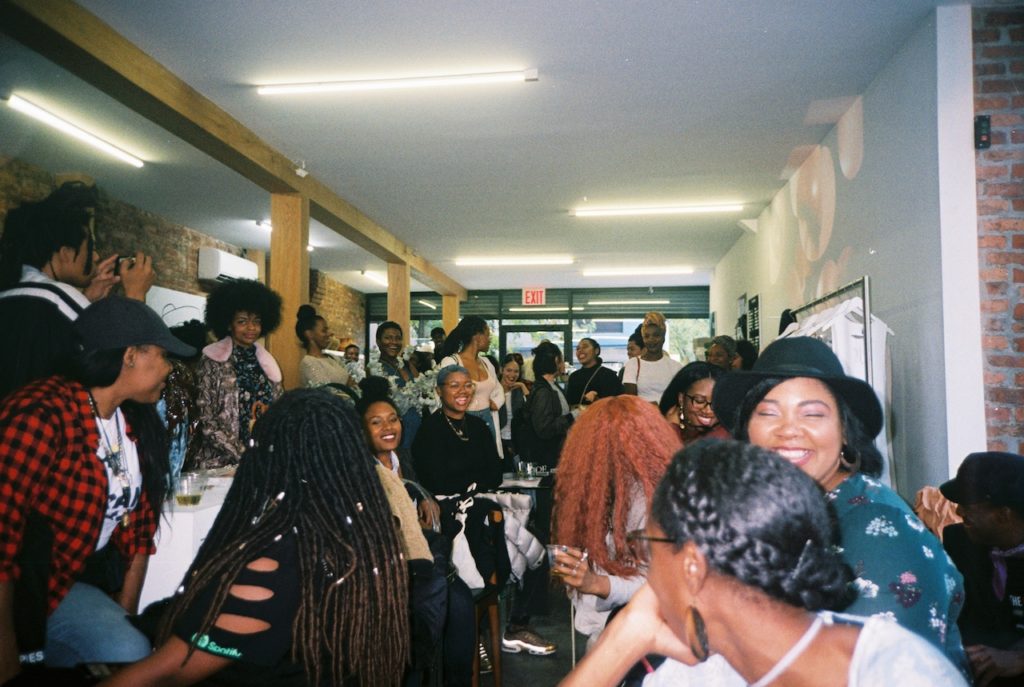 Photo by Antwan Duncan
Having Agency over Your Body, Sexuality, and Pleasure
The human brain is wired for routine. It works best when it knows what's coming. So when everything's thrown off and the regular rules don't apply, it makes sense that even the toughest, most resilient person gets really, really stressed out. What we can do when that happens is try to find comfort where we can. Taking a walk. Diving into a stack of books. Finding a new band you can't believe you've never heard before. But not all comforts are external: Our bodies are built for pleasure, and in times of extreme stress, they give us one of our greatest opportunities to show ourselves compassion and care.
Penda N'diaye is the founder of Pro Hoe, an organization for sexual well-being and pleasure education that focuses on the sexual liberation of Black people. Her work involves cultivating sexual equity and ownership, as well as breaking down racist stereotypes of Black sexuality: At her group events in New York, she facilitates conversations about how the legacy of slavery in America oppresses and constrains Black bodies. She creates open and honest conversations about sex and guides people to find pleasure when it's most difficult.
As a Black woman fighting for sexual liberty in a culture overwhelmingly hostile to Black bodies, N'diaye knows a thing or two about making space for an entire range of emotions during times of overwhelming stress. That includes sexual activity and masturbation. "I know a lot of people who are feeling bad about feeling good," N'diaye says. "And I hope there's space for both in each of our lives. We can be aware of what's going on, feel our own sadness and anxiety, and have empathy for the struggles of others, and then also know that it's really important to take care of ourselves and do what brings us pleasure and joy."
That's why N'diaye is encouraging people to engage in sexual pleasure and self-pleasure even when things feel really tough: Take time for yourself. Explore what feels good in the moment. And ultimately, know that the right thing to do is whatever feels right to you.
A Q&A with Penda N'diaye
Q
How did you get into sexual pleasure and self-pleasure education?
A
My father is a Muslim Senegalese immigrant, and the central dialogue in our household when I was growing up was about making a better life and working hard and providing for your family. It was never centered around pleasure or feeling good. The underlying tone was that you have to live by these standards that are essentially dictated by a white supremacist and racist culture.
"There's no one way to enjoy pleasure, and you should dictate your own pleasure based on what feels good to you as opposed to what you've been taught or what you think you should do."
Then, about two years ago, my mom gave me my first vibrator for Christmas. That gift sparked a conversation about the lack of sexual dialogue in Black communities. My mom wished she had spoken to her kids about sex when we were at a much younger age. I started dialing back, thinking: Well, I learned about sex from my friends, porn, the media, television—basically every outlet except from my parents or from other Black peers or mentors. I started Pro Hoe first as a blog about my own sexual experience, then as a podcast and community events series featuring Black sex educators, therapists, and social workers, to start open conversations among Black people about sexual expression. I focus on using sex and taboo as a means of social equity, resistance, and taking up space, ultimately knowing that we haven't always had access to autonomy and agency over our own bodies. Seeing all of our Black bodies in Black spaces—all expressing something that was formerly labeled as so taboo—feels like resistance in itself.
---
Q
Why are conversations about slavery in America part of your work and group events?
A
The sexual politics Black men and women navigate in the present are upheld by the stereotypes and tropes that are rooted in slavery. In modern-day America, we talk a lot about the commodification and fetishization of Black bodies. That comes from slavery and the historical sexual stereotypes of Black women: the mammy, the Jezebel, the angry undesirable Black woman.
That history has permeated into everyday life, even in terms of how structural systems of racism don't allow us to have pride in the way that our bodies can feel good. After slavery was over, there were still so many structures in place that dictated how much money we made and the areas that we could live in. And when it's the case we're forced to live in underserved communities, in food deserts where we don't have access to healthier foods, where we aren't always provided opportunities to feed our minds with mental health care and wellness care, where it's completely normalized to be living under constant stress, then we're not really able to step into knowing what feels good.
"The sexual politics Black men and women navigate in the present are upheld by the stereotypes and tropes that are rooted in slavery."
My approach is to educate Black communities on how to engage with what feels good. There are so many joys that we haven't previously been afforded. Just by giving yourself the space to say: Hey, this is a really shitty situation. And still, I choose to dance. I choose to sing. I choose to love whom I want to love. In those moments, it's like, wow, just 300 years ago we didn't have the option to do any of that.
---
Q
Why is self-pleasure so important under extreme stress, whether that stress is coming from racism or other sources?
A
As Audre Lorde said, taking care of yourself is a means of self-preservation. That's why I advocate for sexual self-pleasure, especially when tensions are high—it's never indulgent, but rather a means of getting yourself through. While we enjoy pleasure as an indulgence at other times, during times of crisis, it's really about cultivating a sense of joy and euphoria that you can take full ownership of—and feeling that as much as you need to.
---
Q
What challenges are coming up?
A
In general, sex can be a big stress-reliever. But what's interesting now has to do with the fact that sex involves such a balance of relief and tension in order to get aroused. Too much tension and we can become overwhelmed and not be able to access that relief. With everything that's happening outside of our own spaces and outside our own control, a lot of us are feeling that overload of tension. So even if we're carving out that time and space for our own pleasure, it might be hard to get ourselves there.
---
Q
How can you reclaim a sense of your sexuality in such a stressful situation?
A
There's no one way to enjoy pleasure, and you should dictate your own pleasure based on what feels good to you as opposed to what you've been taught or what you think you should do.
It can help to find ways that you can calm yourself down before you start and return yourself to this middle ground. Maybe that's mindfulness, deep breathing, or other grounding exercises before embarking on masturbation or sex with a partner. Ideally, you can find a place where you feel really comfortable and your anxiety and stress levels are in a place where you can feel good about touching yourself.
Then a lot of it is rooted in curiosity. Especially in a time that's so stagnant, when you can't go outside and experience new things or interact with new people, exploring yourself is a path forward through the range of emotions we're feeling through. This is a time to get really clear and transparent with yourself about what experiences feel good.
Exploring masturbation and fantasy is a great way to learn to speak from your core about what you want out of your sexual life. Be open to those moments at 2:30 in the afternoon when you're feeling excited. Take those arousing moments as they come. And be gentle with yourself. Not everything has to be bubble baths and candles.
---
Q
For those who are partnered, how can you start a conversation about sex and sexuality when you're really stressed?
A
It comes down to having honest dialogues about what you need in this moment. If that's sex with your partner, you can tell them that. If it's fostering an intimate connection outside of sex and stretching out what foreplay looks like, you can say that, too.
"This is a time to get really clear and transparent with yourself about what experiences feel good."
If you're feeling suffocated in terms of intimacy, the same rules apply. Communicate with your partner that while you're enjoying your togetherness, you also really need some degree of separateness, or whatever version of that is true for you. Talk about how each of you can create space for yourself, whether that's time in the bedroom alone, taking walks separately, or making space to talk on the phone with people who aren't your partner.
It's also totally valid to say you're not feeling like having sex at all right now if it's been difficult for you to grasp what's happening outside of your immediate space. For some people, when they're stressed out, sex and masturbation are the furthest thing from their mind. All good. Ultimately, this is all about developing an awareness of what makes you feel good and doing that. If you're feeling served and fulfilled in other ways, that's great. Just make sure you have something that's filling that need.
---
Penda N'diaye is a writer and the founder of Pro Hoe, an organization for sexual well-being education for women of color. N'diaye hosts the Pro Hoe podcast, runs community salons focused on sexual liberties within Black communities, and writes on topics related to sexual health. She is a graduate of New York University's Tisch School of the Arts and a former professional dancer.