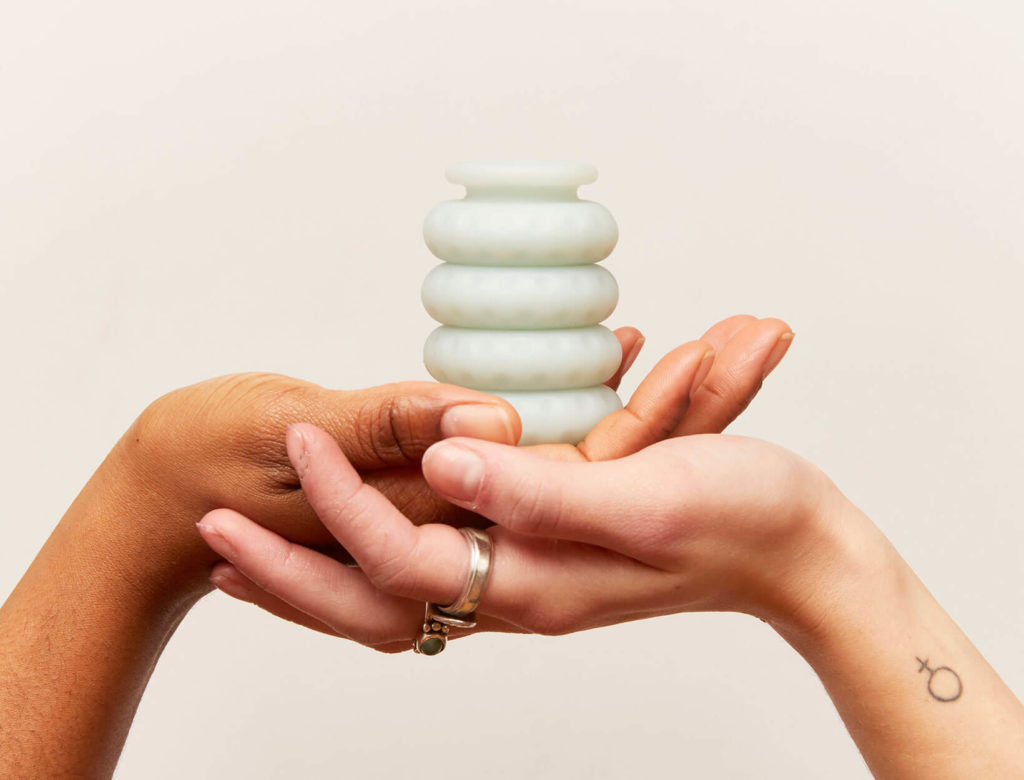 The Wearable for Discomfort during Penetrative Sex
The Wearable for Discomfort during
Penetrative Sex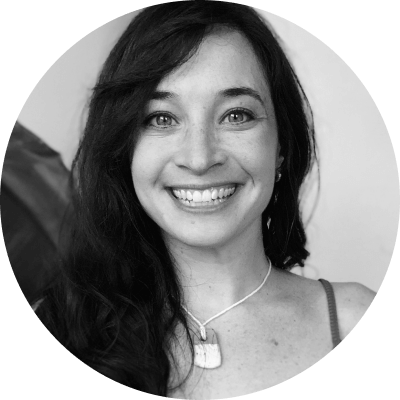 Emily Sauer once assumed sex would always be physically uncomfortable for her. She felt embarrassed and out of alignment. For years, she didn't tell her partners, deciding instead to accept it for the sake of her relationships, knowing she was sacrificing her own comfort and pleasure.
Physical discomfort during sex isn't rare. The American College of Obstetricians and Gynecologists reports that 75 percent of women will experience it in their lifetime. For some people, those experiences happen just once or a few times. But for others—studies estimate between 7 and 10 percent of people with vaginas—discomfort is a recurring issue that goes beyond the physical body and can impact mental and emotional health. Seeing a gynecologist or pelvic physical therapist can help: There are several possible sources of discomfort, so a correct diagnosis by a medical professional is important.
Certain at-home tools and practices can help, too, like the one Sauer invented. Hoping to figure out a new way of navigating discomfort during sex in her own life, Sauer came up with the idea of putting a pink frosted doughnut over her partner's penis as a buffer between their body and hers. While a real doughnut would have been much too sticky to be a good solution, the idea was too good not to build out. Sauer created a prototype in her kitchen. It worked for her. After some tinkering, she landed on a final product: a sex wearable that keeps penetration from going too deep during sex. You simply connect however many of the four modular rings you want and fit them around the base of the penis of the penetrating partner (or around your toy of choice) to form a soft, compressible buffer. It doesn't sacrifice pleasant sensations for either partner—Ohnut is squishy and stretchy and feels like skin.
A Q&A with Emily Sauer
Q
What keeps people from talking about their discomfort during sex?
A
I'll start by saying that I didn't tell any of my partners about my discomfort during sex. One of the main reasons why people don't bring up uncomfortable sex is because we've been conditioned to assume that it is inconsequential, as if it's no big deal. People don't bring it up out of fear that they'll ruin a moment or out of the belief that if they bring it up all the time, then they'd never have sex. Or they'll deal with it for the sake of their partner's enjoyment. There are so many narratives around minimizing the feeling.
When I finally did bring it up, it was because my partner at the time sat me down and forced me to tell him what positions weren't comfortable, what it meant if I was making certain facial expressions, and if there were any sounds or movements that I would make that would help him know—like if I pushed his hips away a little bit, that would be a signal not to go so deep.
In those moments when I couldn't advocate for myself, when I didn't have the confidence to believe in my own body, my partner advocated for me. In an ideal scenario, we're with someone who cares about our well-being, not just about getting off themselves. When we don't tell a partner that we could use an adjustment, whether it be big or small, we render them completely helpless in being able to do anything about it. Ultimately, sex is a collaborative activity, and the vulnerable parts are often the greatest pleasure.
---
Q
What can cause vaginal discomfort during penetrative sex?
A
There are many reasons we may feel discomfort during sex. Some root causes may require medical attention: A consultation with an ob-gyn is essential.
The vagina is mobile: The canal itself elongates during arousal. When something is inserted, all of the neighboring organs and muscle tissue are meant to expand with it and move as penetration happens. But if there's some kind of inflammation, adhesion, or scar tissue—things that prevent the internal organs from moving around freely—then collision with the rear wall of the vagina or the cervix could cause pain. Pelvic floor dysfunction, which generally means involuntary contractions of the pelvic floor muscles, can also cause discomfort. Endometriosis and cancer treatment can also contribute to pelvic pain. Sometimes it even just boils down to stress.
One of the biggest misunderstandings about discomfort during sex is that it's caused by well-endowed partners, which is interesting because most people also associate well-endowed partners with increased pleasure. Sure, maybe mechanical fit is a factor in some cases. But we tend to overlook what's going on in the body of the receiving partner. Which is part of the reason that it often takes such a long time for people to seek guidance and support.
---
Q
What's in your toolbox for navigating discomfort during sex?
A
My favorite tool is communication, first of all. If you go to a restaurant and there's something on the menu you don't like, it doesn't mean that you can't eat at that restaurant. You're there to feed and enjoy yourself, the same as everyone else. So you ask the server for some other menu item instead of that thing you don't like. It's the same in the bedroom. If there are certain positions or activities that don't feel good, that's an opportunity to try something else. You work with your partner to figure out what that other thing might be. Like: "Hey, so this thing doesn't feel good, and these other things feel better. What else is on the table?" We so often minimize sex into this narrow, linear path of doing A, then B, then C, and then you orgasm. But when you communicate your constraints and discuss work-arounds, you'll often get a sense of creativity, newness, and bonding that might not be there when you're on autopilot.
Other solutions depend on what kind of discomfort you're experiencing. Not only are lubricants helpful if you experience dryness but they add a sense of play and experimentation to sexual experiences. Depending on the challenges at hand, it might be important to seek out a pelvic floor physical therapist; once they assess what's happening with your pelvic floor, they can guide you toward other tools that might help, like using pillows during sex, dilator therapy, or pelvic floor exercises. We've also launched a second company called Pelvic Gym that lets people access pelvic floor education and exercises at home. People who can't access a pelvic floor specialist for whatever reason can use that as a stepping stone.
For people who experience discomfort when penetration goes too deep, Ohnut provides a physical buffer that allows you to customize that depth. It's made up of squishy, stretchy rings that are worn around the member of the penetrating partner. During penetrative sex, you can get that full motion of the ocean without having to worry about one partner experiencing discomfort. It strips away some of that stress around whether there's going to be discomfort. It's comfortable for the penetrating partner, too: The rings are made of an FDA-approved material that feels like skin and is compatible with water- and silicone-based lubes. We hear from people with penises that they generally forget Ohnut is even there.
---
Emily Sauer is the founder of Ohnut and Pelvic Gym. Sauer is also a cofounder of the Lady Bits League, a platform for empowering conversations about sex and relationships, and she helped launch the Sexual Wellness Summit.
---
This article is for informational purposes only, even if and regardless of whether it features the advice of physicians and medical practitioners. This article is not, nor is it intended to be, a substitute for professional medical advice, diagnosis, or treatment and should never be relied upon for specific medical advice. The views expressed in this article are the views of the expert and do not necessarily represent the views of goop.