Wolverine Claws, Sensation Play, and Other Ways to Explore Kink
Written by: Kelly Martin
|
Published on: October 28, 2021
|
Updated on: November 3, 2022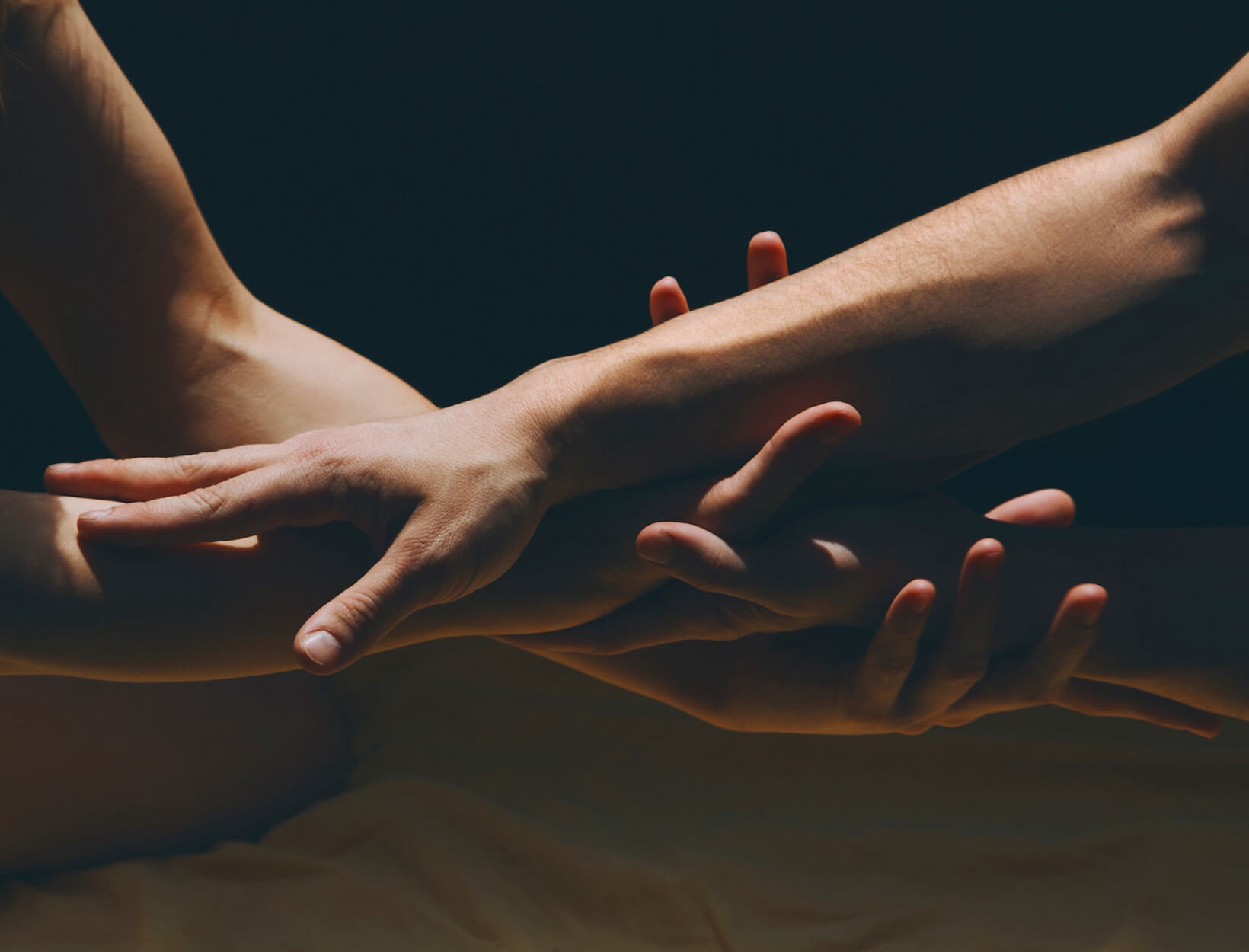 In our new Netflix show, Sex, Love & goop, a few of the participants explore kinks. A kink can refer to any unconventional activity, object, or dynamic that can turn you on and enhance sexual pleasure. For some of us, a kink can come as a surprise—like, Oh, didn't know I enjoyed feather ticklers so much. And for some of us, a kink comes later in life, as our sexual interests change over time.
Whether or not you consider yourself a kinkster at the time of reading, you may thoroughly enjoy mixing up your sex routine. Start by playing with new sensations (maybe blindfold up). See what excites you (*lights massage candle*). And explore what feels good. It's an avenue for nonjudgment and an open mind. And with a partner, it can be a way to build intimacy and trust and practice asking for what you want and need.
Some kinks, but not all, fall under BDSM. Because we've got (gold) handcuffs on this page, we think it's obvious but important to say that this is for adult eyes and that all sexual play should be consensual and desired by all parties involved. Also, for those wondering: Kink is different from a fetish. In general, the term "fetish" describes something that is lifelong, is integral to a person's sexuality, and needs to be present for that person to experience sexual pleasure. A kink may increase pleasure, but pleasure doesn't depend on it.
There are near-endless kinks and ways to play. Some of the most common ones involve novel sensations and textures, power and restraint, and sexual taboos. If you read this intro and did not skip right to the wolverine claws, thank you for your time, and now here are the most spectacular BDSM toys we've discovered in this realm.
Impact Play:

Paddles, Crops, and Floggers

Pick an impact toy based on what kind of sensation you're looking for. Paddles can be gentler on the body because they have a larger surface area and force is distributed more widely. (Of course, this depends on what kind of force you put behind them.) Focusing on the fleshy parts of the body, start with gentle pats and then work your way up to solid smacks if you'd like. Communicate with your partner throughout: What intensity feels best? Do you need to make any adjustments?

Floggers are characterized by a bundle of loose, flexible tails. They're a nice choice if you'd like to play with stinging sensations.

Some impact toys resemble the crops made for riding horses. The shaft of a riding crop is long and springy, and the flexible leather loop at the end can make a satisfying thwack.

Agent Provocateur

Crystal Whip

goop, $380

SHOP NOW

Pick up a ruler to explore role play and fantasies—and extra credit if you have a desk to bend over with this one.

Coco de Mer

"Teach Me a Lesson" Ruler

goop, $20

SHOP NOW

One thing to avoid if you're new to this: bullwhips. Long, single-tailed whips are difficult to control, can easily cut the skin, and can hurt in a way that's not so fun or sexy.
---
Sensation Play:

Texture, Temperature, and Other
Sensory Stimulation

It's not all leather and whips. Softer sensations from pom-poms, feathers, fur, and other light materials are often super pleasurable.

Coco de Mer

Feather Tickler

goop, $85

SHOP NOW

Coco de Mer

Feather Tickler

goop, $85

SHOP NOW

You can explore gentle sensations with harder materials, too. Take these oak claws, which feel wonderful when you stroke them up the inner thigh or against the waist. A metal-chain flogger sounds intense, but it's heavenly when you delicately drip it over the body. A Wartenberg wheel, which looks like a pinwheel covered in small spikes, gets rave reviews for its prickling sensations. Or keep it simple and scratch with your fingernails.

Alexis Steelwood

Hand-Carved Antique Oak Hands

goop, $95

SHOP NOW

Temperature can be in play, too. Consider a massage candle, which melts into a nourishing body oil at a low enough temperature that you can pour it directly onto skin. (While you're at it, try exploring sensual massage, which can be a kink on its own.) A metal dildo can be heated up or cooled down by dunking the whole thing in water and waiting a few minutes to adjust. And yes, these iconique dildos are made with twenty-four-karat gold, and yes, you can find stainless steel ones elsewhere.

There's also taste—another great reason to break out the whipped cream. And sound. You might appreciate a partner whispering, breathing, or tapping. And there's a whole world of audio erotica out there. (Some apps we like are Dipsea, Quinn, and Guided by Glow.)
---
Power and Restraint Play:

Blindfolds, Handcuffs, and Leads

Blindfolds are a solid starting point for sensual adventures. Some things can be more exciting when you don't see them coming.

For your first time playing with cuffs, go for a pair that's comfortable and easy to adjust—like a cushiony option made from lambskin with silk ties that are soft on the skin. If you go for a more traditional locking handcuff, just know where your key (and backup key) is before strapping them on. Something you don't want to learn the hard way: Fuzzy cuffs may be popular, but the fibers have a way of getting stuck in the lock and making them difficult to remove.

Kiki de Montparnasse

Gold Handcuffs

goop, $425

SHOP NOW

One of the best ways to learn rope bondage is a hands-on workshop with a shibari center or a local rope group. ("Shibari" is a Japanese word meaning "to tie." In contemporary use, it often refers to a style of artistic erotic bondage derived from centuries-old Japanese methods, also called kinbaku.) The Little Guide to Getting Tied Up by Evie Vane is an introduction to rope play that focuses on the receiver, emphasizing safety and asking for what you want. From there, choose your fighter: silky ropes, tape, strings of genuine onyx pearls…

Kiki de Montparnasse

Faceted Onyx Restraints

goop, $1,875

SHOP NOW

Whether you're exploring themes of control or venturing full-force into pet play, a lead takes things to another level. It's a classic symbol of submission and dominance. Try linking it up to a collar or harness—or even the chain between your handcuffs—and let a partner run the show. (Or, of course, run theirs.)
---
Public-ish Play:

Exhibitionism and Voyeurism

If you think being directly watched—or directly watching someone else—is what would get you off, it's best to seek a local community or club focused on exhibitionism and voyeurism where consent to these activities is part of the picture.

If the thrill for you isn't in being seen but instead in the idea that you could get caught: The key is to explore with the consent of all parties and in a way that keeps you safe. (Including legally so. Public sexual activity is often considered a misdemeanor that's vaguely defined and particularly difficult to defend.) Some paths you could take involve selfies, home videos, or the kind of remote-control vibrators that you can secure in your underwear or slip into your vagina.
---
We hope you enjoy the book recommended here. Our goal is to suggest only things we love and think you might, as well. We also like transparency, so, full disclosure: We may collect a share of sales or other compensation if you purchase through the external links on this page.