Gwyneth on Orgasms before Bed and Her Sleep Routine
Written by: the Editors of goop
|
Published on: October 19, 2021
|
Updated on: October 19, 2021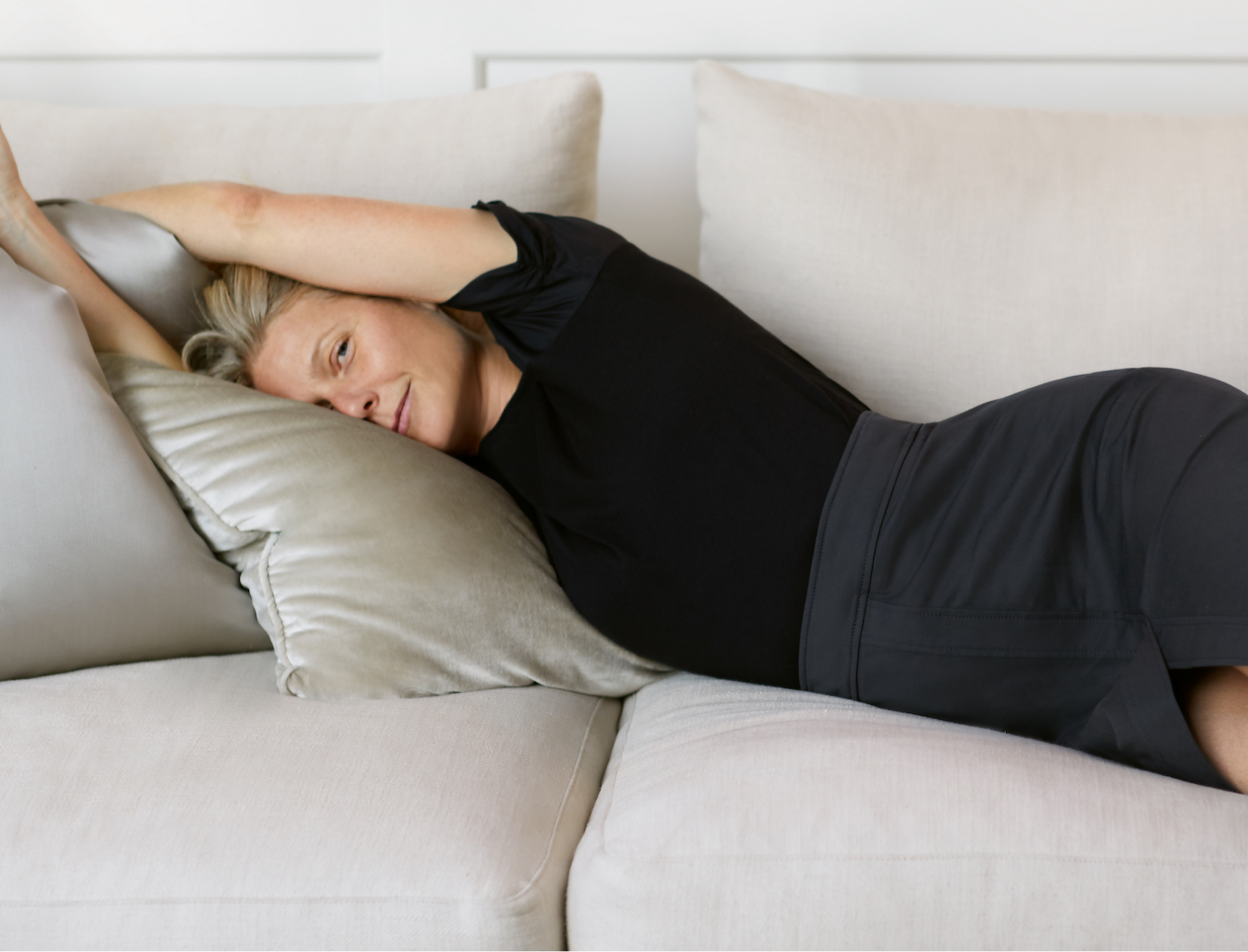 In search of inspiration, a good time, and higher Oura Ring scores, one of our editors asked Gwyneth about her sleep routine, desire and orgasm, stress, and something she took away from our Netflix show Sex, Love & goop. GP understood the assignment.
A Sleep and Sex Survey
Where does your nighttime routine start?
I eat dinner very early, which I've noticed has been great for my overall health and digestion. Not going to sleep on a full stomach has been a game changer for my sleep. I also don't drink alcohol that much anymore.
Is that what you attribute your rising Oura ring scores to?
Yes, I notice my recovery is completely different when I drink and go to bed full.
What happens after dinner?
I have a bath. I use our bath soaks a lot. I alternate. Most often it's Martini. But if I'm not feeling well, I do Nurse. Or I love Phys. Ed. when my muscles are sore or tired. I also love Pursoma Tubmarine—she has a lot of good ones. And sometimes I'll do Epsom salts and baking soda.
When is your skin-care moment?
I always do my GOOPGLOW scrub in the bath at night. So before I get in, I put it on my dry skin, scrub it in, and leave it on as I'm getting in the bath. And then I take it off. I know you're not supposed to do it every day, but I do.
I get a cup of tea after. I like Celestial Seasonings Sleepytime, which is from my childhood—it's nostalgic. I also like Nighty Night tea by Traditional Medicinals. And Equitea by my friend Quentin Vennie.
Then I do my GOOPGENES face oil, which I have a double subscription going for because I use it so much. GOOPGENES face cream. And eye cream if I remember.
Do you take any supplements at night?
A probiotic. Sometimes magnesium—there are different kinds of magnesium, and sometimes I'll take one for sleep or one for digestion. I'll ocassionally pop a sleep chew if I'm stressed and need help sleeping.*
What about the gut superpowder?
That's been very helpful for my digestion, but that's in the morning.
You have an inspirational morning oral-care routine. What do you do at night?
I use Cocofloss every night. I have a Philips electric toothbrush. But that's it. My longer routine is in the morning, when I do tongue scraping and oil pulling.
What time do you get into bed? Do you and Brad get into bed at the same time?
Probably around…8:30. Brad and I get into bed together, and even though you're not supposed to, we always watch something at night.
You're out of your mind.
I love it.
What's on your nightstand?
Sleep mask, ear plugs, flashlight.
Like a legit flashlight?
Yeah, in case of a power outage or an earthquake.
Okay, what else is on the nightstand?
Books. I'm going to read Why We Sleep by Matthew Walker. Glasses—I have so many glasses. Lip balm. The Province Apothecary Sex Oil and Love Oil—needed in perimenopause. And a glass of water.
Your favorite goop candle to burn before bed?
Edition 02 – Shiso.
What do you normally wear to bed?
I'm normally naked.
That's great. What would you wear if you weren't naked?
I tend to wear shorter pajamas.
Okay, let's talk about sex. So in the podcast episode you did with Erica, you mentioned you're big on skin-to-skin contact.
We can definitely talk about skin-to-skin. Brad and I are big cuddlers. Lots of skin-to-skin.
What's your cuddle position?
It changes, you know. We don't have one.
What about massage?
He's very sweet. If I have a tough day, he'll always ask to rub my shoulders.
How do you see sleep, stress, sexual health, and desire as connected?
It's all so connected. If you don't have a healthy gut, for example, your hormone levels can be affected. Your gut can be affected by sleep and stress. We have to look at it all holistically. Obviously libido tends to decrease with age—it just happens. Also desire can change by virtue of being in a long-term relationship, or some people struggle with it post-children. And it's the thing people don't talk about: I lack the desire. But a lot of people—like in some of the surveys we did—they want the desire, but they don't know how to tap into desire. Which can leave some women feeling as if they're broken in some way or something's wrong with them, which makes the whole thing worse.
Tell me about DTF.
Well, you know we created a supplement to help in a few ways. We're living in a world where we're so busy, we have so many responsibilities, and it's hard sometimes to turn off that alpha thing and get into sex mode.
DTF has a saffron extract for mood support, because a lot of times it's stress that's blocking us. And the Libifem® fenugreek extract was clinically shown to support healthy sexual arousal and desire in women—and it provides support for menopause symptoms.*
Do you believe orgasms help us sleep?
Yes, I really believe that. Gerda [Endemann] wrote a story about the health benefits of orgasm and mentioned that oxytocin and prolactin probably contribute.
With an orgasm, you relax. Get in the body. You can't be thinking about anything else when you're having an orgasm. You're a total mammal at that point. It's like Mary Oliver said: "You only have to let the soft animal of your body love what it loves."
Only you could bring it from Forensic Files to Mary Oliver.
[Laughs.]
What are you taking away from our Netflix show Sex, Love & goop?
The Netflix show reinforced for me what luckily we do already. Brad is an incredibly emotionally intelligent person. It underscored the importance of real communication and accountability in a relationship. It was a good reminder.
Who is the heavier sleeper?
Brad is a lighter sleeper than I am. He wakes easily, but someone could blow a bullhorn in my ear and I'm not going to wake up.
When did you become serious about sleep?
I've always fortunately been able to sleep. But I've heard people say, you know, the older you get, the harder it is to sleep well. And I've become much more conscious about creating a sleep routine. And also giving myself permission to enjoy being in bed and not think of it as some guilty pleasure. It's such an essential cornerstone of health. It's a downfall of our American capitalist system that we think we have to be busy all the time. I used to feel so guilty about sleeping in, and then I was like, where is this messaging from? It's so amazing to sleep—it's so good for you. I had to shift my thinking around it.
What time are you asleep?
9, 9:15.
*These statements have not been evaluated by the Food and Drug Administration. These products are not intended to diagnose, treat, cure, or prevent any disease.
Libifem® is a registered trademark of Gencor.