Your Partner's an Addict. Now What?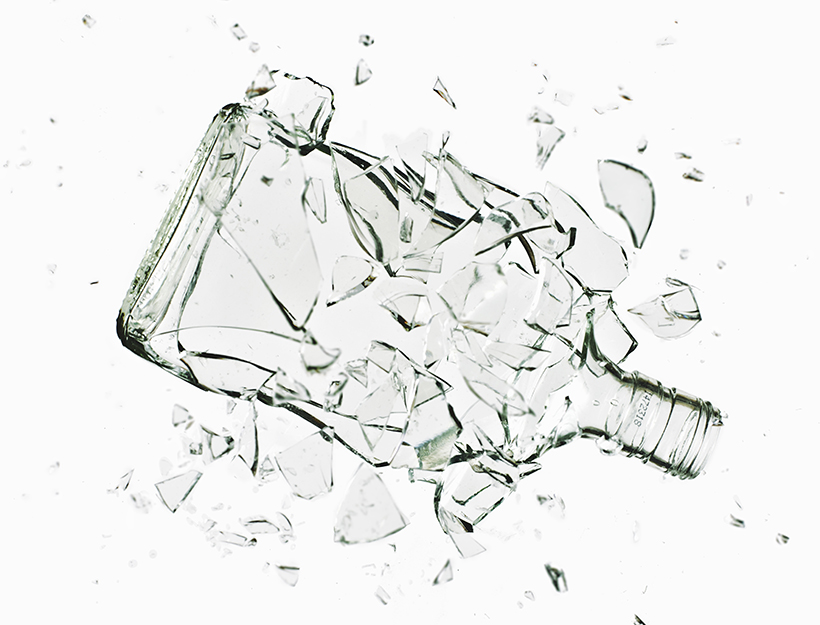 Most of us know someone suffering from addiction. Often, the most difficult part for friends and loved ones is knowing how to sensitively and effectively offer support—a process that's perhaps most difficult if the addict is your romantic partner or spouse. Life coach Allison White (who trained with goop guru Barry Michels) emphasizes that addicts need to steer the ships to their own recoveries. Counterintuitive as it may seem, she says the best thing a partner can do is take care of themselves—meaning, among other things, therapy and support groups, notably Al-Anon, a free, nationwide support group founded in the '50s, some fifteen years after AA, by Lois W., wife of now-famous AA founder Bill W. Below, White's insights into navigating the murky waters of supporting a partner through addiction recovery—including how to help children cope—and knowing when leaving is the only option left.
A Q&A with Allison White
Q
What are the signs of addiction in your partner?
A
Unless your partner has had a secret addiction since the moment you met, you have probably become familiar with their tendencies, habits, and general demeanor. So despite addicts' great ability to conceal their addictions, you will eventually begin to notice inconsistencies in your partner's behavior. For example, in someone who otherwise has great integrity, it could be little things like beginning to show up late, giving excuses that don't quite add up, or unannounced disappearances.
Q
Is there any way to reliably know that your partner has an addiction?
A
Addicts will lie to protect their addiction, so unless you catch your partner in the act, the answer is usually no. But it is also important to note that trying to catch your partner in a secret act of addiction can adversely affect your own well-being.
Q
What's the right way to approach a partner who you think might be showing signs of addiction?
A
Come from a place of love and concern, not accusation. Tell them you are confused by their behavior; that it doesn't make sense to you; that you are wondering if there is a problem your partner hasn't shared; and if there's anything you can do to help. Chances are, an addict will deny anything is wrong, even if the opposite is true, but by asking lovingly, you have opened the possibility for honest communication in the future.
Q
As a partner, is there anything you can do to help an addict come to terms with their addiction?
A
Sadly, very often not. Other than asking them if they think they have a problem and offering to help, the only thing you can do is focus on taking care of yourself. Until an addict is ready to change, nobody will be able to sway them, and by forcing an admission, you could be hurting their chances of coming to you independently down the line. Similarly, demanding someone seek treatment might put them in a place where they think they're ready for recovery—but if they're doing it for you, and not for themselves, the recovery won't be sustainable.
"The most successful relationships happen when two autonomous people come together out of desire and choice (not need), and obsession with your partner's addiction develops a level of codependency that's unhealthy."
As a partner, it's important to resist the temptation to engross yourself in solving their problem—allowing your life to revolve around them and their behavior. The most successful relationships happen when two autonomous people come together out of desire and choice (not need), and obsession with your partner's addiction develops a level of codependency that's unhealthy.
Codependent behavior comes from a place of love, but in relationships, healthy love comes from a place of autonomy where your life isn't dependent on your partner's behavior. This kind of thinking feels counterintuitive—we think that being selfless and looking after someone else is an important quality, but that's not necessarily true when it comes at the cost of your own well-being.
That's why, as your partner confronts addiction, the best thing you can do for them is to take care of yourself, by focusing on your own mental and emotional well-being. Your life needs to continue, irrespective of the choices they make; you can't center your life around their happiness, so I recommend seeing a therapist or finding a support group that can be an outlet (and aid you in processing) whatever you're feeling, be it anger, resentment, sadness. Doing this groundwork also means that your partner will be coming back to a stronger, healthier relationship when they do seek treatment.
Q
How do you support a partner who is ready to get clean?
A
Only in the instance that the addict is earnestly asking for your help would it be appropriate to help find possible resources—direct them towards 12-step programs, rehabs, and physicians and therapists with experience in addiction. That said, it's important not to suddenly take it over with an attitude of, "I'm going to make sure this happens for you." It's their recovery, so the most supportive thing you can do is lovingly detach and focus on your own recovery simultaneously.
Therefore, the best way to support someone ready to get clean is to A) stay out of their recovery and B) engage in your own, whether through support groups or therapy. I recommend Al-Anon, a support group for friends and families of problem drinkers. Groups like Al-Anon are comprised of people who can relate to your situation, and offer day-to-day solutions for coping and healing, and you should go even if your partner hasn't acknowledged their problem yet. You can communicate gently to them that you're going for yourself—maybe they're not ready to deal with their own addiction, but you can deal with your own mental health.
Q
What sort of therapy would you recommend for someone in recovery?
A
Therapy can be a very helpful tool in recovery, but it's more important that the therapist have a working understanding of addiction than it is to find a specific type of therapy. The reality is that many therapists and doctors do not spend much time studying addiction, and therefore don't have the tools to help the addict. Do your due diligence and find a therapist with experience and success in this area.
Q
Do you have any tips for re-establishing trust as the relationship progresses? Are there certain actions that are important for the partner in recovery to do?
A
You have to trust your gut. You've seen what the addiction looks like, so recovery should look and feel much different to you. If you're beginning to notice old behaviors that seem to negate the principles of recovery, there could be a problem. Unfortunately, there's no foolproof way of knowing an addict has relapsed, therefore your focus still must remain on yourself. The old saying goes: "Resentment is like my drinking poison, hoping someone else dies." Harboring resentment will make it impossible to re-establish trust, which is why it's so important that you have an independent emotional outlet like a support group.
"The good news is that just as addiction can affect others in a negative way, recovery can impact others positively. A house living in recovery is one of transparency."
Trust can, however, be restored with consistency over time. The principles of recovery demand honesty, open-mindedness, and willingness. If your partner is practicing these on a daily basis, it will eventually become evident to you. The good news is that just as addiction can affect others in a negative way, recovery can impact others positively. A house living in recovery is one of transparency.
Q
Does it mean that you're an enabler, and/or have a codependent personality type if you're in a relationship with an addict? Is there work that needs to be done here?
A
Chances are, yes. While there are situations that develop well into a relationship or come as a complete surprise, the vast majority of people who repeatedly choose addicts as their partners have some unresolved issues of codependency. Often but not always, these are people who grew up with some sort of an addict in their family. If you recognize enabling/codependency in yourself, you may want to consider therapy or support groups like Al-Anon.
Q
Is there a productive way to check in with your partner, to make sure that the recovery is on track, without having to nag or slip into a mother/father role?
A
Unfortunately, not really. This is the sort of codependence that could end up backfiring. If you're taking care of yourself and the addict is working with a program, a space will naturally open in which you two can connect on a healthy level.
Q
How do you establish healthy boundaries?
A
The problem with boundaries is they're constantly moving and constantly getting crossed, and follow-up becomes a problem. The other issue is that they bind you to the addict. The healthier approach is to find a program of living that works for you irrespective of what your partner is up to.
That said, it can be healthy to create boundaries to keep the addiction out of the home you share together, particularly if you have children. You might say, "It's not okay for you to engage in this at our house." Some addicts can deal with that, and if they can't, you may be dealing with a situation where you need to leave.
Q
What other advice do you have for partners dealing with addiction who share children?
A
The most important rule is to never, ever say anything disparaging about your partner in front of your children. You want your children to have a very positive view of their other parent, addict or not. You might say, "They're doing the best they can." If they're in rehab, or the child witnesses the bad behavior, you can explain that their parent is sick—you don't have to label it or make it about specific behavior, particularly with young children. Kids are very perceptive, and we don't give them the credit they deserve, so don't underestimate your kids' ability to grasp certain concepts. Chances are, they have a good understanding of the weaknesses you see in your partner.
If you have teenage children and your partner is blatantly showing the disruptive signs of his/her disease, it's no longer beneficial to obfuscate or "generalize" about what's happening—in this case, be clear and honest, but be careful not to attack your partner on a moral, or even character level. You could say, "We all love Dad, and when he's not like this he's a wonderful person. But right now he's really sick with the disease of addiction/alcoholism, and until he gets help and makes a commitment to recover from that illness, this bad behavior isn't likely going to stop." It's important to stress that the parent's behavior, and inability to help themselves, has nothing to do with their love for their child. You could also point out that the disease of addiction is fueled in part by denial, so that often the addict/alcoholic doesn't see the real problem. There are also outside resources teenage children can turn to—Alateen, which a youth version of Al-Anon, and can make a huge difference for a child who feels alone or embarrassed by their situation.
Another important rule of thumb is to refrain from fighting in front of children, especially if your partner is under the influence. This is actually a good rule even if you don't have children: If your partner is high or drunk, just walk away until they're sober, because you're not communicating with someone in their right mind.
Q
At what point does something like too much drinking, or porn, cross the line? If your partner acknowledges the addiction but is unwilling to come clean, or is in recovery, but continues to relapse, is the only option to leave the relationship?
A
It crosses the line when you feel it has—when you're partner is engaging in addictive and secretive behavior that makes you uncomfortable.
That said, leaving the relationship may not necessarily be the only option. If you are engaged in your own recovery as the partner of an addict, you may find that you can give your partner the space they need to finally allow their recovery to take hold. Remember that if they relapse, but continue to engage in recovery, that's a positive sign; it takes some addicts longer than others.
Q
What if your partner's addiction pre-dates you?
A
Most relationships that start in sickness don't have a great chance of surviving because the addict needs the space to go work on their recovery. It also depends on how much you have invested in your partner; if you've been together only a short time and you discover this behavior, you might be well-advised to give some serious thought to leaving the relationship (versus if you have a family together, and there's much more at stake). Seeking out someone with an addiction should be a red flag indicating that you may have difficulty choosing healthy partners. For others, particularly when dealing with addicts who conceal their behavior very well, it's an unpleasant surprise when the behavior becomes apparent. Either way, it's important that you take care of yourself first and foremost.
Allison White has a B.F.A. from USC and is a certified life coach. She was personally trained by psychotherapist Barry C. Michels, co-author of the New York Times bestseller, The Tools, and utilizes his techniques, as well as her own, to guide her clients toward more disciplined and fulfilling lives. She has been in private practice since 2007.
The views expressed in this article intend to highlight alternative studies and induce conversation. They are the views of the author and do not necessarily represent the views of goop, and are for informational purposes only, even if and to the extent that this article features the advice of physicians and medical practitioners. This article is not, nor is it intended to be, a substitute for professional medical advice, diagnosis, or treatment, and should never be relied upon for specific medical advice.