Cultivating Intimacy in a Long-Distance Relationship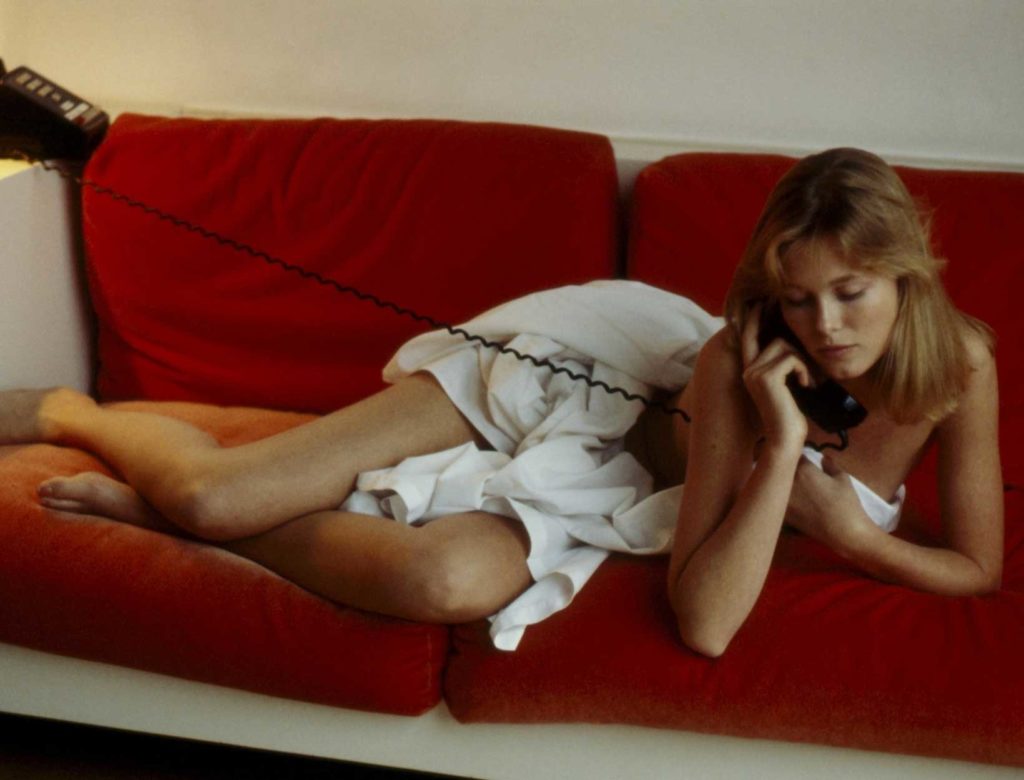 Right now, we're all coping with a lack of contact with the people we care about. And for couples, quarantines and self-isolation might mean experiencing new kinds of distance. Maybe one partner's gone to take care of family for the duration of the pandemic. Maybe two people in a long-distance relationship have no idea when they'll be able to travel to see each other again. Or maybe a couple lives within driving distance, but the consequences of possibly spreading the virus are too high to risk it.
Therapist and Maybe You Should Talk to Someone author Lori Gottlieb, MFT, who works with couples, is hearing it all. In addition to her regular clients, Gottlieb is receiving letters from tons of couples who are trying to figure out how to cope with the current climate. While the stress of a pandemic is definitely putting relationships to the test, she says it's also allowing us to see our partners in a new light—and that when this is all over, we might come out of it with a greater sense of appreciation and gratitude for the partner we've chosen.
A Q&A with
Lori Gottlieb, MFT
Q
What advice do you give to clients experiencing new challenges with long-distance relationships because of the pandemic?
A
People who have been doing long-distance for a while are used to keeping in touch via FaceTime until the next time they're able to be in the same room. But now, even for couples who are normally long-distance, there are extended stretches where they actually can't be together and aren't sure of the next time they'll be able to be together. That means they're going to have to get creative about staying connected.
What I've seen people do is make sure that that other person knows that you're thinking of them during the day—and that means making sure you're not just talking about coronavirus all the time but that you're staying connected as a couple. Take all the other aspects of life that you might engage in if you were in the same house—you might play a game of Scrabble, watch a show together, or cook together—and do those things over the phone or video call. (There's an app called Netflix Party where people can watch a show together in real time—it keeps you coordinated with your partner or group when you play and pause, and there's a sidebar for messaging each other.)
---
Q
For those in relationships that are suddenly long-distance for the first time, what kinds of issues can they expect to come up?
A
When couples don't have practice doing long-distance, they tend to have a lot of communication issues when long-distance happens to them. For example, if they don't hear from their partner all day, they might not know what that means. Or one partner wants to be in touch all the time and the other person needs more space. Or they just don't have a lot of practice making sure that each of them feels like they are on the other person's mind.
"Just because we're in a pandemic doesn't mean you can't be playful or experience moments of joy with your partner."
A lot of people who aren't used to long-distance stay within in a narrow conversation of catching up: What did you do today? What's happening? Tell me about the people you talked to today or what you did. And they miss out on the truly connecting kinds of conversations: How are you feeling? What was that experience like for you? How can I help?
---
Q
How can couples work through long-distance misunderstandings?
A
It's very common that couples experiencing long-distance for the first time have differences in how much they expect to communicate. One might feel like distance makes the heart grow fonder, while the other might get anxious that out of sight means out of mind. And this is where each person needs to understand why they're feeling the way they're feeling. Why do they need so much communication? Is it because their anxiety spinning out of control and making them feel insecure? Do they wonder if their partner is thinking about them? Or for a partner who might not feel like they need a lot of communication, is that driven by anxiety? Are they isolating themselves in a way that's not very healthy? It goes both ways.
---
Q
How do you cope with the lack of proximity and physical touch?
A
That's the hardest part of it. There is no substitute for being curled up on the couch with your partner. It helps to just be able to acknowledge to each other that this is very hard—not to be able to hug and kiss and be intimate, whatever it is. And we have to remember there are ways not to completely lose the intimate parts of a relationship. Phone sex is a thing. You can flirt long-distance, even if it's just a little banter on the phone when you're talking to each other.
Just because we're in a pandemic doesn't mean you can't be playful or experience moments of joy with your partner. For the emotional health of the relationship, we need to be able to recognize those two disparate things exist at the same time. There's this tragic circumstance going on and it's so upsetting, and also we're human and have a partner we really enjoy. Both of those things are true.
---
Q
Do you find that people are relying more on their partners right now?
A
Yeah. Our partners don't normally meet every single need of ours, so we can't expect them to do that now. That's a lot of pressure to put on one person. We have to look at what is realistic. Right now, we have to figure out how we can manage our anxiety without putting it all on our partner. Think: Should I meditate? Should I take a walk? Can I call a friend?
In terms of the pandemic itself, remember that everybody is dealing differently with what we're all experiencing. You have to talk to your partner about how they're managing and how you're managing, and you have to stay aware not just of what you need but of what the other person needs, too.
---
Q
What can couples do to stay engaged with each other during the pandemic?
A
I think one thing that's fun for couples to do that gives them sort of a distraction and also a connection is just plan for the future. Like: Hey, when we start to emerge from this, what are some things do we want to do together? What are some things we're experiencing now that we're going to laugh about later? And you know, people truly reveal themselves in times of a crisis: What are you learning about your partner that you didn't know before the pandemic, and how did you get closer to each other? It's not just about what's happening now but also how this experience is going to strengthen you as a couple for the rest of your relationship.
---
Q
What can going through this pandemic reveal about a relationship?
A
The pandemic is bringing up two things: The first is preexisting issues in relationships that maybe people didn't know were going on. I've been getting letters from people who are saying that now that they're not spending all this time with their boyfriend or their fiancé, they're realizing they're not sure whether they are compatible in ways that they thought they were.
"It's not just about what's happening now but also how this experience is going to strengthen you as a couple for the rest of your relationship."
But the second is that the stress and distance are bringing up so many things that people don't normally realize—how strongly they're connected to their partners, how grateful they are for their partners, and how glad they are to be going through this with this particular person. And the tally of all the things they're missing right now is evidence of how much they really love this person.
---
Lori Gottlieb is a psychotherapist and a New York Times–bestselling author who writes the weekly Dear Therapist advice column for The Atlantic. A contributing editor for The Atlantic, she also writes for The New York Times Magazine and appears as a frequent expert on relationships, parenting, and hot-button mental health topics in media such as the Today show, Good Morning America, CBS This Morning, CNN, and NPR. Her latest book, Maybe You Should Talk to Someone, is available here.