How to Help
"When someone you know is overwhelmed by life, confronted by obstacles that are a little too heavy to carry alone, it's easy to feel unsure of how to respond. That's the time to remember it's not what you do, but that you do something. Often, we don't realize that what may seem like a small gesture or an insignificant act to us can actually make a meaningful difference in someone's life. This book offers practical ways on how to reach out to help someone and lend a hand. There are no perfect words, no perfect gestures. Simply reach out and touch someone's heart. Be brave, be a little more generous, be kind."
So goes the introduction for a little book called Do Good: 201 Ways to Lend a Hand. This is a sweet and often ingenious guide to helping us figure out ways in which we can help a loved one who needs support in some way. It got us thinking, when life's difficulties come crashing over, what are the ways in which we can offer a little life raft for those who have always been there for us. Aside from those contained in "Do Good," here are some ideas on ways to support someone who is traversing one of life's more serious obstacles.
From Marcy Silverman:
Marcy made Do Good: 201 Ways to Lend a Hand after her husband was diagnosed with Lou Gerhig's Disease, learning how difficult it often is for people to know how to be there for others who are in need of a helping hand. Her book is a collection of ideas that range from the simplest to the selfless.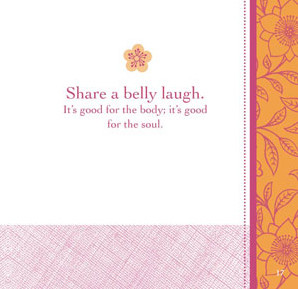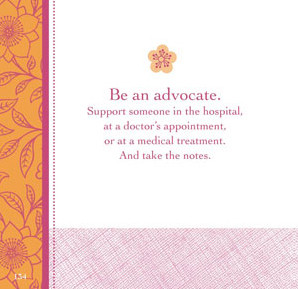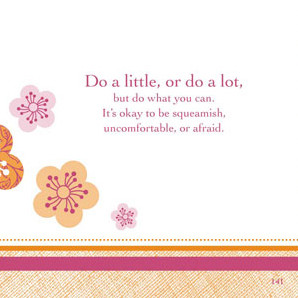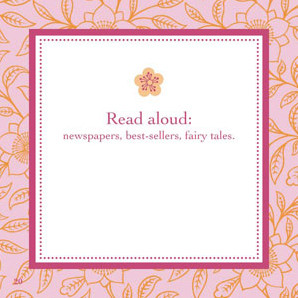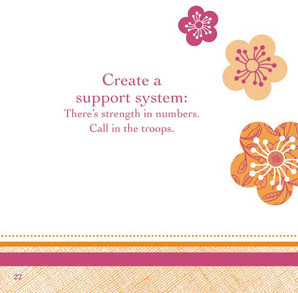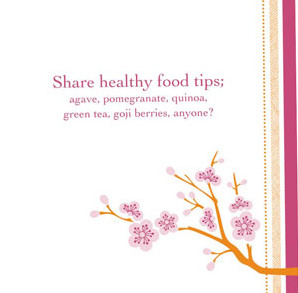 ---
Food Delivery:
A friend of mine who lost her mother to breast cancer when she was young told me about how friends and neighbors from the community arranged to make meals for her father and siblings for an entire month. Each day an easy to refrigerate and re-heat dish arrived on their doorstep. If you don't have the extra time, a great thing to do is order food from a food delivery service—food that will keep well in the refrigerator or in the pantry. If your friend lives in New York or LA, set them up with a chef from The Dish's Dish—a highly personalized service that sends experienced chefs to home-cook healthy meals at the client's home.
A "Culinista" chef will come directly to your door for a meal consultation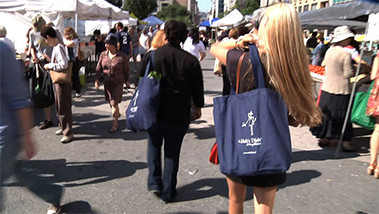 Shop for a week's worth of food.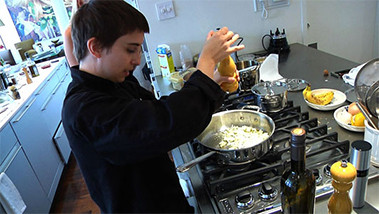 Come back and cook it at an easy and convenient time.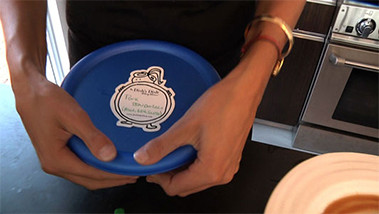 Store the food in re-sealable containers.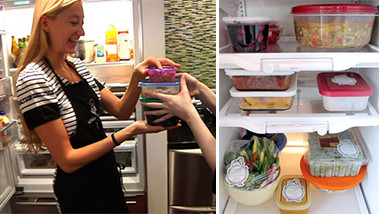 And store it in your fridge so you can re-heat whenever works for you.
---
Food Delivery Services: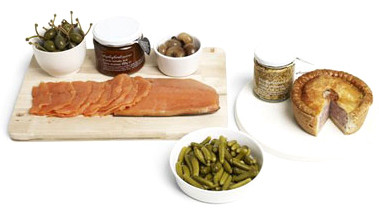 In the UK, Daylesford Organic is a store, food delivery service and cookery school devoted to providing whole, organic and healthy food. Here are some of the goodies you can order online.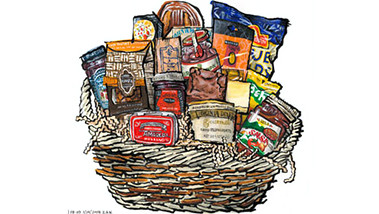 Zingerman's is a US mail delivery service that sends any kind of specialty food you can imagine from high-quality olive oil and vinegar, to sweets, cakes, breads, and cheeses. Their gift baskets are generously stocked to say the least.
---
Eating for Healing:
Michio Kushi's books teach you a whole new and healthful way of eating that could make a drastic difference for people suffering from significant health problems and those seeking a better way of life altogether. "At Kushi Institute we aim to create meals which combine the greatest health benefits with sensorial delight, and as you will see below, these aspects are remarkably related."
A Rainbow of Colors
"The bright, rich and varied colors of our vegetable ingredients not only provide a sense of beauty in our meals, they indicate great nutritional potency. We recommend using a variety of colors in each meal, including:"
"The deep orange of carrots and winter squash, and the golden yellow of sweet corn are indicators of important carotene nutrients that our bodies convert to vitamin A."

"Brilliantly green dark leafy vegetables contain high levels of many health-supporting vitamins including A, C, K and the B vitamin folate, and minerals including iron and calcium."

"The rich colors of super-nutrient-rich sea vegetables range from green, to the lovely reddish purple of dulse, to the deep black of arame and hiziki. Sea vegetables are not only higher in many nutrients than other vegetables, they contain important nutrients not found in land vegetables including iodine, immune boosting trace minerals, and unique substances that help maintain health on a cellular level and support detoxification."

"Even light-colored and white vegetables have great nutritional value. For example, macrobiotics has long promoted sharp-tasting daikon radish as an aid to digestion, and recommends eating raw daikon at meals that include rich dishes with more oil or fish. Recent research corroborates daikon's digestion benefits, finding raw daikon is abundant in the digestive enzymes diastase, amylase, and esterase, which help break down carbohydrates, fats and proteins. Beneficial chemicals in daikon have also been shown to greatly increase the absorption of beta-carotenes – found in the orange, yellow and dark green vegetables—when these and daikon are eaten at the same time. A 3 oz serving (a 2 in piece, 2 inches in diameter) provides a whopping 34% of our daily vitamin C requirement."
---
A Feast For All The Senses
"Along with colors, macrobiotics promotes taking our other senses into consideration when preparing a meal. Here are some general recommendations:"
Taste
"In the macrobiotic perspective, based on traditional wisdom, different tastes are thought to have an influence on the health of various body cells, organs and systems. We recommend using all of the 5 tastes on a daily basis:"
"The natural mild sweet tastes of whole grains and sweet vegetables such as carrots and squash."

"The pungent taste of ginger and raw radish."

"The sour taste of fermented vegetables, such as sauerkraut and umeboshi, or fresh lemon."

"The bitter taste of green vegetables like dandelion greens, broccoli rabe, or mustard greens, lightly roasted seeds, or kukicha tea."

"A mild salty taste by using a small amount of high quality sea salt (cooked into dishes, not sprinkled on foods at the table), shoyu soy sauce, miso, and pickles made with salt."
Texture
"The appeal is far greater, and nutrition enhanced, when our meals include dishes with different textures, such as:"
Soft or creamy: "Succulent soft cooked vegetables, beans, porridge, and pureed soups."

Chewy: "Hearty and satisfying pressure cooked grains, mochi (pounded sweet rice), whole-grain noodles and bread, and tempeh."

Crunchy: "Refreshing raw salads, and what we call 'pressed' salad; crisp, lightly steamed, blanched or stir fried vegetables; and roasted seeds."
Aroma
"Even before we see a meal the wonderful, sensual aromas of fresh natural foods, enhanced through cooking, reach us and start our mouth watering. The enticing smells of various foods can even influence our hormones and emotions. Using a wide variety of ingredients and cooking styles keeps the aromas constantly changing, providing more interest and pleasure in our meals."
---
Books:
A few books that have helped me through some difficult times.
---
And don't forget flowers—whether freshly picked or arranged and delivered—they never fail to let someone know how much you care.