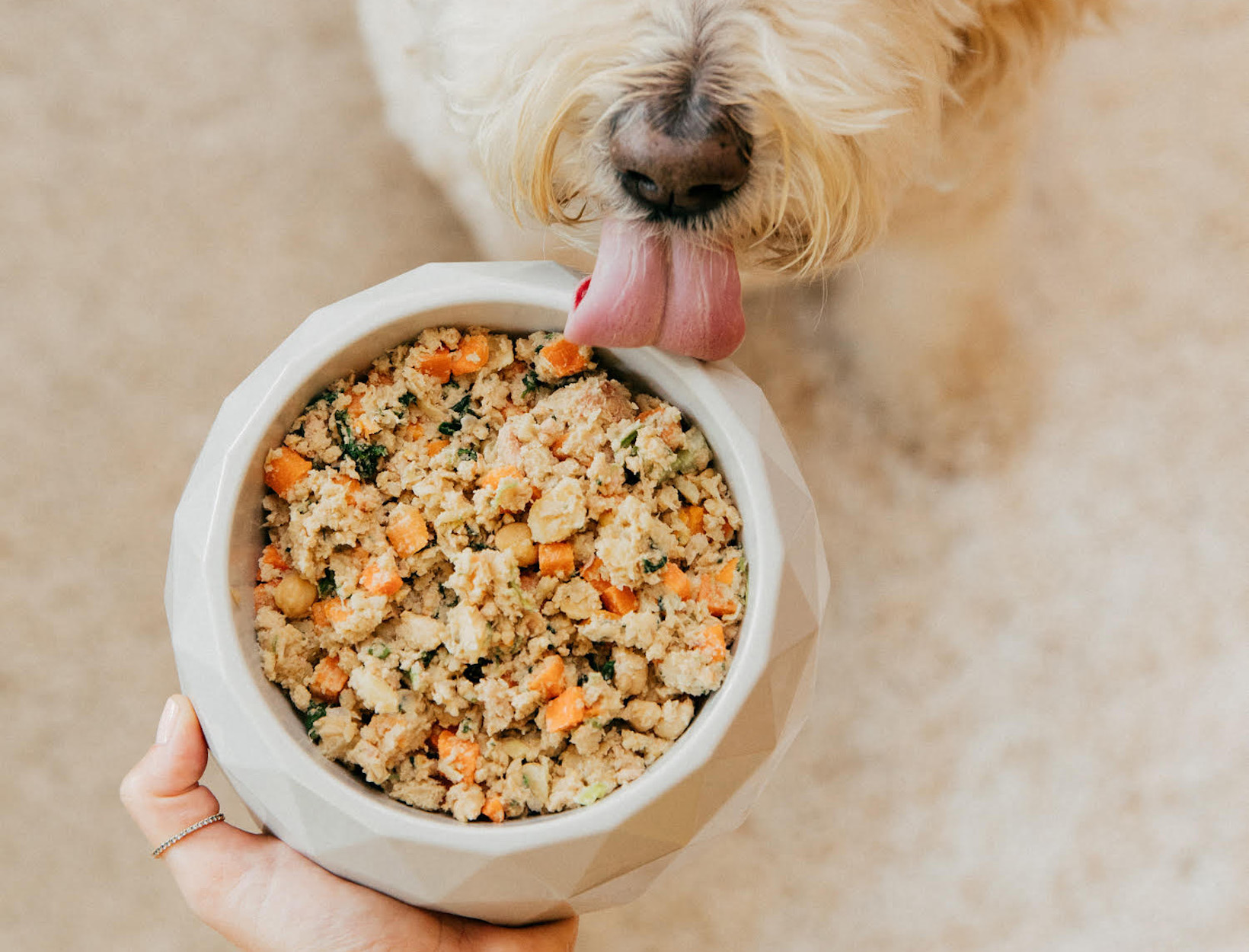 The Luckiest Pets We Know
In partnership with our friends at The Farmer's Dog
Dear Oscar,
I'm really sorry about that haircut. You know the one. Remember how you didn't complain? Not a single bark of disapproval? That was very nice of you. I promise to never take you to a place called Doggie Barber again. I don't think I appreciate you enough, and I've recently learned that you could very well be the reason I don't have allergies. Apparently, you're also the reason I sleep better at night, and you lower my stress. You even keep me from being depressed. I've never thought it was possible, but you've made me more of a morning person and a lot more social. But I now know that you become more like me every day, which is why there is really no excuse for that ridiculous haircut.
I also want to apologize for that weird greige mushy food I've given you for dinner lately. I know you look at it and you're crying on the inside. You shouldn't have to feel like you live in dog prison. So I'm switching up your dinner to real turkey and chickpeas or maybe pork and sweet potatoes. And we'll be taking more trips to the beach with tennis balls, too, by the way.
Thank you, sweet Oscar, for making me a better human. Thanks for making me feel heard, loved, and accepted. I talked to the other pet owners in the office about all the ways they pamper their cats and dogs, and I'm truly inspired. They have some great ideas.
I'll be home by 6 p.m. tonight. Get the tennis balls ready.
Eat Right

Samantha Saiyavongsa | assistant editor

Ellie | Pomeranian

Meet Ellie and the first thing you'll notice is her personality—it's pretty big for a seven-pound dog. But because half of her size is actually her coat, keeping her skin and fur healthy is essential. That requires food that's fit for a human.

Nordic Naturals
Omega-3 Pet
Chewy, $15

"Our morning routine is pretty much: Wake up, cuddle, breakfast with fish oil. This supplement gives her joint support, and it really helps. It's made a noticeable difference, and it keeps her coat as silky as it was when she was a puppy."

The Farmer's Dog
personalized meal plan
The Farmer's Dog, from $3 per day

"The meal plan is entirely customizable, and it's made with real meat and real vegetables, which sounds like it shouldn't be such a rarity but it is. Plus, it looks nothing like regular dog food. It's more like something you'd see at a butcher's shop. It comes to our door, which makes it so easy for me to be lazy, but of course the best part is that it makes her happy and keeps her healthy."
Great Groom

Julian Ordaz-Fernandez | manager of merchandise operations

Spot | mutt

Spot and his owners like to keep things simple—they essentially Marie Kondo Spot's life. From Spot's perspective, this is great for baths, less great for treats. But don't misunderstand: There is still an abundance of pampering. (Spot usually sleeps in bed with his people.)

365 Everyday Value
Organic Virgin Coconut Oil
Amazon, $7

"Spot's coat is already naturally soft. To pump it up, we brush him weekly with coconut oil after every bath. It gives him some extra shine and keeps him smelling as good as a Beauty Seed Bar."

Buddy Wash
Original Lavender & Mint Shampoo & Conditioner
Chewy, $11

"It's made with lavender, mint, and chamomile and leaves Spot looking like he got a great blowout. It also has conditioner in it, so it's just one step and then you're done."
Cat Nap

Sarah Carr | associate editor

Trumpet and Moshi | Maine coon and orange tabby cat

Sarah Carr technically has two cats, but Moshi's been MIA since her recent move. With everything going on, it's important that Carr makes sure Trumpet has a safe place to rest. "We call the one other room in the house Trumpet's room," she says.

MĀO MĀO
Zen Therapy Rollers
MĀO MĀO, $13

"Behold, the jade roller for cats. Trumpet loves this
one—she's really active, so when we want her to chill out, this is guaranteed to help her relax and make biscuits."

Pendleton
Small National Park Dog Bed
Pendleton, $99

"I know: This is a dog bed. The thing is, I think Trumpet might identify as a dog. She loves the outdoors and rises at dawn to take herself for a walk, making sure nothing has changed in the yard since she went to sleep. For a good night's rest or just a good catnap, there's nothing like a cozy Pendleton."
Stay Active

Anita Jennison | senior director of product marketing, beauty

Spark | terrier–Jack Russell mix

Sparky is well-known at goop HQ for having a life that makes most humans envious of him. Annual trips to Ojai, spa days, more outfits than occasions—Spark's got it all. But what's most important for him and his human is not the vacations or oatmeal baths; it's having an active lifestyle that includes regular beach hangs with the goop gang and good grass romps with his pals.

Lucky Tails
Hikes and Group Park Visits
Lucky Tails, starting at $25

"Spark is Mr. Social Butterfly in our neighborhood. People regularly stop by and ask if he can come out to play. He and his posse like to go on group hikes and park playdates with Westside Lucky Tails."

Whistle
Whistle 3
Whistle, $100

"This tracker is like a Garmin combined with a Fitbit but for doggie monitoring. I get to see his daily fitness activity, and additionally, it gives me peace of mind. Spark has a noise phobia. If it kicks in and he flees unexpectedly, I can easily track him down."
Travel Safely

Danielle Pergament | editor in chief

Norman | small mutt

Our editor in chief is always going somewhere—trips to Spain, Italy, and
beyond—often with her husband and kids, and now, with their dog, Norman. To do what Pergament does with ease requires reliable gear and tons and tons of Zen.

Sherpa Pet
pet carrier
Amazon, $32

"It's small, durable, and about as cozy as what is essentially a shoulder bag can possibly be. Norman is a pleaser: He'd go into any carrier bravely, but this is one he actually enjoys."

Wild One
poop bags
Wild One, $10 for six rolls

"They're pink, so you'll never lose them, and they're eco-friendly—compostable, biodegradable, and nontoxic. And they're unscented, so no weird, heavy perfume cloud every time we use them."