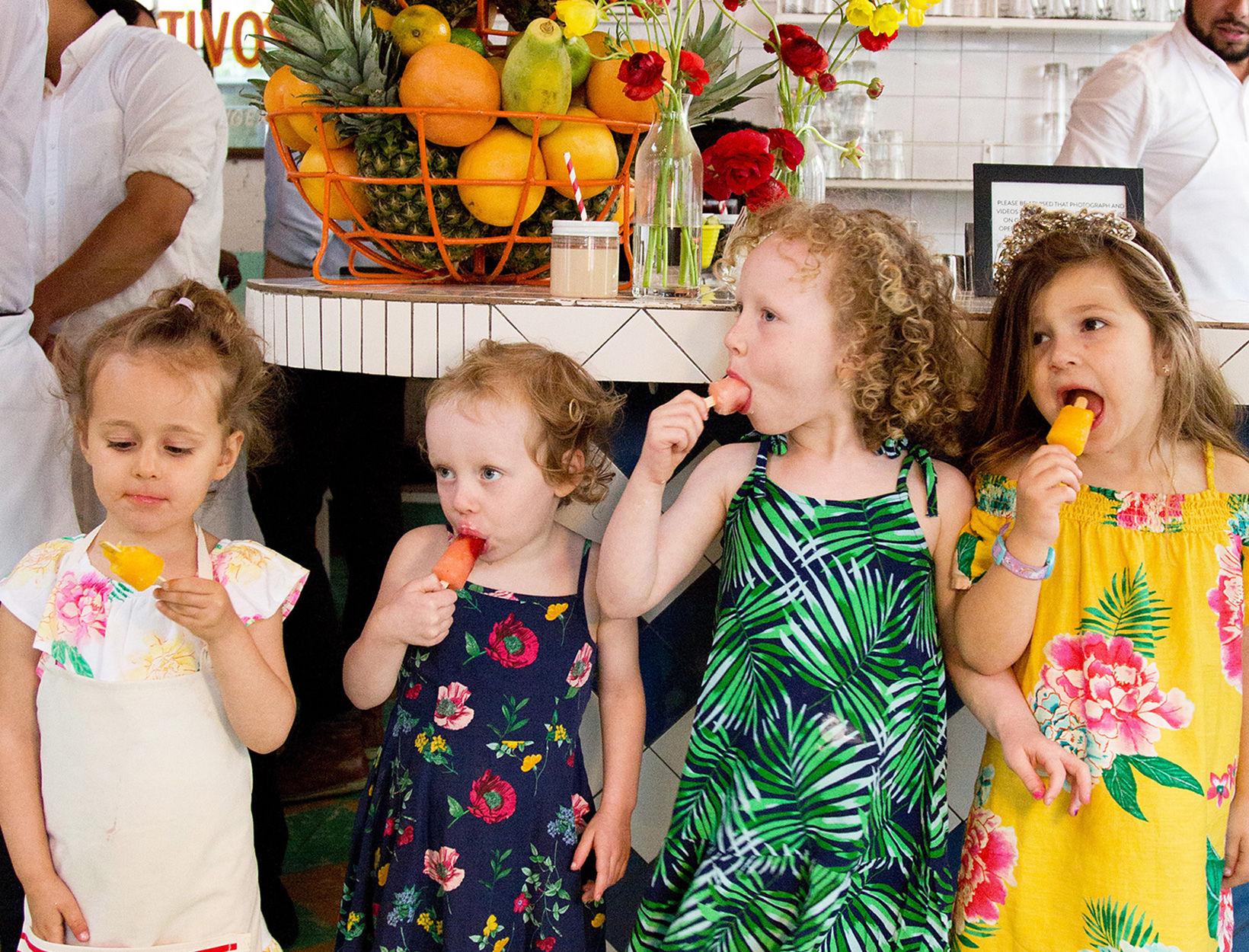 The Ultimate Little-Foodie Playdate
The Ultimate Little-Foodie Playdate
Hosted by goop's food editor Thea Baumann and The Glow's Violet Gaynor, Monday's #mini♥️me party at NYC's Tacombi restaurant was the perfect (and by far the cutest) way to celebrate Old Navy's new, color-happy Havana Nights collection. Staying on theme, the folks at Tacombi served festive food and drinks (and were nice enough to share a few of their killer recipes, below) while Chef Thea led an interactive baking lesson for the day's guests of honor, a group of Odette Williams apron-clad mini-chefs-in-training. The lesson plan: mini bundt cakes the kiddos got to decorate with edible flowers before presenting to mom in custom PieBox gift boxes.
Welcome to Tacombi

Cooking class
is in session.

Hola, tostadas.

Color-in
recipes cards.

Agua Fresca, minus the sugar rush.

Tenoverten's Nadine
Abramcyk chatting with Ana
Fritsch of Lucky Penny.
Thea showing the littles how it's done. (Thanks for the tricked-out
mixer, Williams-Sonoma!)
Snack-time
goals.

Our host and The Glow co-founder,
Violet Gaynor with her mini-me,
Plum.
goop's Kim Kreuzberger
and little Cate.

Jodie Morel (of Dannijo fame) and
Margaux mid-bundt decorating.

A sippy-cup upgrade.

A+ florals by
Mimi Brown
Studio.
Scout the City
blogger Sai De Silva
and baby Rio.
To mom (Elle Strauss)
—love, Honor.
A Big Thank You Goes Out To…
Our friends at Old Navy, Tacombi, Mimi Brown Studio, Odette Williams, Inslee by Design, Williams-Sonoma, La Newyorkina, B Productions, Baked, and PieBox. Photo credit: Sarah Elliott Photography.
For Mom and Her Mini-me
Fiesta, Fiesta!
We have yet to meet a kid who doesn't like tacos (and cake!), so it was no surprise that Monday's menu was a huge hit. Here are three of our favorites (slightly adapted from the Tacombi originals to make them more kid-friendly and a teensy bit healthier) plus the Baked bundt cake recipe, which makes the sweetest Mother's Day gift.