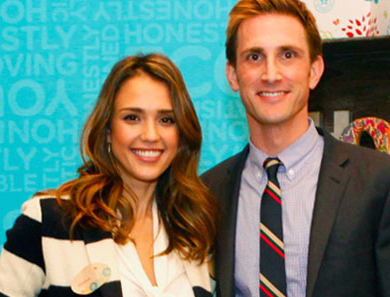 A Q&A With Christopher Gavigan, Honest Company
We sat down with Jessica Alba and Christopher Gavigan to talk about The Honest Company. Not only are their diapers incredibly cute, but they're also made from plant based materials, are completely non-toxic, and are free from any harmful chemicals.
Jessica Alba and Christopher Gavigan
Q
What was the impetus behind creating this company?
A
From Jessica Alba:
As a lot of new parents do, I spent countless hours researching products for my baby. Then I spent more time jumping from site to site, buying products online or running around from one store to another trying to find them. I'd shell out way more money for the products in brown packaging and pictures of nature only to get home and find out they still had ingredients in them I was trying to avoid. And the few products that were actually safer never seemed to work as well as I needed. My dishes didn't get clean. The conditioner wouldn't detangle my daughter's hair and those diapers kept leaking. I was frustrated, and sick and tired of compromising.
I thought, "Wouldn't it be great if there was one company I could get all my daily essentials from—from diapers to cleaning to bath time—and I could trust that they would be safe, eco-friendly, affordable and effective, as well as designed beautifully and delivered to my doorstep?" What a relief it would be for me, and many parents, to have this kind of resource! I wanted and desperately needed this kind of company—so I decided to work with Christopher to create an amazing experience.
Jessica Alba with her daughters Honor and Haven.
Simply put…because I realized that Honest.com needed to exist, and someone had to do it better. I've focused my career working on ways to protect and improve child health and development, and inspire parents and caregivers to take an active part in creating healthy, non-toxic, and safer environments for their family. A part of that work was fighting to ignite legislative change in our outdated chemical regulatory system, as well as creating new, safer standards for businesses so parents didn't feel the need to be toxicologists and children could have safer products available. If you're remotely aware of our political landscape, it should be abundantly clear that passing such broad-sweeping legislation is pretty much a Sisyphean task.
Instead of fighting to change others, we could creatively lead by example. Ultimately, The Honest Company's goal is to re-define the "family brand"—an authentic, accessible company to simplify, enhance, and delight in every way through exceptional products and services—all that promote beauty, community, charitable giving, and safety.
Christopher Gavigan with his daughter, Eve.
Christopher Gavigan in Detoxing the Home
Q
You talk about finding ways to create a safer environment for families. Can you tell us what classifies a toxic versus a non-toxic home?
A
Every person has unique susceptibilities and life circumstances, so there's no one-size-fits-all approach to having a healthier home. That being said, here's an image from the Safer Chemicals, Healthy Families Coalition that highlights some of the most common toxics present in an average home:
Striving for a non-toxic home means paying attention to what's inside the products you buy—looking for plant-based, natural materials, and safer synthetics.
Q
What are VOC's and why are they dangerous?
A
Volatile organic compounds (VOCs) are fumes and gases released from myriad sources like paints, cleaning supplies, pesticides, building materials, and furnishings. It's a general umbrella term for a wide variety of chemicals, some that have short or long-term adverse health effects and some that have no effect at all.
Unfortunately, according to the US Environmental Protection Agency, currently not much is known about what health effects occur from the levels of VOCs usually found in homes—although they do know that indoor levels are typically much higher than outdoor. This is why I strongly recommend opening windows for at least a few minutes every day—let the bad air out and better air in!
Q
What's the most toxic household product that we would never suspect that most of us have in our homes?
A
That's a really tough question because everyone's home is different, but if I have to choose just one, I guess it would be mattresses and cushions. You didn't see that coming, did you? You probably don't ever stop to think about what's in a cushion, but if it's made from polyurethane foam, it likely also contains toxic flame retardants because that kind of foam is so extremely flammable. So, that can mean these chemicals can be in couch cushions, mattresses, and throw pillows, but perhaps the most disturbing use is in baby products like car seats and nursing pillows.
Look for foam, cushions and mattresses made with polyester, down, wool, or cotton as they are unlikely to contain these flame retardants. And, finally, dust regularly since that's where these chemicals typically end up.
Q
Without buying anything or by just using natural, basic household ingredients we probably already have in our pantry, what steps can we take toward detoxifying our homes?
A
Without spending a dime, you can actually do a lot. Here are four simple steps:
Open windows
As I mentioned above, VOC levels are higher indoors than out, so opening your windows for even just a few minutes a day can significantly improve your indoor air quality.
Take off your shoes
There's a lot packed into your shoe treads. Among the pollutants: Lead dust, animal feces, and chemicals, including fertilizers and pesticides. When you leave your shoes at the door, you're also leaving these contaminants at the door instead of tracking them all over your home.
Kick your chemical habit
Switching to non-toxic cleaning and personal care products is a must. Embrace label reading and look to AVOID products with questionable ingredients like: chlorine, ammonia, phosphates, SLS, parabens, BPA, synthetic fragrances/dyes, and petrochemicals.
Dust
Many of the products inside your home, and the materials used to make the building itself, are slowly degrading and breaking down into small, microscopic particles. And, over time, what's in them, becomes a part of your household dust. This dust can be contaminated with toxic flame retardants, in addition to heavy metals, pesticides, and countless other chemicals that make up our everyday surroundings. So, wipe surfaces regularly with a damp cloth. Wipe hard floors with a damp mop. (You only need to use water for these tasks—save cleansers for deeper cleaning). And vacuum with a HEPA filter regularly. Also, swipe your screens. Some of the most contaminated dust is that found on TV and computer screens.
Christopher's book, Healthy Child Healthy World, gives a few suggestions for DIY cleaning solutions that you can make from what you may already have in the pantry:
All-Purpose Cleaner
(adapted from Annie B. Bond's Home Enlightenment)
½ teaspoon washing soda (or 2 1/2 tsp Borax)
½ teaspoon liquid Castile soap
2 cups hot water
16-ounce spray bottle
Mix ingredients in spray bottle and shake gently. Use on counters, cupboards, or any surface. For tough dirt, leave the cleanser on for a few minutes before wiping off. Can't find washing soda? Use 2 ½ teaspoons of borax instead.
Q
How can we as parents strike a balance between keeping our kids safe from toxic chemicals and exposing them enough to their surroundings to strengthen their immune system?
A
In my opinion, the approach that all germs should be destroyed, and kids should be raised in a sterile home is a mistake, so in reality, a dose of "dirt" could be a good approach to help prevent allergies in kids. If we over-clean and sterilize, children's immune systems will not mature. The marketplace is filled with messaging and products leading consumers to antibacterial soaps, antibacterial cutting boards, and even antibacterial pacifiers. As a result, the immune system has shifted away from fighting infection to developing more allergic tendencies. In medicine, this "hygiene hypothesis" is gaining more acceptance.
The concern is that all this germ-killing may end up leaving us more vulnerable to infection—as the worry that the overuse of antibacterial products kill off good and weak bacteria, leaving only the strong resistant behind. Our bodies no longer need to fight germs as much as they did in the past. Most bacteria are harmless, and we need to be exposed to numerous different microbes as we grow to develop the antibodies that make up a strong immune system.
Ultimately, it's best to clean using non-petroleum based cleaning products, like those from The Honest Company, or the old fashioned way with alcohol, lemon, and white vinegar. Avoid harsh and toxic antibacterial chemicals like triclosan or benzalkonium chloride as found in many antibacterial products, and opt for those that use ethyl alcohol instead.
Q
Why is it important for babies in particular to be in a non-toxic environment?
A
In my opinion, there are a variety of reasons babies are uniquely vulnerable to toxic chemicals, including:
Children aged one to five eat three to four times more food per pound than the average adult American. If there are pesticides in that food, they're getting far higher doses.
The air intake of a resting infant is twice that of an adult per pound of body weight. Again, if that air is loaded with VOCs, that baby's exposure is double that of an adult.
Children's bodies are growing and developing more rapidly, so chemicals that can harm development can do maximum damage at this critical time.
Babies learn a lot about the world by putting everything they can reach into their mouths. (They are not discriminating.) This behavior can put them into contact with very harmful substances, like lead from car keys—so be watch to use non-toxic teethers like wood, cotton, or silicone.
Q
Now that you've given us so much valuable information on creating a safer environment at home, can you tell us a bit more about what The Honest Company does?
A
We launched on January 17, 2012 and we've had an overwhelmingly positive response from parents, families, and industry alike. I guess there were a lot of other people out there just as eager as us for a company like ours.
We created The Honest Company to ensure that parents have access to non-toxic, great-performing, beautifully-designed products that don't break the bank.
Honest.com is a monthly subscription service offering customized product bundles of baby and family household essentials delivered directly to your front door. Bundles are personalized to your needs—filled with everything from plant-based diapers, organic body/skin care, and non-toxic home cleaning products.
Our "Diaper Bundle" is less than $20 a week, and the "Essentials Bundle" is filled with over 15 body/skin care and cleaning products to choose from for less than $9 a week. It was imperative to us to create and design highly-effective, safer, eco-conscious products that were simply more convenient to get—easily accessed at Honest.com
The Honest Company's Essentials, Diapers and Wipes.