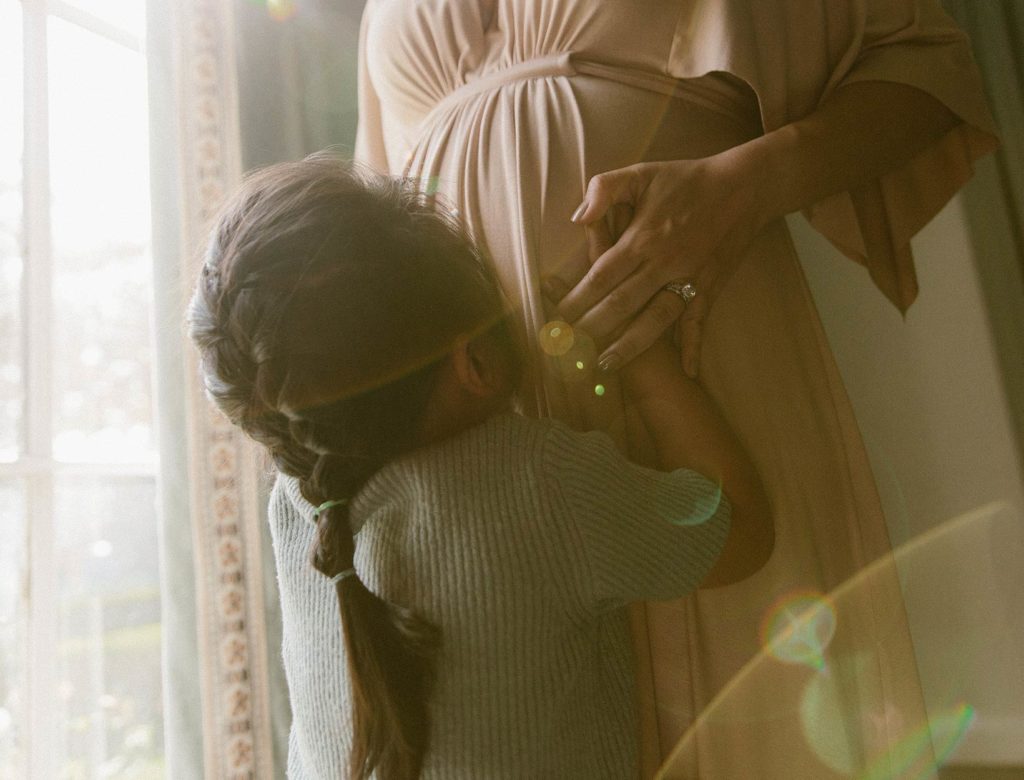 Do You Want to Have Another Baby?
Photo courtesy of Nicki Sebastian
Do You Want
to Have Another Baby?
It's no secret that when you have a kid, everything changes. What we talk about less is that when you have a second or a third, there's another huge shift. It's not just that your calendar gets even more full of appointments and playdates and pickups and drop-offs. Parental roles may change. Financial priorities may shift. The kids you already have need to figure out what it means to be a big sister or brother. It's normal and okay to feel anxiety about what that's going to look like or to wonder whether it's the right choice for you.
Zoe Blaskey is a life and career coach who founded her company, Motherkind, to help moms and moms-to-be navigate parenthood. And when one goop editor sat down with Blaskey to figure out what life might look like with kid number two, she walked away feeling more solid in what she wanted. Blaskey says that at the end of the day, it's a jump—but there are questions to consider and exercises to practice to help you take (or not take) that jump with confidence.
A Q&A with Zoe Blaskey
Q
What concerns and hesitations do your clients have when they're making a decision about expanding their family?
A
Whenever we contemplate a major change in our lives, fear will often rise to the surface. For those thinking about having another child, these fears tend to be related to uncertainty about how life will look with more children, changing existing family dynamics, making a career work with a bigger family, dealing with the challenging newborn phase again, or uncertainty about whether another child is really what they want. Sometimes they find it's an external pressure.
I start by asking questions—and really listening. We get into what is going on with this client and their family, and I help them get crystal clear on all the factors at play. (These are often contradictory. That's normal.) Then getting things out of our heads and onto paper is very powerful; I help them identify their specific fears about this decision, and we list them out. We work through the noise, using different coaching exercises to help them access what it is they really want.
---
Q
Can you explain the visualization tool you use in sessions?
A
Sometimes I use a practice of future visualization: I ask the client to imagine their life ten or twenty years in the future. I ask them what they can see, what they are doing, who is there, and how they feel. This is a tool to help a client access unvoiced desires and needs. In the dilemma about having another child, clients sometimes forget it's not just about having another baby but about adding another person to the family—so thinking about life in the future can be a useful exercise.
---
Q
Can you explain the values exercise you use in sessions?
A
Many of us live in ways that aren't congruent with our values—being a busy mother means compromise—so we often feel like something is off without knowing that's what it is. I help my clients define their unique values. Sometimes just putting them into words helps us figure out exactly what they are. That list becomes vital information for decision-making of any kind. Whenever we weigh an option, we can then ask ourselves: Does this align with my values?
---
Q
Do you find it's helpful or even more confusing to crowdsource advice from friends, family, coworkers, and others in our life? What are some good alternatives?
A
It's not about whether crowdsourcing is good or bad but how that behavior feels to the client. Some clients find reassurance in asking friends and family for advice. More often, clients who ask around for other people's opinions find the answers confusing and overwhelming, especially when everyone they ask says something different. When we look to others for answers, it might be a sign we're disconnected from ourselves. It's quite a disempowered place to be.
A seven-day journaling practice can be a powerful decision-making exercise. Every day for a week, spend at least ten minutes freewriting about the choices you have in front of you and whatever it is you're struggling with about them. Notice what comes up. I also recommend daily meditation—even if just for two minutes—to help access that small voice within you that knows what the right decision is.
That said, it's not a process you need to go through alone, necessarily. It's really important to bring your partner, if you have one, into the process. I like an exercise called "fear setting," where you list out together in three columns: What are your fears? What could you do to prevent them? And if those fears came true, how would you handle it together?
---
Q
What are some of the most common issues women bring to you in coaching sessions?
A
Many of the clients who come to me are struggling with their relationship with themselves—they often feel disconnected, overwhelmed, anxious, guilty, and lost. Typically, their inner critic is loud; they feel like they aren't doing anything right. They are often kind and giving to everyone around them but not to themselves. And they feel close to burnout. These women work through my twelve-week coaching program, Reconnect to You. It consists of six phases that help mothers learn to be kinder to themselves, release past resentments, reconnect to their dreams, develop sustainable self-care practices, and become their own best friend.
I also see many highly successful women who are struggling with the transition back to work after having a child. They typically want my support either figuring out how to make it work or considering what other career options they may have. These women come on a different coaching program—called What Now?—which is six weeks focused on motherhood and career coaching. I've had mothers get promotions in their jobs, quit CEO roles to start a passion business, and everything in between.
---