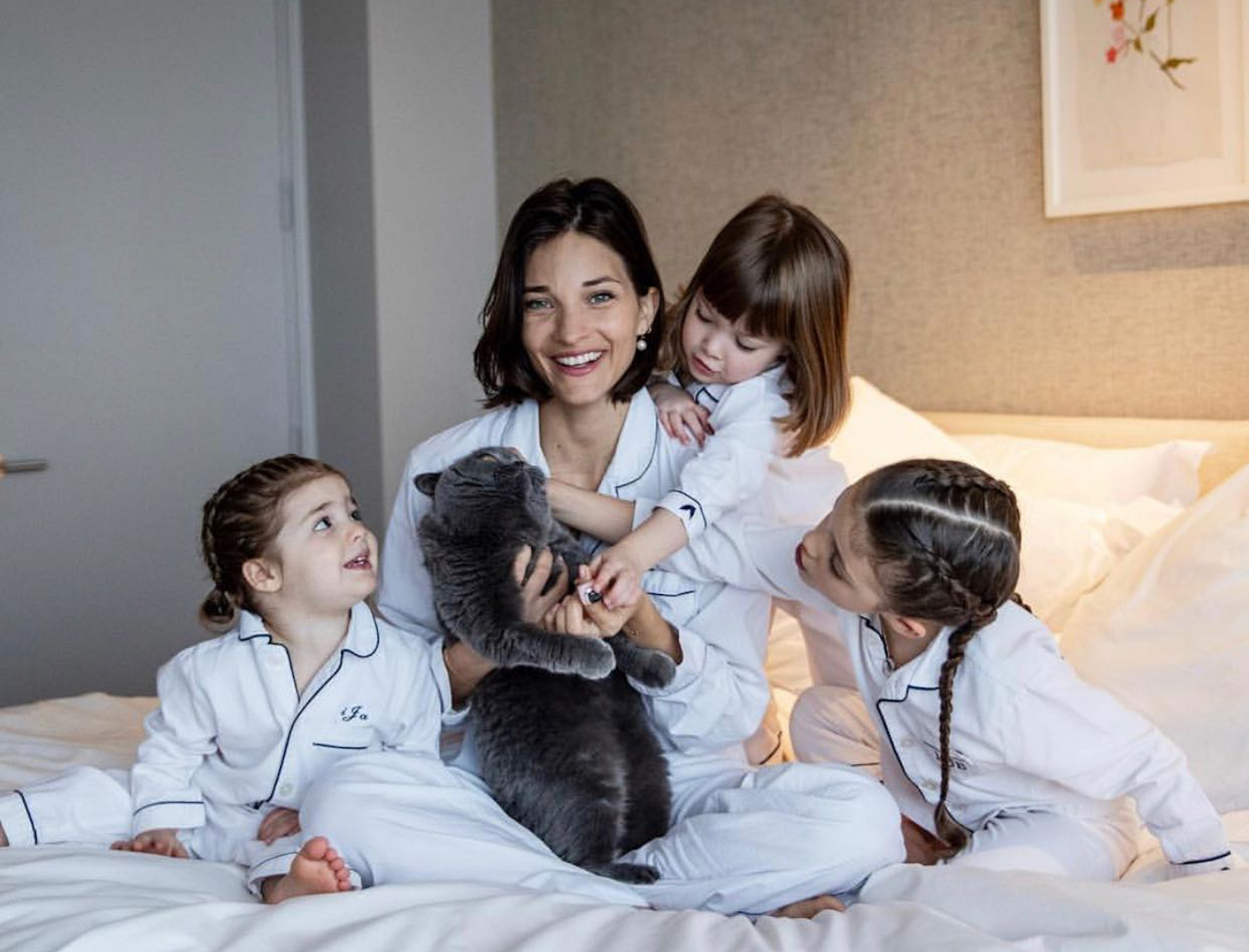 Photo courtesy of Jeff Thibodeau/@millieandnoahjewelry
Mother's Day, Every Day:

The Joy in the Chaos
In partnership with our friends at Marc Jacobs
If the world's most challenging and rewarding job is being a mother, then Maria Dueñas Jacobs is rewarded three times over. She's director of brand development at Stitch Fix and mother to five-year-old Luna and three-year-old twins Isa and Silvi, so you might think Dueñas Jacobs's ideal Mother's Day would look a lot like the inside of a spa. In fact, it will look a lot more like a regular—very spirited—weekend: a trip to the playground, maybe a few cupcakes, and a bedtime dance party. "I love it because it's an excuse to ask for more kisses and better behavior from my kids," says Dueñas Jacobs. "It's just like any other Sunday, but with more sugary treats and—fingers crossed—well-behaved daughters." We asked Dueñas Jacobs to tell us what this May 12 will look like for her family—and how she navigates that blissful pandemonium, not to mention three girls in a stroller.
6:30AM

No alarm needed—I get woken up by laughing/yelling and lots of "Mommy!" calls blaring through my iPad monitor on a daily basis, but on Mother's Day (and all Sundays), I'll turn off the monitor and snooze.

7:30AM

The twins will waste no time and make a beeline for the costume basket to throw on princess dresses over their pj's. My husband, Jordan, has dreamed up a (genius!) Sunday morning ritual of banana pancakes with rainbow sprinkles. It's the perfect distraction and also a win-win: I get a bit more sleep, and the girls get some time with their dad.

8:00AM

I'll be awake by now but taking it slow because it's Sunday and it's Mother's Day! Toddlers don't care what day it is, so they'll rush into the bedroom, only this time with drawings, beautiful flowers from Iris & Virgil, and my husband's homemade smoothie. And they'll probably bring in Frankie, our cat, who they treat like a stuffed animal.

9:00AM

We'll still be moving pretty slowly (that's our weekend pace because we have less structure and no school drop-offs to motivate us out the door). Which means we'll still be in our pj's, watching Frozen for the gazillionth time, while I fight to dress them as they sing (scream) "Let It Go."

10:00AM

The weather is finally getting nice, so we'll pack all three girls in the stroller and start our Sunday adventure around our West Village neighborhood. We don't own a triple stroller, but Luna has carved out a makeshift seat in the front nook of our BOB double jogger.

11:00AM

We love Bleecker Playground because it's low-key and always full of donated toys that the girls like to discover. It's a cesspool, but I've sort of given up on that and just make sure to keep lots of wipes. When I take them to crowded public areas, I dress them alike and in bright colors for easy spotting. (Thank goodness for tie-dye.)

1:00PM

We'll head to Cowgirl, a local restaurant that is super kid-friendly, and order a ton of quesadillas, chicken fingers, fries, the works (all their special treats) because it's the weekend.
2:00PM

Because it's Mother's Day, it'll only seem right for us to top off our meal with cupcakes at Magnolia Bakery, just a couple blocks away. Don't mind if we do.
3:00PM

Jordan and I will be exhausted by now, so we'll head home for some downtime.

4:00PM

Having three daughters is like having a constant playdate. Our home is overflowing with toys and crafts, and although they want to play with us, they mostly want to play together, make a mess, and chase one another around.

5:00PM

Dinnertime. After a day full of not-so-healthy food, I'll reground them with something simple and clean, like salmon, couscous, and avocado, plus fruit for dessert.

6:00PM

Bath, pj's, and winding down. Sometimes this means a family Just Dance party, and other times it's coloring and books. Mother's Day is extra special because the girls (by way of my husband) will present me with my gift. I'll act surprised, but I've actually commissioned a beautiful ring by designer Brent Neale. She sourced pink and red sapphires and is setting them in yellow gold. It's a ring I'll pass on to them someday.

7:15PM

Hypothetically lights-out, but we haven't quite mastered the art of going to bed without a bit of whining and drama. I'll play the Mother's Day card and plead with them to please go to bed…fingers crossed that works.

8:00PM

I love ordering in Sant Ambroeus. The spaghetti pomodoro and tagliatelle alla Bolognese are insanely delicious. Jordan and I will have a nice quiet dinner together, and because it's Mother's Day, I expect we'll get a bit more sentimental and think back to how this crazy little family of ours began and how far we've come in just under six years as parents (and nearly sixteen as a couple).

9:00PM

We'll retreat to our bedroom and watch a bit of TV to unwind. We binge all the popular series, but a fallback staple we always agree on is Shark Tank. Jordan usually falls asleep while I catch up on social media a bit before it's time to rest up and start all over again in the morning.
Maria's Picks