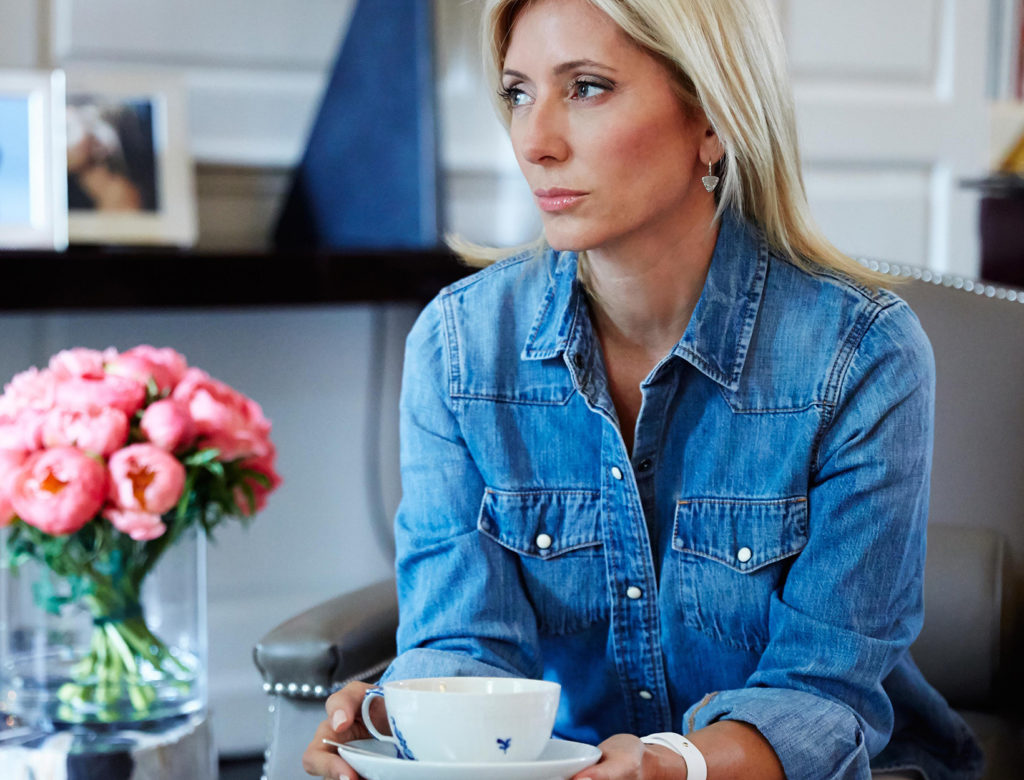 A Refreshingly Modern Guide to Classic Etiquette
Marie-Chantal, Crown Princess of Greece, knows a thing or two about manners. (Queen Elizabeth was a guest at her wedding.) But when it came to writing Manners Begin at Breakfast: Modern Etiquette for Families, she leaned on her experiences as a New Yorker, sister, daughter, mother of five, and founder of an incredibly charming children's line, as much as her decades of navigating royal politesse.
"I originally learned manners at the breakfast table with my parents when I was very little," says Marie-Chantal. "They believed that starting out the day together was how we would bond as a family, and it's been my motto ever since." Naturally, the book begins at the table—it's the first of ten chapters covering the basics of etiquette through a lens of flexibility, emotional intelligence, and generosity of spirit.
Like many of us, Marie-Chantal is currently working from home, while sheltering in place with her family (grandparents and cousins included). She filled us in on writing the book, letting her mom color her hair, and how good manners always make a difference—especially while we're cooped up at home.
A Q&A with Marie-Chantal, Crown Princess of Greece
Q
Was there an event or a specific moment that made you realize it was time to write a book on modern manners?
A
I started writing posts on manners and etiquette on my blog a few years ago and quickly noticed that they were the most popular articles. I'm a big fan of manners, family values, and tradition, and I realized there was a place for a voice that could help parents navigate today's social dos and don'ts—especially for those raising children in this frenetic digital age.
---
Q
We're having this conversation at a very specific point in time. How are you and your family handling social distancing?
A
I think all parents share the fear for—and also the hope for—our families' safety and well-being. I'm on lockdown with my family and also with my parents. My priority is to make sure everyone is safe and feels safe. It isn't always easy, and I think it's the hardest for my older kids to understand what this means and for how long. Their generation is so socially conscious. Right now it's all about teaching them the right tone to use. Tino and Achileas, who are both at US universities, are doing their schooling online and discovering a whole new kind of digital education. My two youngest, Odysseas and Aristide, are as well. It's an adjustment, but we'll get there.
---
Q
Your book often marries the concept of manners with being mindful of how we treat others. While we're cooped up at home, is there a manners mantra we can share with our kids—and repeat to ourselves?
A
I tell my children every day how unbelievably blessed we are to be at home and safe. I remind them to think about the people who make it all possible: the food handlers, the teachers, the supply chain, the doctors and nurses who are on the front lines. I ask them to think of it like war, and I remind them to not take anything for granted—that the people out there are our soldiers keeping us safe. We have to be so thankful and find ways to step in and help our communities.
---
Q
How can manners help us be more mindful while we're sharing our space with others?
A
It's important to remember that your fears and frustrations are felt by everyone—even your kids. Everything that we once took for granted now seems like a dream. My mother did my hair color yesterday, and I'm a bit orange! But it felt great to let her do my hair, and it took me out of my space for a bit. It felt good to do something different. Tomorrow is spa day here, and I'm going to give out manicures.
---
Q
You start each chapter of the book with your house rules. Throughout the years, have you ever had to revise them for your family?
A
Yes! I was always rewriting them as the children got older. What makes parenting so much fun is that as your kids grow, you also grow as a parent. We learn from them as well. My all-time favorite house rule was the time-out chair. They grew out of that one quickly.
---
Q
What are some important lessons good manners can teach in childhood that manifest in positive adult traits?
A
There is a story I tell my children to remind them to always treat people the way you want to be treated, as it could come back to you in a positive way later on when you need it. The story goes that when I was eighteen years old, I was very kind to a younger person I met and, in doing so, made him feel great. That person grew up to be someone important. When I met him again years later, I asked him for advice, and he was happy to help because of the way I had treated him when we first met.
---
Q
In the book, you mention that you don't believe in withholding emotion. How can we coach kids on managing their emotions without making them feel like they should withhold them?
A
Children who are taught how to process emotions properly tend to have a better sense of self and an easier time working through their emotions and dealing with others. I compare the skills we learn in order to become emotionally intelligent to owning a toolbox that helps us problem-solve and cope with day-to-day issues. I call this a happiness toolbox, and I have filled our family toolbox with essential tools—such as empathy, gratitude, and compassion—that help build emotional well-being.
---
Q
You share a lot of funny, relatable stories you learned from as a parent. Any good ones that didn't make it into the book?
A
My kids are now always reminding me that I wrote a book on manners when I let my own manners skip. At the moment, it's phones at the breakfast table—and trust me, I'm guilty of being on my phone too much. If I slouch, they remind me. If I don't say please, they remind me. This is what happens when you write a book on manners and have a large family.
---
Q
How do you see modern manners evolving?
A
I truly believe that whether you're formal or informal, there is no excuse for bad manners. Remember, manners cost nothing. Bringing up children today is very different from when my generation was being raised. Children seem to dominate the home more, which I'm not saying is a bad thing. I loved having my children very present in our lives, and I still do. And contrary to the old "seen and not heard" adage, they have a louder voice—which is wonderful, just as long as it's polite! As the role of parenting continues to adapt and evolve, it's vital that we don't let good manners fall by the wayside. One of our most important jobs is to teach our children how to be kind and to behave—setting a good example for our children is half the battle.
---
---
We hope you enjoy the book recommended here. Our goal is to suggest only things we love and think you might, as well. We also like transparency, so, full disclosure: We may collect a share of sales or other compensation if you purchase through the external links on this page.
---