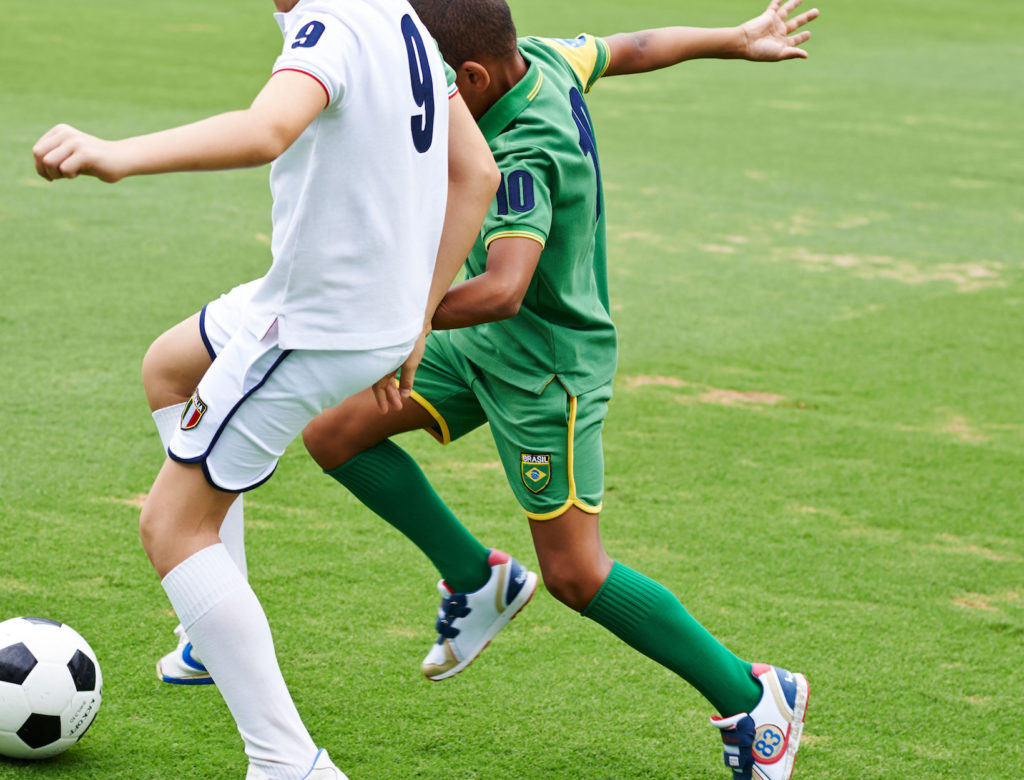 Are Sports-Related Injuries in Kids on the Rise?
Are Sports-Related Injuries in Kids on the Rise?
It's common for kids to sustain minor injuries when playing sports. But over the past decade, orthopedic surgeon and sports medicine doctor Alexis Colvin says she's seen a rise in the number of kids with overuse injuries as a result of specializing in one sport.
The remedy, according to Colvin, is simple: Put the fun back into sports, and let the kids play.
A Q&A with
Alexis Colvin, MD
Q
When did you begin to notice an increase in sports-related injuries in children?
A
According to the CDC, more than 2.6 million children nineteen years old and younger are treated in the ER each year for sports- and recreation-related injuries. Over the past decade, I have noticed an incremental increase in sports-related injuries in children. One of the reasons for this increase is a rise in the number of kids who participate in one sport year-round.
There is also a greater awareness among physicians, coaches, and often trainers in terms of getting kids medical attention when they need it.
---
Q
What are the most common injuries you see? How do they differ from other typical child sports-related injuries?
A
I primarily treat shoulder, hip, and knee injuries. The types of injuries that I see can be divided into those caused by trauma—such as a fall or getting hit—and those that are due to overuse.
We have seen an increasing number of injuries associated with overuse due to kids specializing in one sport all year. In adults, an overuse injury can result in tendonitis: The tendon forms the connection from the muscle to the bone, and when it is overused, the tendon can become inflamed, causing pain and limiting motion. Depending on the situation, it can sometimes tear.
In kids, because their bones are still growing, the area of their joints that is more susceptible to injury is the growth-plate section of the bone. As children grow, their growth plates are still open, making it the weaker area of the bone. An injury that would typically be tendonitis in an adult is more likely to be an injury to the growth plate—such as a stress fracture—in a kid. The problem with this is that if the growth plate is permanently disrupted, this could affect the size or alignment of the bone or joint and potentially affect other structures, such as the cartilage.
---
Q
Why do you think you're seeing an increase in sports-related injuries in kids?
A
There are a number of contributing factors. A main one is the societal pressure placed on kids to focus on one sport all year round, with the idea that that's the only way to excel in any sport. I see children participating in the same sport year-round and sometimes even playing on multiple teams within the same season.
There are a number of risks involved in doing this with a primary one being that children are not given enough time to rest and recover, which could make them more likely to sustain an injury.
Children need time to rest and recover both physically and mentally.
---
Q
How do you approach treating young kids?
A
Working with a parent or guardian is always a very important part of a child's treatment. I work with them to try to figure out if the child's motivations and goals are similar to the parent or guardian's, because they may not be. It's also important to talk to their coaches and trainers and anyone involved in that child's athletic development. Ultimately, we want to make sure that the child is healthy. If the player is not healthy, then they can't practice, they can't compete, and they can't play. It's doing everyone a disservice if we are not doing the best thing that we can for the kid.
A lot of times, treatment is about listening closely to the kid, since we sometimes hear that they're being overtrained. It could also be that the kid doesn't really even want to play the sport. There isn't a one-size-fits-all approach to treating kids, since you have to be able to figure out where everyone is coming from. Ultimately, we want to make sure that the kid is healthy.
---
Q
Are parents fueling competition to push their children harder?
A
There are a number of factors in society that have led to an increase in competitiveness among parents in certain socioeconomic groups. It's not limited to athletic participation. It is also seen with academics and extra-curricular activities.
Again, it would be overly simplistic and incorrect to say that the only reason children are sustaining overuse injuries is that they are being pushed too hard. Often it's a lack of understanding of what is considered too much for that athlete in terms of training and competition. This is where I find the relationship with the child's parents, coaches, and trainers is key, so they can work as a team to either prevent an injury or help the athlete recover. If kids are playing sports and they're having fun and they happen to get an overuse injury, it doesn't necessarily mean that the parent was pushing them. It may just be: "Okay, we have to rethink how they are training and competing."
---
Q
Does this emphasis on competitiveness in sports have any negative long-term effects?
A
When kids start an activity, they are looking to have fun. This is important both for them to become interested initially and for long-term participation. But when the competition aspect of the sport is emphasized, there is the potential to drive away the fun and, possibly, the interest in the sport. Some kids enjoy competition, but it's important to maintain a balance.
There have been some steps in the right direction. For instance, Little League Baseball limits the number of pitches a player can throw and mandates a certain number of rest days based on a child's age. The problem occurs when a child plays on multiple teams and no one is keeping track of the total number.
For kids who just want to play sports for fun, it's important to focus on helping them develop good, lifelong physical-activity habits. We want to avoid emphasizing competition before kids even have a chance to get interested in a sport. A strong sense of competition could potentially intimidate kids and cause them to opt out of playing sports as a result. This is especially true in elementary school. There are always kids who hit their growth spurts before other kids, and it becomes hard for others to keep up with that. Ultimately, we want people to develop good, lifelong habits with physical activity—and enjoying a sport at a young age is a great way to encourage that.
---
Q
How can parents or guardians work to enforce a healthy balance between competitive sports and playing to have fun?
A
There are certainly two extremes in the US. As we see this increase in childhood sports-related injuries, there are also statistics showing that childhood obesity continues to increase, along with a number of related health problems.
On the one hand, we have those kids who need to be coaxed away from their social media and video games, and on the other hand, we have those kids who need to take a break from their overtraining. There is a happy medium, and we, as a society, need to focus on fostering healthy lifestyle habits.
Sadly, oftentimes, when schools lose funding, the first things to go are gyms or physical-activity programs. There are great health organizations that work to get kids moving and having fun while adopting healthy lifestyles. Sometimes there is a misconception that everything needs to be organized—as if kids need to be a part of a team to play a sport. But a lot of it is just getting kids outside, running around and playing games that don't necessarily need any special equipment.
We need more safe places for kids to play, and we need to teach them how to incorporate physical activity into their daily routines. Playing doesn't always have to be competitive. And changing the mentality around that to—incorporate physical activity into whatever it is that they like doing—may help.
---
Alexis Colvin, MD, is an orthopedic surgeon and a sports medicine doctor at Mount Sinai Hospital in New York City. She worked as a sports medicine doctor at the US Olympic Training Facility in Colorado Springs and was the first female team physician for the US Davis Cup team. Colvin is the chief medical officer for the US Open and previously served as the chief medical officer for the United States Tennis Association.
---
This article is for informational purposes only, even if and regardless of whether it features the advice of physicians and medical practitioners. This article is not, nor is it intended to be, a substitute for professional medical advice, diagnosis, or treatment and should never be relied upon for specific medical advice. The views expressed in this article are the views of the expert and do not necessarily represent the views of goop.