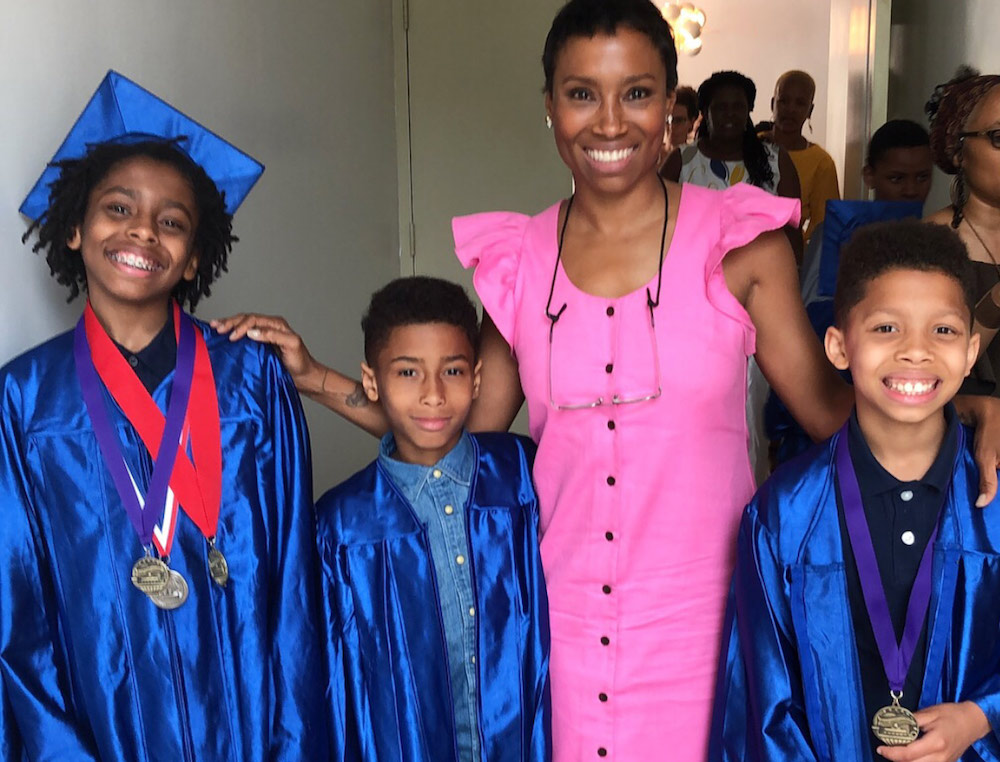 Starting Conversations with Your Kids about Gender Identity and Sexuality
Starting Conversations with Your Kids about Gender Identity and Sexuality
When Jodie Patterson's son Penelope was young, he told her: "Mom, I'm not a girl. I am a boy." In the years since then, Patterson has become an activist for transgender and LGBTQIA rights, serving as a board director for the Human Rights Campaign. In her book The Bold World: A Memoir of Family and Transformation, Patterson describes the work she put in to reshape her world, unlearning previously held assumptions and biases and discovering how best to support her transgender son.
This work can be hard and uncomfortable, Patterson says. But it's necessary for parents to be a part of the change and raise confident, resilient children who understand the diversity of the world around them. And it helps that your kids often have a lot that they can teach you.
(For more with Patterson, listen to her conversation with our beauty editors Jean Godfrey-June and Megan O'Neill on The Beauty Closet podcast.)
A Q&A with Jodie Patterson
Q
What are the basic terms that can help us have conversations about gender identity?
A
Gender: A socially constructed system of classification that ascribes qualities of masculinity and femininity to people. Gender expectations and norms can change over time and are different from culture to culture. The word "gender" is often used synonymously—and incorrectly—with "sex."
Sex: The physical structure of a person's genitalia used to assign gender at birth. In addition, biological sex includes chromosomes, hormones, internal organs, and other structures related to reproduction. Given the potential variation in all of these things, biological sex must be seen as a spectrum or a range of possibilities rather than a binary set of only two options.
Gender identity: One's innermost core concept of self, which can include identification as a man, a woman, a blend of both or neither, and more ways individuals perceive themselves, as well as what they call themselves. Many people become conscious of a discrepancy between their gender and their sex between the ages of eighteen months and three years. Some of these people socially, hormonally, and/or surgically change their physical appearance to more fully match their gender identity, and some do not.
Cisgender: Describes a person whose gender identity is congruent with the sex they were assigned at birth.
Transgender: Sometimes used as an umbrella term to describe anyone whose identity or behavior falls outside of stereotypical gender norms. More narrowly defined, it refers to an individual whose gender identity does not match their assigned birth sex.
Sexuality (sexual orientation): Refers to being romantically or sexually attracted to people of a specific gender or genders and/or sex or sexes. Our sexual orientation and our gender identity are separate, distinct parts of our overall identity. Although a child may not yet be aware of their sexual orientation, they usually have a strong sense of their gender identity.
Gender identity and sexual orientation are independent of each other: Being transgender or cisgender does not imply any specific sexual orientation. Therefore, people may identify as straight, gay, lesbian, bisexual, pansexual, etc., regardless of what their gender identity is.
---
Q
Are conversations about gender identity and sexuality something you should wait for your child to bring to you?
A
As parents, we can start those conversations early, prior to any sign from our children of wanting to discuss it. We can start at the very moment when we start reading books to our children to teach them about the diversity of life. Over the last decade, we as a society have learned how important it is to understand gender diversity, gender fluidity, and gender nonconformity, as well as racial diversity. As people become parents and set the tone for these discussions in their families, this is one area we can't forget about. This is an area where we need to be leaders.
Some of us parents who are over forty might have some blind spots at first and not fully "get it" based on when and how we were raised. In those cases, hopefully our children will bring these issues to our attention, as my son did when he was three. I didn't know much about transgender realities. He led, but then I picked up the ball quickly and parented from that point forward.
---
Q
What are some ways that parents can broach these topics with their children?
A
When we teach our children, it's not an academic conversation with pie charts and diagrams. We just pick up a book and start reading it to them. Or when we're cooking, they watch and learn. It's this concept of modeling. If we want to broach the topic of diversity with our children, we have to have diversity in our own lives in order to model it to them.
Ask yourself: Who's at your dinner table? Who's on your bookshelf? What is the language you use? What documentaries do you watch? For cisgender heteronormative families, you have to have books by queer people on your bookshelves. For White families, you have to decolonize your bookshelves and have books by Black revolutionaries. We have to tell children stories about transgender children and gender-nonconforming children. We have to invite a diverse group of friends to sit with us at the dinner table so that our children can see it. You can't teach your children about things from your own experience; you have to incorporate experience into your life.
It's also important to incorporate new language into your everyday conversations and use words that perhaps you think are taboo. For example, the word "transgender": Nobody wants to say it out loud because it's a "dirty" word. But I say it out loud all the time. I also say "genderqueer" and "intersex." You don't have to have a very broad language about gender and race, but you can do some research to understand what language reflects these communities and see if you can start incorporating it into conversation and open-ended questions at your dinner table.
Car rides where your kids are sitting in the back seat are a great time to talk. They can pretend that they're not listening, but they actually are. I put the language out there and am really bold. I ask them if they know what "bisexuality" means or if they have crushes and if they want to tell me if their crush is a boy or girl. They'll say, "No, Mom," but they're listening. You first start to show up to these conversations imperfectly, and then you learn more from experience and gain knowledge.
---
Q
If your child tells you they identify as LGBTQIA, what's the most supportive way to respond?
A
Take a deep breath. Don't speak; just listen and your child will tell you so much more than you thought was possible. Don't pretend to know everything. You can say: "Yes. I love you." Say: "Absolutely. What can I do?" Say: "I'm with you, and I will help you." Even if you have no idea what any of that entails. I didn't have a clue as to what Penelope and I were up against in the coming years. But when your child is coming to you in peace and telling you something about how they see themselves and how they see the world, you support them and tell them you love them. Later, you can backtrack and figure out what to do by diving deeper into things.
I also think that these declarations of "I'm not what you think I am" don't come out of the blue. When your child finally has the language to say it, there have probably been signs in the years before that you couldn't quite put your finger on or didn't have a name for. For three years, I was looking at my child wetting the bed, having nightmares and temper tantrums, bullying others, and having this general heaviness. I thought a cleaner diet or maybe more snuggles or longer stories at bedtime would help. I was doing all things we do as parents to try to fix it, but I came to find out that it's not a fixable problem, and in fact, it's not a problem at all.
---
Q
How can you continue to support your child after they come out?
A
I raise my transgender son the same way I raise my cisgender Black boys and my genderqueer Black daughter. I'm raising my kids to be activists to help them with anything they come up against in life. At first, it was because I knew they'd have so many choices to make in life. But later, I discovered that there's also transphobia and LGBT hatred. We as parents need to help them become more resilient by taking the time to raise powerful kids who understand their own value and can speak up.
When I talk to my kids, I tell them how great they are and how powerful they are. I ask them to get to know themselves, to stand in front of the mirror and see themselves fully. I ask them to spend time thinking about what they like and what they don't like and what they want to be in this world. And as a parent, I make sure that I clear everything out of the way so that they can do those things and become that person. It's a two-way street: I have to build up my kids so that they can tell me who they are, and in turn, I have to make sure they have room to be that person.
As you learn more, you can start to bring up things that might be taboo or feel shameful to help normalize them. For example, I attended a conference with my kids' principal, and we learned what packers are, and we each bought one for educational purposes. Packers are prosthetic penises that you can put in your underwear to create the bulge of a penis, similar to how some folks wear padded bras. I brought home a packer, put it on the dining room table, and taught my kids what it was. It was awkward, but it normalized something that could have been very shameful and taboo for my transgender son and my genderqueer daughter. I wanted all my kids to know what it was. I don't want them knowing only a fraction of the world. I want them to know everything.
---
Q
What sort of unlearning do parents have to do on topics of gender identity and sexuality?
A
Language has to be unlearned. Bias and assumptions have to be unlearned. Habits have to be unlearned. We have to teach ourselves how to enter new spaces. I had to start from scratch. I thought that as a Black woman, I didn't hold much bias. I thought I was very egalitarian and open-minded, only to find out that I hold the privilege of being cisgender, which takes up more space than it should in this world. Most of our language is gendered, and even the intonation in our voice is gendered. We speak in different tones to boys and to girls. Our expectations around what we want our children to do and be in life is gender-specific.
If we want to be a part of the change that is necessary right now, we have to dissect every part of our life. It sounds complicated, and it does take effort, but we can see it as a challenge. I relied on my teenager at the time to help me with language (asking for help is a big step in this process). My teenager would correct my language every day, telling me what I can and can't say. There was a long list of words that I was using that I did not realize the implications of. It was really annoying being corrected, but I listened, mostly because I realized that I could either be stuck in the past or be with the people I love who are young in my life, my children.
---
---
---
We hope you enjoy the books recommended here. Our goal is to suggest only things we love and think you might, as well. We also like transparency, so, full disclosure: We may collect a share of sales or other compensation if you purchase through the external links on this page.