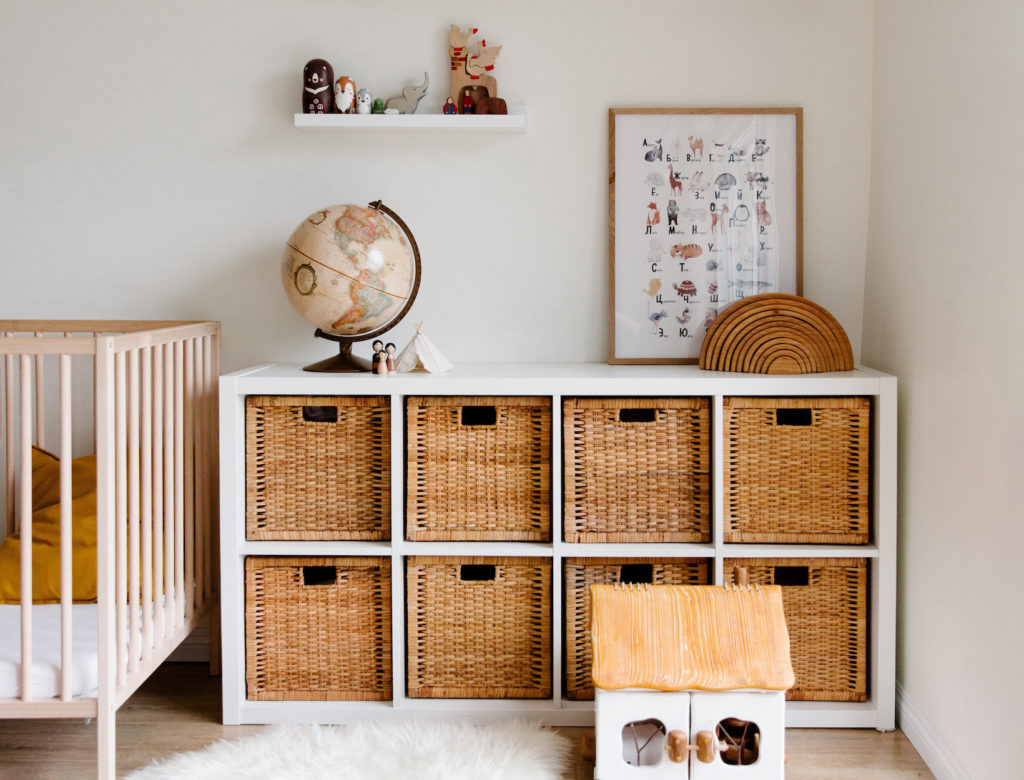 The Connection between Clutter and Parenting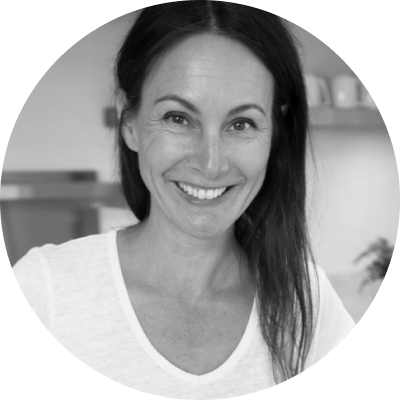 So often we talk about home organization as the strictly physical act of cleaning and removing unwanted things. Which is part of it, says home organizing expert Laura Forbes Carlin. She also sees clearing clutter as a process that can be highly impactful for children when it's met free of judgment and with intention. With less stuff, Carlin believes there's more room for children to take up emotional space, which inspires more creativity, more compassion, and a deeper connection to the world. Carlin gave us her four-step process for keeping a clutter-free home, plus advice on how to get children involved from an early age, and she explains how to release judgment during the clutter-clearing process so that parents—and children—are happier at home.
A Q&A with Laura Forbes Carlin
Q
How does clutter impact the relationship between parents and children?
A
Clutter gets in the way of the love between parents and children. Physical clutter is really emotional clutter. When we hold on to things that are no longer serving us, it's usually because we are holding on to the past or worrying about the future. In either case, we are missing the opportunity to be fully present with our children.
Clutter also drains our time and energy—two things every parent needs. Living in a cluttered and disorganized home is stressful and overwhelming, and we end up spending time and energy caring for our stuff instead of caring for ourselves and our families. We get caught up in managing it instead of living and being.
Once we clear the clutter, our vision for our life with our children—the way we hope and imagine it can be—has room to take form. When we get the clutter out of the way, we create space for this precious time with our children.
---
Q
Is the process of clearing more important than the physical things we get rid of?
A
Absolutely. How we clear is as important as what we clear. The process of clearing often has a much greater impact on our homes and lives than what we ultimately choose to keep and to let go of. If we are judging ourselves as we clear or if we focus only on the clutter and disorganization, then we bring that energy into our lives. For this reason, begin the process by clarifying your intentions: Start by imagining your ideal home and life with your family. How do you feel? Let those feelings guide your clearing.
It's helpful to keep in mind that clearing clutter is an ongoing practice. We are always changing and evolving, and we will feel most supported when our homes and our things reflect who we are in each moment in time. We instinctively change our children's spaces and replace their things to meet their developmental needs as they grow. We need to do the same as adults to support our changing needs and goals. Just because we loved or used an object ten years ago or even a year ago doesn't mean it has the same meaning or serves the same purpose for us today.
Knowing that the process will be ongoing can relieve some of the pressure many of us feel to create a perfectly ordered home. Being too rigid or focusing on an end goal can get in the way of enjoying our homes and the things we choose to keep.
Sometimes we mistake a little mess for clutter. The mess is usually made up of the things we love and use the most: It's just a sign that we are living life. If we find we can't enjoy dinner because the kitchen is messy from cooking a big meal or we can't relax as our children engage in a creative project because we're thinking about the scattered art supplies on the floor, then we want to bring our attention back to the feelings we clarified—back to the reason why we clear clutter in the first place.
The benefit of clearing the clutter—the stuff that we do not use and do not love—is to make physical and emotional space to free ourselves in the present moment so that we can live fully expressed. It is not about perfection; it is about connection, presence, and intention. The path to this contentment is through acceptance and appreciation.
---
Q
During the clearing process, how do we handle the self-judgment that comes up when we face how much stuff we've acquired in the first place?
A
We can't avoid self-judgment altogether, but we can cultivate acceptance as we clear. When we are addressing an object, we want to ask, "Is this loved, or is this useful?" If the object is neither, then it is clutter. In our homes, we want to choose love. We want to keep the items that make our hearts sing, lift us up, support our current goals, and are in alignment with the highest vision of who we want to be and the life we want to lead. It is best to clear from our heart, not from our head. We can do this by tuning in to our bodies and trusting our gut. The more we keep moving during the clearing process and trusting our bodies' response to an object, the more we will stay in flow and out of judgment. If you do find yourself in self-judgment, try following these three steps:
1.Observe the judgment. You might say to yourself, "Oh, there I am judging."

2. Forgive the judgment—for example, "I forgive myself for judging myself as wasteful, not good enough, etc."

3. Affirm your intention: "The truth is I am worthy," "The truth is I am doing the best I can in each moment," "The truth is my life is about joy, abundance, peace," or whatever qualities you desire.
Then return to your clearing.
---
Q
How does decluttering physically help parents connect with their kids emotionally?
A
Less stuff means more love. The more we get the stuff out of the way, the more we can be present and connected when we show up for our children. So much of our time with our children revolves around repetitive routines in our homes, such as mealtime, bath time, and bedtime routines. Within all of these daily rhythms, there is the potential for ease and enjoyment or frustration and overwhelm. Often the difference is whether our homes are working for us or against us. We have probably all experienced the ripple effect of clutter and disorganization. Not being able to find something, like a cell phone, as we are trying to get out the door in the morning can make us be short-tempered with our children, snap at our partner, show up late to a meeting, and so forth. The effects linger—we can feel heavyhearted long into the day. The opposite is also true: When we are supported by our homes, there is grace in these everyday moments and the positive effects are far-reaching. Our homes can be a great source of support. We want to be empowered by our environment, not overwhelmed by it, so that we are available for the joyful and extraordinary moments that can be found in ordinary everyday living.
---
Q
What is your approach to involving kids in decluttering? How early can kids get involved in this process?
A
There are four elements to making and keeping a clutter-free home. The first is decluttering: the process of choosing what to keep and what to let go of. The second is organizing: designating a home within our homes for each object. The third is maintenance: caring for our items, including putting things back where they belong. And the fourth is preventing: adopting habits that prevent clutter from accumulating in the first place.
When it comes to the third piece—maintenance—children can help as soon as they are physically able. Even a very young child can help put toys in a bin and hang a jacket on a hook. We can also set up our homes to support our children in caring for their things by having a footstool on hand, toy bins with lightweight lids, and hooks at low levels. Let your home tell your child what to do so that you don't have to. You've probably noticed that when children are young, they love helping out and cleaning. While it may take extra time and effort to get the job done with their involvement, down the road you will be happy that you took the time to instill these habits.
When it comes to the first two practices—choosing what to let go of and designating a home for the items you choose to keep—we involve our children depending on where they are developmentally. For young children, around eight years old and under, it is our responsibility to choose. Of course, you know your child best and will tune in to their needs and trust your instincts, but typically giving a young child a choice about what stays or goes will overwhelm them. Parents often worry that if they clear clutter from their child's room, their child will be upset, but usually it is just the opposite. The toys you decide to keep will feel like new and your child will thrive with less. If you aren't sure how much your child loves an object, you can always create a "things I want to give away" box. Make sure the box is opaque and keep it out of view in a closet or garage. If your child doesn't miss the items in a few months, you can give them away.
In the middle years, from about nine to thirteen years old, we can start involving our children in the process, but as parents, we have the final say. For our teens, we can guide them, but ideally, we want them to take over. The best way to motivate a teen is to inspire by example. If we ask a teenager to take care of clutter before we have taken care of our own, chances are the teen won't listen.
The fourth element—preventing—is tied to our values and habits. Children will learn from our choices. There are many habits we can adopt to prevent clutter, but perhaps the most important is to be mindful about what we bring into our homes. Before we purchase an item, ask: Is this loved or useful? Is it healthy for my family and the planet? Could I do without? Each time we bring something into our homes, we are starting a relationship. Relationships take time and energy. We can ask ourselves: Is this worth my time and energy? Our children will take note of our purchasing habits. Do we shop with a grocery list or buy on impulse? Do we buy something for our child each time we go to a store, or do we help our child create a wish list instead?
The goal is not to become experts at accumulating and discarding but instead to create a home and a life that support our fullest expression. Children grow and change quickly, so there will definitely be a fair number of things coming in and out of our home, but the more we simplify and adopt habits to prevent clutter, the less time we will spend in this cycle.
---
Q
Does developing the decluttering habit early on have a lasting positive effect on kids throughout their lives?
A
I believe that being mindful of how we care for our possessions and our homes extends to a caring relationship with the planet. It is difficult to care properly for and appreciate clutter. When there is too much stuff, everything loses its meaning. If we want our children to be creative contributors as opposed to careless consumers, I think this can start with our relationship to our own things and our own homes.
On another level, I believe that the decluttering practice is a great life skill. We develop the habit of choosing to surround ourselves with things that inspire love. Decluttering also encourages us to live in the moment. So much clutter can be prevented by not looking back or thinking ahead but rather basing our decisions on what will serve us in the present moment and trusting that our future needs will be met. Living without clutter allows us to free up more of who we are so we can live purposefully and enjoy people, things, and experiences that are truly meaningful.
---
Q
What is the thinking behind encouraging parents to provide their kids with less stuff?
A
As parents, we naturally want to provide for our children, and it is with the best intentions that we always want to give more and do more. Yet sometimes the best thing we can do for our children is step back, do less, buy less, and schedule less. We have all witnessed a child at a birthday or holiday party tear through a pile of gifts, barely registering the item in hand before moving on to the next. We have also all seen a child play for hours, deeply engaged with just the box the toy came in; it is precious to witness the magic and soulfulness in these moments when our children are completely connected. We can encourage this engagement by simplifying. We can shift our focus from doing to allowing and trust that our child's gifts, purpose, and joy will be expressed when given space and time. Out of downtime and desire often come solutions-based creativity and a more caring, appreciative, and compassionate relationship with the world.
---
---
We hope you enjoy the books recommended here. Our goal is to suggest only things we love and think you might, as well. We also like transparency, so, full disclosure: We may collect a share of sales or other compensation if you purchase through the external links on this page (including links to Amazon).