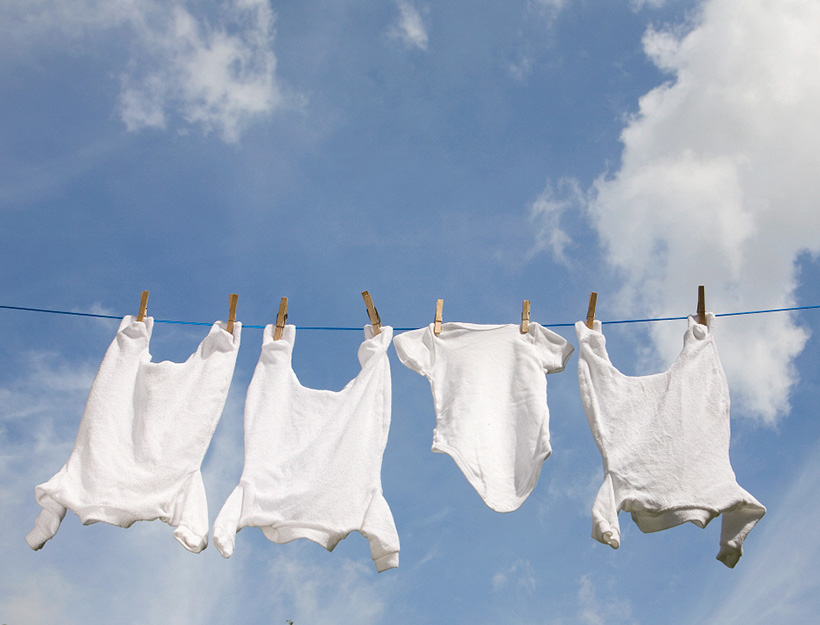 Getting the Most Out of Kids' Clothes (Plus, Non-Toxic Laundry Tips)
Parents complaining about laundry is nothing new—it's the ultimate Sisyphean task, as kids have an uncanny way of showing up covered in dirt and grass stains just at the moment when you thought the baskets were empty. That said, every kid remembers a moment when their favorite dress/jersey/t-shirt was stained beyond recognition and Mom somehow made it look good as new, or when they opened an overnight bag to find perfectly-folded, clean-smelling clothes from home. In the interest of recreating those moments while easing the burden of the daily laundry grind, we've pooled the collective stain tips our parents passed down to us, plus a few new-to-us hacks that work every time. You'll also find details on the best non-toxic laundry products, and some ideas for the fun part: Picking out cute kids stuff that's worthy of handing down from your oldest to your youngest.
The Toolkit
Lemons

Squeeze half a lemon into the load before washing to brighten whites and help eliminate odor

HEINZ White Vinegar

Amazon, $2.39

Add ¼ cup to every load to help with static, cling, and odors

ARM & HAMMER Pure Baking Soda

Amazon, $1.29

For creating stain-removing pastes

Hydrogen Peroxide First Aid Antiseptic

Amazon, $10.91

A secret miracle-worker

SEVENTH GENERATION Dish Liquid

Amazon, $2.84

Surprisingly useful

OXICLEAN Versatile Stain Remover, Free

Amazon, $7

EWG gives OxiClean a B—just be sure to get the "FREE" version

COMMON GOOD Woolen Dryer Balls

goop, $18

The best alternative to dryer sheets we've found

TANGENT GARMENT CARE Fabric Softener

goop, $22

Common Good laundry detergent, lavender

goop, $19

SEVENTH GENERATION Free & Clear Liquid Laundry Detergent

goop, $14

ARGO Corn Starch

Amazon $8.99

NOW FOODS Vegetable Glycerin

Amazon, $6.44
Common Stains
*Before treating anything, place an old towel or paper towel stack on the other side of the stain, to prevent bleeding and provide a buffer during scrubbing.
Grass

and Dirt

Soak the garment in a mixture of two parts water, one part white vinegar for a few minutes. Scrub vigorously with a scrub brush, spray with your favorite stain remover, and wash as usual.

Blood

Spray the stain with hydrogen peroxide, and let it soak completely for 5 minutes. Then, iron on high setting, moving back and forth over the stain until the color fades away completely (this even works on blood stains that have been set in the dryer—the closest thing to magic we've ever seen).

Juice

Dab the stain with a watered-down mixture of detergent and vinegar, and pat dry with a towel. Wash as normal.

oil

Immediately after the spill, lay the garment flat and sprinkle the stain with cornstarch to soak up the oil. When it dries, scrape off cornstarch, treat with your favorite stain remover, and wash as usual.

Sweat

Let the shirt dry completely—if you can let it sit for a few days, that's ideal. Then, spray the sweat marks with a solution of one part dish detergent and three parts water and wash as normal. (Side note: Most sweat stains are caused from the reaction of your sweat with aluminum in traditional deodorant, so switching to a clean deodorant is a great way to prevent them in the first place).

P

e

n

s

a

n

d

M

a

r

k

e

r

s

Dab glycerin onto the stain with a Q-tip. Then, dab the entire stain with a bit of laundry detergent and wash as normal.

Red Sauce and Ketchup

Immediately after the spill, run the stain under cold water. Wash as normal with your favorite stain remover, and leave the garment out in the sun to dry. Particularly egregious stains may need to be washed twice (though keep them out of the dryer, where the stain will set, in between).
Hard-to-wash Items
| | |
| --- | --- |
| Sneakers | Remove the laces, and soak them in a bucket with OxiClean Free (let them soak there while you finish the process). Then, fill a sink or bucket with hot water plus a squirt of dish soap and a capful of laundry detergent—it should be very soapy. In a small bowl, mix baking soda, OxiClean, and water until it forms a paste. Using a toothbrush, layer the paste onto each shoe individually, scrubbing stains vigorously. When rubber has been scrubbed completely clean, place the sneakers and laces in a garment bag, and wash in the washing machine with cold water. Air dry. |
| Baseball caps | We're not sure who first had the idea to wash a baseball cap in the dishwasher, but we can confirm that it works like a charm. Stick the cap in a plastic form (it's worth the investment, as it helps keep the shape) and run the dishwasher as normal, with dish detergent. (Of course, make sure to run baseball caps by themselves, as food from dishes can get stuck in the fabric.) Fair warning: Best not to do this without permission from the kid who made it dirty, as subtle shape changes are possible. |
Our Favorite Hard-Wearing Kids' Lines
Hand-me-downs usually get a bad rap for being worn out and dated—despite how impractical it is to buy brand-new items for kids who'll outgrow them in just a season. Luckily, a few of our favorite brands have mastered the art of making clothes that hold up (both physically and style-wise) year after year. Play it right, and your youngest will be begging for these items before they've even grown into them.
Rockets of Awesome
Founded by mom-of-two Rachel Blumenthal and with kids fashion OG Zia Taylor leading the design team, this genius direct-to-consumer children's clothing delivery system is the new kid on the block that's quickly gaining momentum. Four times a year, your kid receives a curated box of 12 super-soft, hand-picked pieces (over time, an algorithm picks up tidbits about your buying behavior and your kid's taste to better personalize each shipment); you choose what you want to keep and pay for those items only. A pretty sweet deal considering the prices for the individual garments are reasonable: $10 to $36 a pop.
Patagonia
Our editorial director (and two-time mom) Elise Loehnen, swears that Patagonia makes the absolute best hand-me-downs. The fleeces, puffers, and cold-weather accessories are made to last and wear exceptionally well. (They even leave room for a list of consecutive owners in the hang-tags.)
Bonpoint
While chicness may not be your primary concern when shopping for kids clothes, if the occasion calls for it, Bonpoint has it. Sure, you'll grimace every time your kid heads for a muddy soccer field, but the pieces from this iconic French brand are so well-made and so sweet, you kind of have to shake it off: They're heirlooms.
Boden
While Boden has bigger kid (and adult) lines, they really shine when it comes to the under 4 set: Their contrasting trim onesies last forever, and their star-dotted full-body bathing suits make time at the beach stress-free. They also have great pajamas.
Crewcuts
Much like the grown-ups line, crewcuts is a little bit preppy and so cute it hurts, from the perfect, pint-sized striped tees, to the corduroys and tulle skirts. Bright colors prevail. They also do great swim for all ages.
Nico Nico
Pre-baby, founder Sue Tsai was a stylist and designer—and then she had Nico, and decided to turn her creative energies toward a kids line from organic materials that's nicely priced, too. As an awesome bonus, it's all made in the USA.
Mini Rodini
Not only is this oddball line really, really cute, but it's well-made too, meaning these are the sort of leggings and tees you can wash hundreds of times with no sign of wear.
Bobo choses
Born on the shores of Mataró, Spain, this whimsical line looks like it may have actually been designed by kids for kids. Adorably, each seasonal collection serves as the inspiration for a children's book that parents are encouraged to read with their littles.
Stella Kids
Quirky appliqués, neon colors, and graphic designs are the linchpins of Stella McCartney's babies (peep the day-of-the-week onesies and melt) and kids offshoot. And like the parent line, everything is critter-friendly.
Old Navy
A tried and true favorite at goop HQ, Old Navy really nails it in the kid's department, from camo tees, to basic cardigans, to jeans that wear really well. In our experience, it's always a winner with little ones—and the incredible prices don't hurt either. Neither does the fact that everything is machine-washable.
Mymoumout
This Parisian line is unapologetically cutesy and quite obviously geared toward younger kids up to 6 years of age. They take great care to make sure the supersoft cotton they use is Oeko-Tex certified, meaning that everything—from patterned leggings, cozy waffle knits, to baby bedding—is hypoallergenic.
Related: Kids Clothing