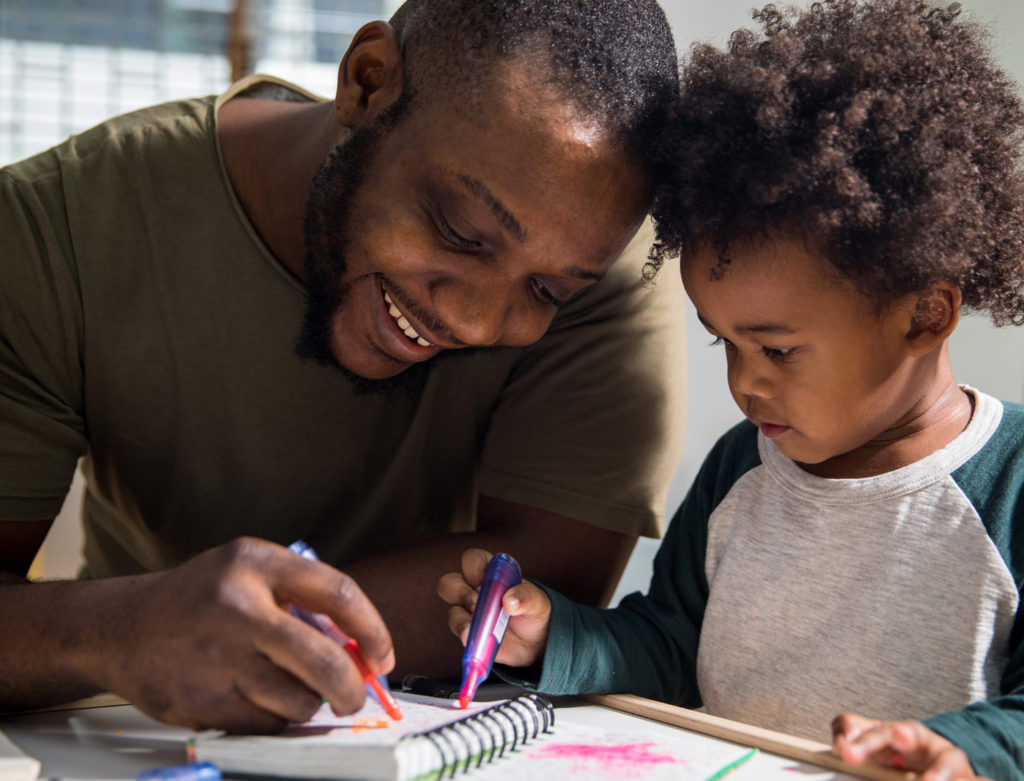 The Future of Dads
We live in a culture where in many families, the father is still the primary breadwinner. Even when mothers work outside the home, the work of maintaining the home also falls largely to them. But typical gender roles are not feeling so typical. Many men and women are working from home, and many fathers are spending record amounts of time with their families. And some are seeing a side of the domestic sphere they hadn't paid much attention to before.
"This has made men rethink how they want their work-life balance to be," says evolutionary anthropologist Anna Machin, the author of The Life of Dad. Machin explains the upsides, complexities, and challenges of fathering in this moment. And she predicts how policies (like paternity leave) and inequities (like the gender pay gap) might shift in response.
(For more on Machin's research on fatherhood, listen to her on The goop Podcast episode "What Makes a Dad a Dad.")
A Q&A with Anna Machin
Q
How are gender roles shifting?
A
There are a lot of nuclear families living under the same roof with their children. We've also got a lot of children being homeschooled. This is bringing home to both genders what the other does. Not necessarily through any fault of their own, we still have a society in which fathers tend to be the main wage earners, the ones who go out of the house to work. And most of the childcare is still done by women. Now men are getting the experience of seeing what the domestic world is like when they're not there. They are seeing that balance of how much women actually do during the day in terms of childcare. Things like schoolwork have always mainly been sort of a female domain. For example, it's mainly women who drop the kids off; it's women who get involved with the schooling. And now, fathers are able to become more involved in seeing what their children are learning and how they learn.
Certainly from the perspective of some of the fathers I've spoken to, they're starting to enjoy being in the domestic sphere more. They are enjoying being with their children and being able to teach their children. Because they are no longer commuting to work, they are able to spend more time being involved. This is an opportunity that men rarely get. This has made men rethink how they want their work-life balance to be. In certain spheres, we might see a change in that. It will happen in families who have the privilege of having that flexibility of being able to work from home. This change may be based on class and region in terms of how many people get to reassess what the gender roles within the home are.
---
Q
How does stress affect a father's ability to interact with his child? Does stress imprint onto the child?
A
It depends on how you handle that stress and how that feeds into your interactions with your child. Men have a tendency to withdraw when they are stressed or in a low mood. Whereas women might not withdraw, but their interactions might become much more intrusive and much less empathetic to what the child actually needs. Because men tend to pull away and become insular, it's important to resist the temptation to do that. And it's also important to be very mindful about tone, even and particularly when you're talking to a baby. Babies might not necessarily understand what you are saying, but they certainly understand tone. Is there aggression in the tone? Is it loud? Are your physical movements mirroring what you're saying? Babies pick up on tone, your movements, and your touch. It's important to be mindful of that—which is incredibly tough for parents even at the best of times.
Postnatal mental health issues affect both men and women. If you're in a situation where you've already got a major change in your life (a child), you may also now be worried about not having a job and not being able to protect your family. This is particularly hard for men because they are culturally taught that their role is to provide and protect. And if you're in a situation where you can't provide and therefore you feel you can't protect, that's a tough thing to deal with.
---
Q
For a father who is used to being the provider of the family, could finding new ways to provide offset some of that stress?
A
It can, but it depends on what your attitude to that is. I was over in America last year speaking to a convention for primary-caretaking dads, and they felt what they were doing was incredibly important. But it's how you deal with society's view of that, and that's where it becomes difficult. You've got to become quite strong as a man not to feel that you're failing because you're not doing what society would expect you to do. It's about being proud of what you're doing.
"You've got to become quite strong as a man not to feel that you're failing because you're not doing what society would expect you to do."
In the UK, we now have shared parental leave, where you are entitled to a shared year off. The men I've spoken to who have taken it have found empowerment in taking this time off. They've found a real calling to it, in terms of feeling that they can make a positive contribution while being at home and that they are good at it. You can go into this time at home with the attitude of knowing this is a valuable role you're taking on. That you're not just being a "male mom." You're doing this as a dad.
---
Q
Could more fathers being at home encourage even more mothers to take on the breadwinner role?
A
Absolutely. And that's why I have become very passionate about empowering fathers. Giving fathers paternity rights is so good for women. We still have a gender pay gap, and aside from that, women take major career hits. Women take a penalty on their career because of the time they take off after having a baby. So if we empower men and form a system where men are actually supported in being fathers, are seen as normal for being stay-at-home fathers, and at least have more flexibility in their work life, that means that women will get less of a career penalty because they could go back to work sooner after having a child. Secondly, that means (to a certain extent) you are closer to closing the gender pay gap. If we can empower men to do this, then we can develop a societal system that sees fathers in this new role and we can change the culture. And it's all for the good of men and women.
---
Q
Do you think policies around paternity leave will change because of the COVID-19 pandemic?
A
It's really hard to say. I've been studying fathers for over a decade and we're still battling for change. Things have certainly gotten better because governments in some countries are starting to recognize the benefits of paternity leave, partly because of the influence it has on women's careers—it gives them a nice big tick in that particular voting box. But it is hard: We still have a massive culture to change. We have to change the workplace so that men are able to say and comfortable saying, "I want to take paternity leave for six months." Or "I would like a more flexible work schedule." Workplaces are still much more accepting of a woman doing that than a man doing it. A lot of men still get a negative response for asking, or they are penalized in their careers for making that choice.
Our culture is hard to change, but it is slowly happening. When I started doing this work with dads, the idea of a dad staying home for six months was pretty much a no. It was still difficult for a dad to go to a toddler group with their child, or anything like that. For this generation, it's become easier, and fathers are much more aware of their importance to their child, their family, and their rights. And they're not going to be embarrassed about saying, "Actually, I want to spend time with my child."
---
Q
What will dads learn from being at home more, and how will parenting change?
A
This is taking parenting back to being a team. Rather than looking at parenting roles as primary and secondary caregivers, this is about coming back to the idea that parenting is a team job. It's not supposed to be one or the other. And hopefully for many people, this is being shown.
"This is taking parenting back to being a team."
It's all about finding your strengths as parents. I study gay fathers, and one of the great joys of being a gay parent is that you get to rewrite the gender roles in parenting. A lot of the men I follow will say, "We just do what we enjoy and what we're good at." Because there are no set rules, we can just go to our strengths. There's great power in that—throwing out that whole rule book and doing what you're good at.
---
Q
What's the most important thing you want dads to know?
A
I want them to know that they are as important as Mom. There is not a primary parent and a secondary parent. And dads are there to help their children understand our complex world, in a way now more than ever before. The power they have to build resilience in their children is really important. The best thing dads can do is be physical with their children and to do the things that come most naturally. Fathers have a major impact on the resiliency of the child and how that child will navigate that world. So remember that you have a really important role to play.
---
Anna Machin is an evolutionary anthropologist at the Department of Experimental Psychology at Oxford University. She is known for her pioneering work exploring the science and anthropology of fatherhood and her cross-disciplinary interpretation of human love. She is the author of The Life of Dad: The Making of a Modern Father.
---
We hope you enjoy the book recommended here. Our goal is to suggest only things we love and think you might, as well. We also like transparency, so, full disclosure: We may collect a share of sales or other compensation if you purchase through the external links on this page.