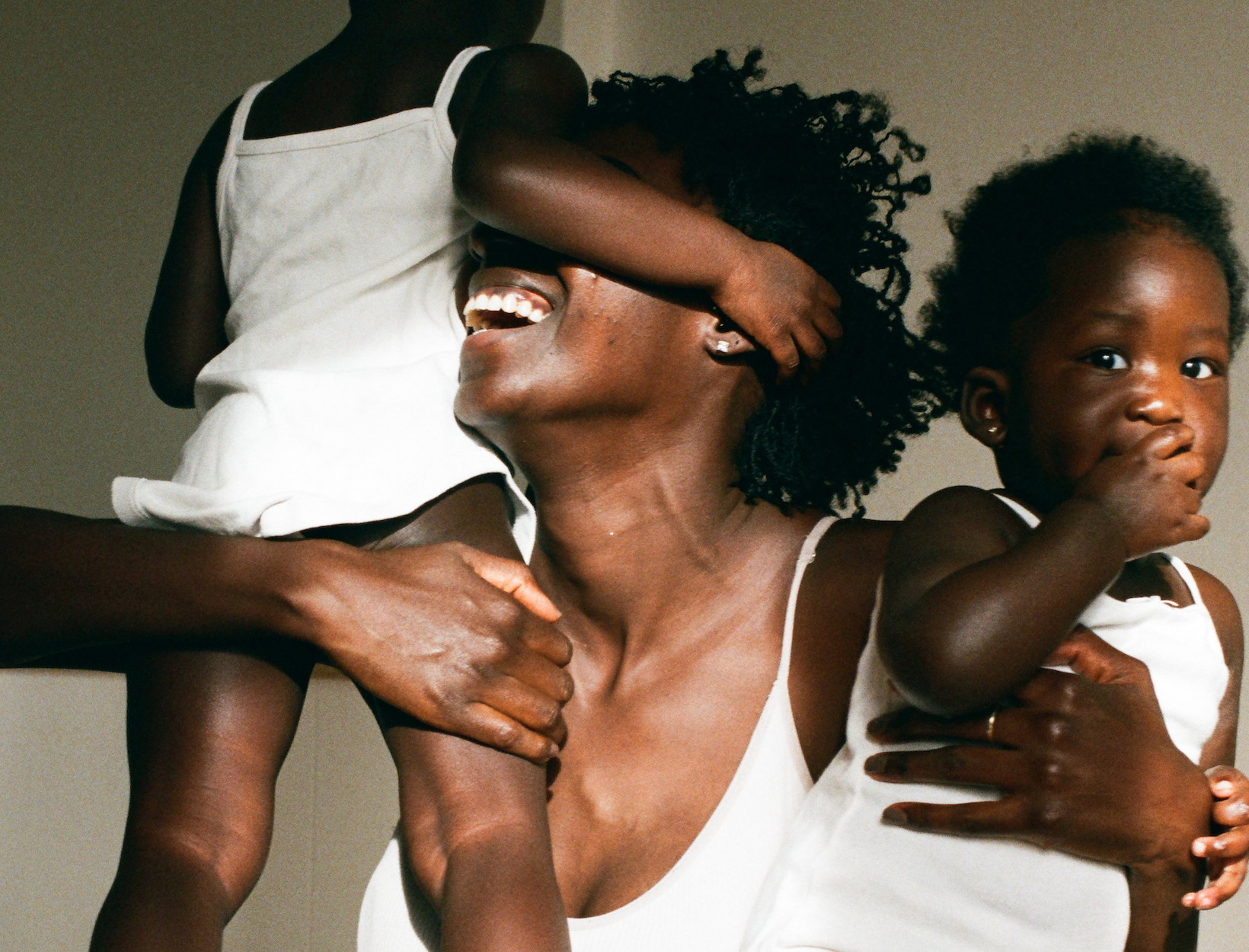 Photo courtesy of Sophie Harris-Taylor for Chaneen Saliee
Parents, Feeling Restless? Try Flow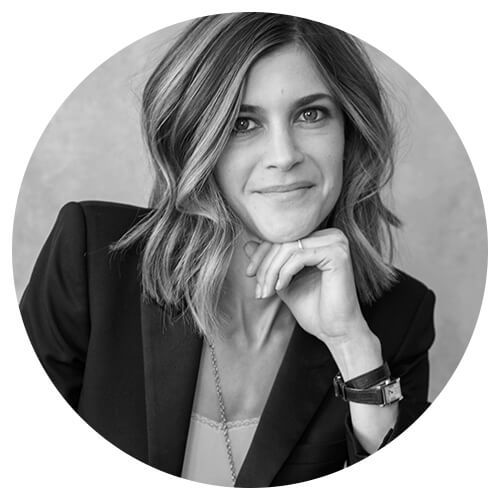 Positive psychologists have long espoused the idea of flow states—the moments when we're so absorbed in what we're doing that time seems either to stand still or to fly by. You might have felt it when you were engrossed in a work project, running a marathon, or giving a speech. But being "in the zone," as developmental psychologist and life coach Sasha Heinz, PhD, explains, is a lot harder to come by as a parent these days, when you feel more like a daycare manager than your actual job title.
According to Heinz, flow is what gives us a boost of energy, helps stoke creativity, and keeps us from feeling stuck. It's good for us, she says, but flow also seems to evade us when we need it most.
From a psychological perspective, Heinz says there are two important variables that keep us from flow. She's included a diagram below to illustrate the concept. In order to achieve relaxation and flow, parents, especially, have to carve out time to engage their minds in ways that feel challenging, she says. This involves cultivating activities that give us a sense of purpose, and it can be simple, as Heinz explains below.
For more with Heinz, tune in to our goop podcast episode "Unsubscribing from Our Thoughts," where she talks about how to break free from mental blocks.
---
From Parent to Playmate
"Can you play with me?" Such an endearing sentiment the first 900 times we heard it from our children during shelter in place. Almost overnight, COVID-19 has created somewhat of a Twilight Zone in many American households. Parents with small children, accustomed to largely independent daytime lifestyles, are double booked with Candy Land, encore karaoke performances, and driveway hoops. We are experiencing a season of dysphoria, and to cope with this pandemonium, we need the F-word: flow.
Many parents are overwhelmed. So how can we mitigate this extra stress, especially with the fluctuating restrictions and limitations in place due to COVID-19? First, let's appreciate the insurmountable burden parents have been asked to shoulder. It's a lot. In addition to the regular requirements of modern parenthood, we're augmenting our children's cognitive, academic, physical, spiritual, psychological, nutritional, and developmental well-being.
And don't forget we're also cultivating their self-regulation; building their resilience, self-efficacy, and growth mindset; addressing their social-emotional needs with developmentally appropriate sensitivity; stimulating their minds just enough but not with too much screen time; and unearthing every potential talent in preparation for their future college applications.
All while being a fun, patient, joyful, active, productive, creative, and health-conscious role model (who never forgets to apply nontoxic sunscreen).
And now, during the COVID-19 pandemic, we can welcome the addition of playmate, schoolteacher, and administrative assistant to our already exhaustive description of parenthood in 2020. The new COVID-19 normal?
Zero time. Zero space. Zero peace.
Never did I imagine my six-year-old standing with her hands on her hips and saying: "NO MORE VIRTUAL PLAYDATES!" She wants to play with someone in real life, and that person is yours truly.
Our identities as parents and our roles as mothers and fathers have been shifting for decades. But now, with the global pandemic, the high expectation that is already on parenthood is causing copious amounts of guilt. At its core, parental guilt is the belief that we are failing all over the place with our monumental list of good intentions left unchecked.
For type A parents, my hypothesis on why we feel like this and why we're secretly angry at life is because of flow, or lack thereof. Flow is engagement, a psychological state of full absorption. You may have heard it being described as being in the zone.
Feeling nostalgic for your pre-COVID-19 lifestyle? Me too. Why? Because focus feels nearly impossible. You're likely in a state of psychological entropy or internal chaos: You're ruminating; you're anxious and uncertain; you're all over the place. With this new normal, you've adopted the attention span of a fruit fly.
Sheltering in place with small children and their endless interruptions, in a confined space, for a seemingly unfathomable amount of time, is the antithesis of flow. Engaging in the activities that once brought you a semblance of sense, sanity, and mental stimulation is a challenge, to say the least. It feels as if you've lost the luxury of being present.
Why Flow Matters
According to psychologist Mihaly Csikszentmihalyi, PhD, the author of Flow, who coined the psychological theory in the 1970s, "Control of consciousness determines the quality of life." Needless to say, control of consciousness can feel as if it's in short supply these days. Csikszentmihalyi created the flow model, which is adapted further down. You can watch a video of him explaining the basics of flow and how it relates to the principles of satisfaction and happiness.
In essence, flow is an integral component of well-being, along with positive emotions, high-quality relationships, meaning and purpose, and achievement, as defined by psychologist Martin Seligman, the author of Flourish. A recent study by psychology researcher Kate Sweeny and colleagues found that the experience of flow was associated with better well-being outcomes for 5,115 participants quarantined in Wuhan and other cities in China. Importantly, flow seemed to shine as the well-being winner the longer quarantine lasted.
What's particularly interesting for this positive psychology geek is that experiencing flow mitigated the adverse mental health effects of quarantine even when the researchers controlled for the participants' level of optimism, their ability to tolerate uncertainty, and their baseline satisfaction with life. So you don't have to force yourself to be cheery about the state of the world to feel better. Carving out time to drop into a state of flow is important at all times but even more so during quarantine.
To be in flow, you must, above all else, be in the present moment. Flow is the dance between your skill level and the challenge of the activity in which you're engaging. An activity will stimulate flow if it:
Provides a challenge.

Requires skill.

Requires concentration.

Provides immediate and unambiguous feedback.

Provides a sense of control.

Presents clear goals. These don't have to be grandiose; they can be small quotidian goals. All you need is a clearly defined end point.
Being in a state of flow is an escape from your current state of rumination.
Look at the diagram below. To live on the right side of this diagram, in flow, control, and relaxation, you need to be engaging your skills. Doing things you're relatively good at is the antidote to feeling like a pile of manure.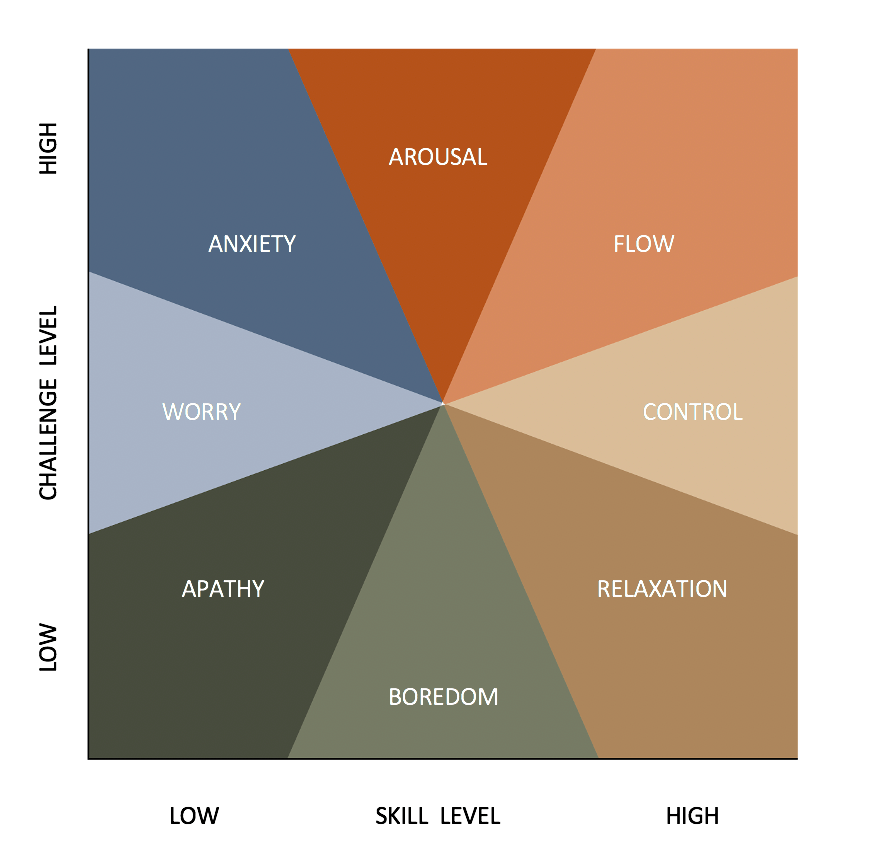 Literally go do stuff. Dig your hands into something real. But do something challenging for which you have a small end point in mind or a well-defined finishing point.
How Can I Engage in Flow If I Have No Spare Time?
Are you experiencing a slow, painful cerebral death at the idea of another talent show? Daydreaming of snipping off a tail or two after tea with Mr. Fox and Ms. Rabbit? Ready to throw your iPad, laptop, and iPhone out the window—and feel like joining them?
It's completely normal. Don't feel guilty.
The truth is that none of these activities were made for you and your skill or challenge level. Baking, gardening, crafting, or playing street hockey in the driveway with my kids is more an exercise in patience than peak experience.
Admittedly, flow is hard to come by when you're constantly interrupted by insatiably curious, rapidly developing, and remarkably wily little brains. Looking after littles is by nature a flowless activity, and even Csikszentmihalyi conceded this point. Sorry, parents.
So here's the rub: Flow is essential, but it seems impossible to find.
We can't find flow without action. But action doesn't have to be taking on a fancy new project or hobby in your nonexistent spare time. Action can be amplifying the challenge level and the skill level of activities you're already doing. It can be gamifying how many emails you can reply to in less than two minutes, putting together those photo albums you've been putting off for years (as a bonus, this is a project you can enjoy with the kids), challenging yourself with a new recipe for dinner (or a bake-off with your family or friends), or just cleaning out a drawer for fifteen minutes (see Shira Gill's Fifteen Minute Win).
Doing a task with an end goal, even for fifteen minutes, will allow you to engage in flow. Allow yourself to bask in the task. It will feel as if time has stopped and at the same time just flies by. Most importantly, you'll find your way back to the present moment. Experiencing states of flow correlates with increased life satisfaction, achievement, health, and creativity. So yes, you want this. You need this.
Next time you feel overwhelmed with parenthood, whether it be with COVID-19 or the other 5,000 applicable reasons, stop beating yourself up and find a (brief) moment of flow.
---
Sasha Heinz, PhD, MAPP, is a developmental psychologist and life coach who is an expert in positive psychology, lasting behavioral change, and the science of getting unstuck. Heinz received her BA from Harvard; her master's in applied positive psychology from the University of Pennsylvania, where she also served as a faculty member; and her PhD in developmental psychology from Columbia.
---
We hope you enjoy the books recommended here. Our goal is to suggest only things we love and think you might, as well. We also like transparency, so, full disclosure: We may collect a share of sales or other compensation if you purchase through the external links on this page.