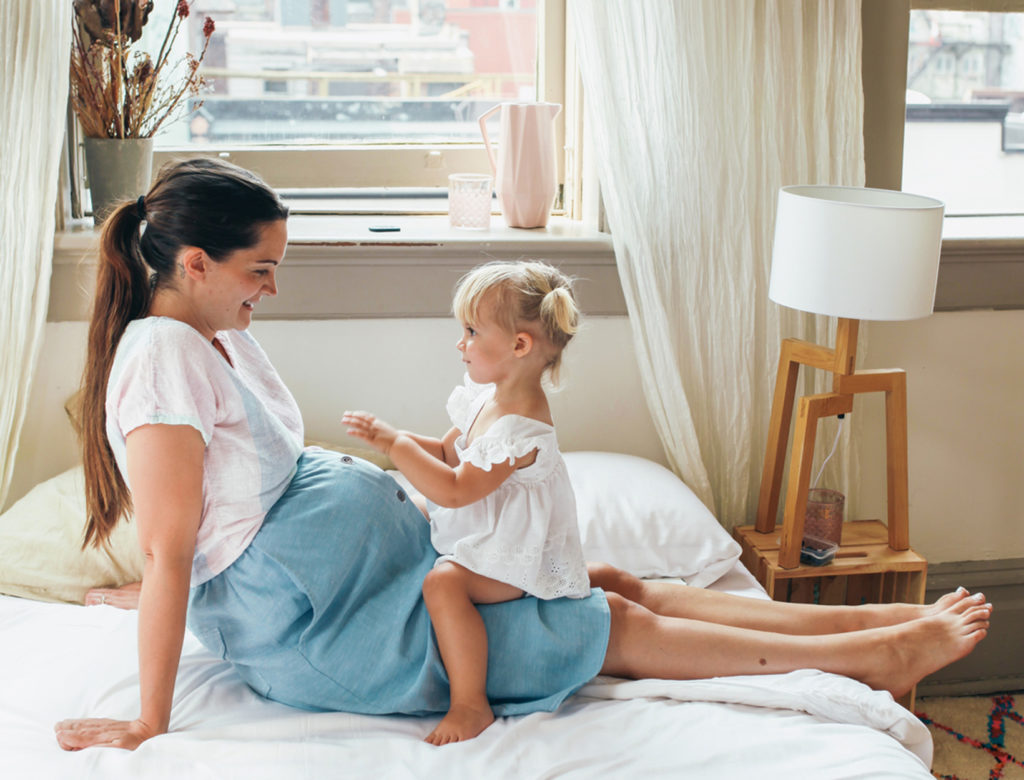 What Do Family Planning and Intimacy Look Like Now?
Living in uncertain times brings up questions about an uncertain future: How likely are you to plan for a family right now? If that's something you want: How do you think about getting pregnant now?
Acupuncturist, author of Conceiving with Love, and fertility and intimacy coach Denise Wiesner has been helping her clients have deeply personal conversations around family planning and intimacy during the COVID-19 pandemic. She does not predict there will be a COVID-19 baby boom. "We're living in survival mode," says Wiesner. And this may cause new (or exacerbate old) intimacy struggles between partners. Wiesner explains how to work through those by communicating your desires, opening up to vulnerability, and reconnecting with your partner in small, simple ways. With the right tools, Wiesner believes this can be a time when we revive and strengthen our intimate relationships.
A Q&A with Denise Wiesner
Q
How do you help people work on letting go of control?
A
For the patients I see who are new parents, they are just so grateful to have had a baby. To them, it's just a blessing. Yes, COVID-19 is happening, so the picture might look a little different. But for many women who have been struggling with fertility, they have learned to grapple with how to be in uncertainty. They have learned to ask the question: How do we let go of how it was "supposed to" look? You realize you're not really in control. Fertility has a lot to do with letting go of control because you don't know when you're going to conceive.
"How do we let go of how it was 'supposed to' look?"
Women, especially while trying to get pregnant, are faced with a lot of the unknown. What do we do when we're faced with uncertainty and we don't know what things are going to look like?
As I say to many of my patients: What's going on now is a microcosm of the macrocosm. It may not be on the timeline that you planned, and it may not unfold how you thought it was going to. We have to learn how to take one day at a time. We have to learn how to live in the now with what we do have.
---
Q
Do you think there's going to be a COVID-19 baby boom?
A
Not really. Because of what's happening, there are more struggles around intimacy. We are so used to having creature comforts and ways to make ourselves feel better. We're used to having our independence. All of a sudden, we are jammed inside together, and issues start to spring up surrounding our relationships.
I hear from many of my patients that they can't find space. They're used to having a healthy amount of space from their partners when they need it. And now, they're trying to deal with carving out their own separate space while being confined in the same home.
We have to ask: What do we do when our creature comforts are taken away? What comes up for us?
I find this to be a very inward journey. People are finding out what's inside when they look deeply at themselves. This time might bring up a lot of emotions, especially for anyone who has experienced past trauma. It's normal to be crying one day and laughing another and to feel like your emotions are all over the place.
---
Q
How does fear in the body affect intimacy?
A
Right now, we are in survival mode. We don't know what the future is going to look like. When you look at the chakras, survival mode is in the first chakra. It has to do with being safe. When we're in survival mode, we activate the sympathetic nervous system, which is fight, flight, or freeze. Do we have enough food? Are we getting sick? Is the person walking beside me going to get me sick? All these questions are fear-based. If we don't feel stable and secure, and if we don't feel that our vital needs are being met, we can't move up the chakra systems to our creative, fertile, or sexual energy. Those energies are still stuck in fight, flight, or freeze.
When you want to make babies, you want to feel like you can get into your second chakra. When you feel like you've got some stability, you can get into your sexy mode. Being in survival doesn't make us feel aligned with that sexual energy.
---
Q
How are we being called at this time to confront perpetual issues about intimacy that we may have been avoiding?
A
A lot of old stuff gets churned up. All of a sudden, childhood wounds show up again. We can look back at our oldest, deepest wounds and ask ourselves how they are resurfacing right now. And having a baby doesn't make any of these issues go away. It just exacerbates the issues. This can be a great time for us to start healing.
This is what couples say when they go through fertility challenges: It either breaks you apart or brings you together. Because you have to navigate stuff that is uncomfortable. Good relationships don't always look perfect. It's the ability to repair that makes couples grow closer. Relationships are mirrors. And they show us where we have to work.
"This is what couples say when they go through fertility challenges: It either breaks you apart or brings you together."
Part of the problem in relationships is when couples don't have tools. You might know what works for you, and your partner might know what works for them, but this doesn't mean that your tools are the same. Most of the things I say to women about fertility are the same for relationships: It is important to figure out who you are and how to communicate your needs.
---
Q
For those who are trying for a baby: What can they do to stabilize and get more comfortable with their sexual energy in order to feel more intimate?
A
We need to remember that baby-making is about connection, love, and intimacy. We have to stop looking at it as "We need to make a baby now" or as sex revolving entirely around ovulation. I believe in realigning with ourselves and with our partners, which is about deep connection and love. It's about slowing things down and spending intimate time together. We can use this to our advantage, because we have to slow things down anyway right now.
We fall into the same routines and patterns, and I think everyone has been really busy and caught up in their own lives. And when this is coupled with fear, it can hurt intimacy. So right now, couples need to find ways to take the pressure off. Instead of asking, "How do we make a baby right now?" we should instead ask, "How can we connect? How can we practice intimacy?" I suggest doing things that involve intimacy on any scale. It could be cooking together, gazing into each other's eyes, or giving deep body hugs. Just try something different with your partner. Try being intimate in ways that don't necessarily involve a penis and a vagina trying to make a baby.
---
Q
What is your advice for getting through this time?
A
I was recently thinking about what I've lived through in my lifetime and what has come to pass. Knowing this, it's important to remember that everything is temporary. And life moves forward.
The COVID-19 pandemic is showing all of our cracks. But with that said, it is important to crack our hearts open, even if it's not always easy to do. With anything we do, we must lead with love. Because love is the healing force for everything. I've been so touched by seeing how adaptable people are. To witness the love we all have and our hearts that are so longing to connect with one another. We find the inroads to connect and to feel our hearts open. So keep an open heart, let your love shine out, and know that everything is so very temporary.
---
Denise Wiesner, LAc, FABORM, is a fertility and intimacy coach and an internationally recognized Chinese medicine practitioner. She is the founder of the Natural Healing and Acupuncture Clinic in West Los Angeles and the author of Conceiving with Love: A Whole-Body Approach to Creating Intimacy, Reigniting Passion, and Increasing Fertility.
---
We hope you enjoy the book recommended here. Our goal is to suggest only things we love and think you might, as well. We also like transparency, so, full disclosure: We may collect a share of sales or other compensation if you purchase through the external links on this page.